"I'm bored! What is there to do?" Summertime has arrived. Kids are out of school, and no less than five minutes into the break, they are going to need something to do. Why not incorporate some service project ideas in your summer programming?
Now, maybe you're taking the summer off from your normal kids' ministry programming. Or maybe you just want to add some activities to keep kids engaged and connected over the summer. Either way, these service project ideas can help.
Every child—from toddlers to teenagers—can be taught to serve God by serving others. All through the Bible, God used children to further His kingdom. He delights in their creativity and blesses the efforts of their innocent faith.
Overcoming Obstacles to Serving
Two of the biggest barriers to adults being engaged in serving the body of Christ are these feelings: "I don't have anything in common with those I want to serve" and "I don't have anything to offer."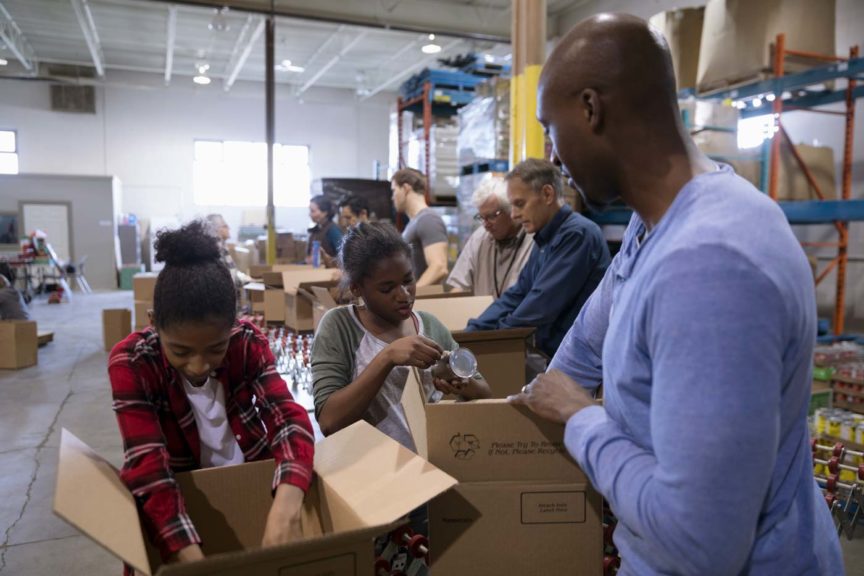 Actively involving children in the planning, preparation, and practice of service project ideas from a very young age is the best way to overcome these obstacles.
Serving others provides children a natural path for experiencing and acting on compassion. Serving with a variety of people can also help children learn to get along with those who are different from them and see the value in all kinds of skills.
As children help come up with and implement service project ideas, they will discover that even very small and humble acts can make a big difference in the lives of those who need help and hope.
As we guide children in activities designed to overcome mental and emotional obstacles, we will open them up for a lifetime of service. Soon you might find the kids you know asking, "How can I help?" or "When's the next service project start?"
The list below supplies a few ideas to help children realize what gifts or abilities they possess and how they can offer them to others.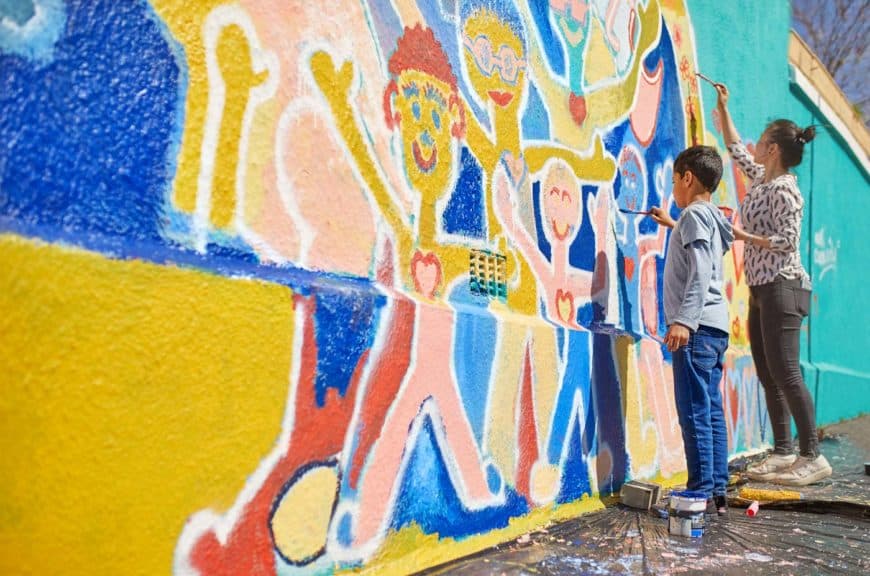 Through the work of Back2Back Ministries, we encourage children to support and serve children in need in their own communities and in other countries.
But we also challenge orphans in care homes to see beyond their own needs and imagine how they can use what God has given them to help others. Most of the projects you see listed here were created and led by children.
Fundraising Service Project Ideas
Have a Plant Sale
Some kids bought vegetable and flower seeds, planted them, and then tended the seeds until they became small plants. They sold the plants after church on a Sunday. Then they sent the "seed money" to Back2Back to invest in vulnerable children.
Sell Crafts
Other children used their crafting skills to make items for sale. Two sisters started a soap-making business and donated the proceeds from their soap sales.
Make Weighted Blankets
Weighted blankets have a scientific effect on children with sensory deprivation. They are expensive to buy, but not that hard to make. More than half of orphans and vulnerable children struggle with sensory disorders. Some students had an all-night marathon and made weighted blankets—that was a huge benefit to the kids who received them.
Host a Book Swap
One girl hosted a book swap. For every two books you brought, you could take one home for free. She sold the rest of the books for $2 each. The girl sent the check in for a literacy project at an orphanage.
Organize a Blanket Drive
One girl heard about homeless kids we serve who deal with really cold winters. She organized a blanket drive. We shipped some of the blankets down, and we used some of the donated money to buy blankets. (See the note below regarding monetary vs item donations).
Do a Birthday Gift Drive
Many children have held birthday parties but asked for donations for Back2Back or other organizations they support, in lieu of birthday gifts for themselves. They might organize a poster or other items to explain about where and why they want to send the money. They then participate in sending those donations to the specific place they are supporting.
Host A Gaming Tournament
A video game fan hosted an Xbox tournament and asked kids to pay $10 to enter. He got local businesses to donate prizes for the winners. Then the boy donated the $410 he raised to a marginalized community.
Organize a Movie Night
Movie nights can be a fun way to gather people together, serve one another, and raise funds all at the same time. Some people have organized movie showings at their churches. They charge a small fee or ask for donations to participate. Then children help operate the "concession stands." During the movie, the organizers can pause for an intermission so students can explain why they want to raise money and how the funds might be used.
Have a Fun Run
Some energetic children have hosted runs or walks of 1–3 miles. They asked participants to get sponsors to donate money for every mile completed. In addition to organizing the run and the list of participants, children can be involved with providing water for those walking or running, making encouraging signs, or creating stops along the way where participants can learn about the cause they are supporting.
Run a Lemonade or "Dirty Water" Stand
Some children have raised money to donate through operating their own lemonade stands, or even "dirty water" stands, where they serve drinks slightly colored with ice-tea powder and talk about the fact that many children in the world do not have access to clean water.
Organize Parents' Night Out
Some kids and churches have organized "Parents' Night Out" events—older students watch children at the church while parents go out and enjoy their time. They request donations or charge a small fee for each child who comes to the event, and they use those funds to help others.
Have a Car Wash
A classic way of combining service with fund-raising is the student-run car wash. Students can create signs, hold the signs beside roads to get attention, prepare the washing materials, actually wash and rinse the cars, and then clean up everything afterward. They can send the donations for the car washes to whatever group they choose to help.
Make Giving Tree Ornaments
Children can be involved with creating tags or cards to be hung on a Christmas tree at the church. On each tag is a specific item and/or donation amount, and people are invited to take an "ornament" from the tree and supply either the item (for a local charity) or the funds to allow someone else to buy that item (best for missions in other countries).
Donate from Other Earnings
Some young people have chosen to donate a percentage of their earnings from service-oriented jobs, such as mowing lawns or babysitting.
A note about the value of raising funds vs. giving items
At Back2Back we are often asked whether people can donate clothing or books or other useful items to children.
The best and most thoughtful way to serve anyone is to first think about what is going to be most useful to that person or group. And the best way to learn that is to ask the people you seek to serve or ask people who are already providing care for them.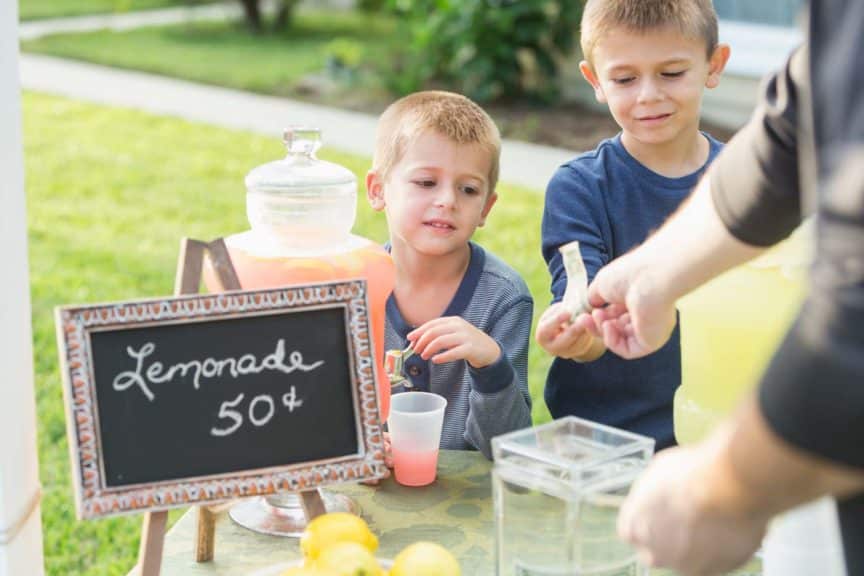 For most missions in other countries—and even sometimes for those in your own communities—it's better to offer funds instead of item donations.
There are many reasons for this. Some of them have to do with logistical issues, such as shipping and delivery. But other concerns might be related to the cultural context, or to the systems that are already in place to provide services, or to the perceptions of the people involved.
Missions organizations who have been embedded in communities for a long time often are trying to develop the integrity and dignity of the people they serve. Offering donated items—no matter how beautifully made—can sometimes not be the best solution for providing compassionate care.
However, this does not mean that your children cannot serve kids in need in other countries.
As shown in the examples above, kids can play a significant role in fund-raising opportunities. They can also write letters to children in the places where their donations will go. Sometimes it may even be possible to set up online "meetings" with groups of children in other countries so a connection can be established that way as well.
A little creativity and imagination are all it takes to perform compassionate giving.
Want your kids to take service to heart?
Filled with fun, interactive learning experiences and kid-inspired service projects, the Tales of the Ones He Won't Let Go Super Simple Mission Kit will open kids' eyes (and grown-ups' too!) to the needs in their community and around the world—then challenge them to do something about it!
Church Service Project Ideas
There is a wealth of opportunities for children to serve in their own churches. Serving their home church body can help to create a strong sense of belonging and responsibility in children's hearts.
Check out some of these church service project ideas below and think about where in your church kids could offer a helping hand (with some adult supervision, of course).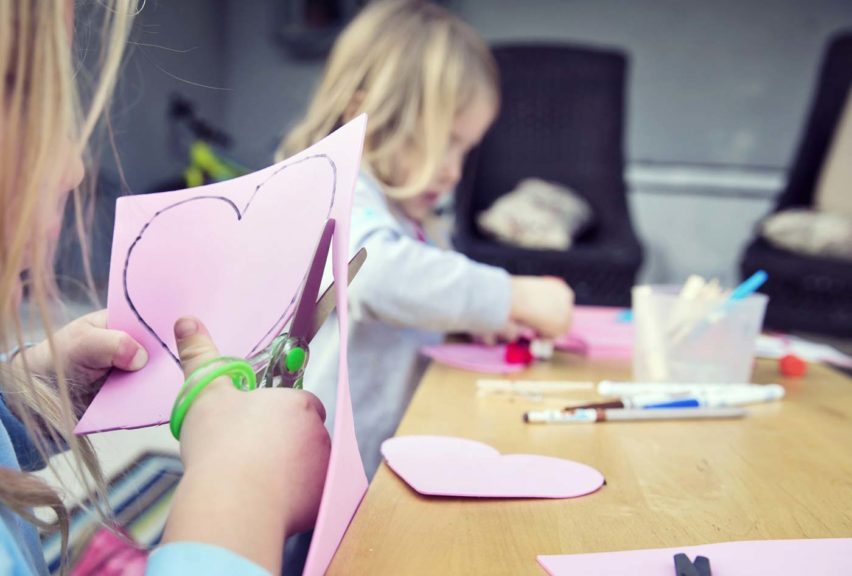 Service in Kids' Ministry
Serve as a Teacher
Kids naturally gifted at explaining can learn assigned Bible stories and prepare to teach the children in a large group teaching time.
Be a Classroom Helper
Children can be helpers within classes by holding up props, reading Scripture, writing memory verses on a board, and many other ways.
Become a "Buddy" for a Child with Special Needs
If you have children with special needs in your ministry, appoint kids who are calm and helpful to be "buddies" for those children who might need a friend to sit with them. Children can go through a simple training on how best to help each child.
Organize Supplies
With a parent's permission, children can come to church during the week and help organize crafting or other supplies for the children's ministry.
Welcome New Families
Kids can be official "guides" for services—showing new families the way to the appropriate rooms.
Serve at Special Events
Older children can help during special events (such as VBS) by being group leaders, helping guide children from one activity to another, or just by being available to run and do whatever errands the children's ministry director needs.
Service Throughout the Church
Help Set Up
Children can come early and help with setting up chairs, hymn books, offering plates, or other equipment for services.
Help Clean Up
Children can stay after church and help pick up litter left behind and straighten up the rooms, so they are ready for the next use.
Be Greeters
Pairs or teams of kids can offer their services as cheerful greeters. A group of funny faces shouting out "Good morning!" may be just what your church needs. Polite and calm? Probably not. But joyous and sure to produce smiles on every person entering the building? Definitely.
Prepare Bulletins
Children can come earlier in the week and fold programs or bulletins, or even type up the information. Many kids these days are taught typing and layout skills even in elementary school. You might be surprised to find out just how much your kids know how to do!
Pass out Bulletins
Children can pass out bulletins and help newcomers find seats.
Run the Tech Booth
We can train older students to help with technical services. These might include lighting and operating the sound board, running slides, or recording the services.
Lead Worship
Musically talented kids can help on the worship team or even lead children's worship.
Run a Snack Station
Kids can help with the coffee and snacks station at your church. If you don't have one, consider letting kids offer one starting once a month. Give the kids a small budget at first and have parents help them buy items within their budget. Then the kids could run the snack station as a free service before or between services. Or they could request donations and use those donations to fund further acts of service.
Community Service Project Ideas
Serving others in your home community (or places nearby) offers both an opportunity to improve the lives of those around you and a chance to show kids how they can make a real difference even when they are young.
Some service project ideas involve making things that can be given to others, but children can and should be included in acts of service that require interaction with people they are serving.
As mentioned before, always check with any organization or individuals and find out what they need most before arranging service activities. And when you can, involve parents and whole families—serving together strengthens our connections to one another.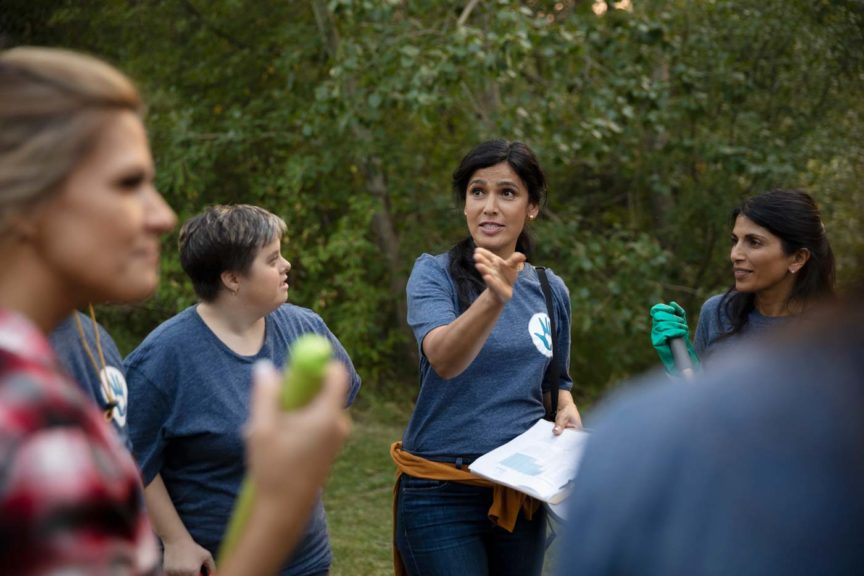 Bags for Children in Foster Care
Children can create simple overnight bags or backpacks for foster care agencies to give to the kids they serve. Sometimes children in foster care situations have to be moved very suddenly into a different living situation. This can be jarring and unsettling. Also, these children sometimes only have a trash bag to carry their belongings.
Providing simple drawstring backpacks or tote bags with a few comforting items can make a world of difference to a child in a stressful situation. Check Pinterest for ideas for making tote bags or backpacks out of T-shirts or pillowcases. Ask care agencies what items would be most useful. But the bag could include things like an encouraging card, a storybook, a small stuffed animal, toothbrush and toothpaste, a snack, and a flashlight.
Giveaway Bags for Homeless Individuals
Children can organize giveaway bags for homeless individuals. These bags might include useful items such as clean socks, granola bars, and water bottles. The bags are then given out to every family in the church with a note encouraging them to give the bags away when they encounter homeless people on the street or in their daily commute.
Flowers for Housebound Church Members
Children can plant flowers and decorate flowerpots. Then they can go with trusted adults to deliver the gifts at the homes of those who have not been able to attend church due to illness.
Share a Love of Reading
Children can read stories to groups at church, at their local libraries, at a children's hospital, or even in a nursing home.
Visit Elderly "Orphans"
There are elderly "orphans" who need care and cheer as well. Many people in nursing homes do not have family to visit them, and many elderly people love seeing children. Children can draw pictures for nursing home residents and then go with a trusted adult to deliver them. A children's choir group could perform a few songs as well.
Help with Yard or Housework
People who are older or who are dealing with an injury may not be able to do simple tasks around their homes as easily as they used to. Find out who might need help in your church and then organize a team of kids to go and take care of yard work or wash windows or perform other simple manual tasks.
Form a Community Cleanup Crew
Children can form cleanup crews and designate a day to walk around their town picking up bits of litter along paths in parks or along sidewalks.
Create a Public Mural
There may be blank or unsightly wall spaces in your area that need some love. If you have an artist in your community—and you get permission from the wall owner—ask for help to create a public mural. Some collaborative mural projects allow each child to paint a small piece or tile. Then you can join all the parts together to create a beautiful picture.
Use Skills You Already Have
Find out what skills the children (and their related adults!) in your ministry have, and then think creatively about how to use those skills in the community. For example, if you have several good soccer players in your congregation, you might organize a free soccer clinic and invite kids from the local schools to come and play. Crafty kids can offer a craft fair. There are many possibilities!
Serve at a Soup Kitchen
Children can help prepare food, serve, and clean up for a local soup kitchen.
Give Away Scarves
If your community has cold winters, teach children to make simple fleece scarves. Then tie them around poles in the community with tags telling those in need to take them as a free gift.
Hand Out Water
Children could show up at local sporting events, runs, or other outdoor events on hot days and offer cold bottles of water to participants and spectators.
Host a Yard Sale
Have a church-wide cleanup weekend. Encourage kids (and their parents) to clean out their closets and garages and attics and donate any gently used items. The church could then offer those items for free or at very low prices in a community yard sale, which the kids could help organize.
Write Thank-You Notes
Have a thank-you-writing marathon. Kids can design, color, and write thank-you notes to teachers, bus drivers, policemen, nurses, garbage collectors, and other service workers in your community. There are many people who may appreciate some recognition and encouragement. You can do this as an ongoing activity, selecting a different service area to focus on each time.
Service for Life
Creating children with hearts ready to serve for life is not hard to do.
You don't have to organize big projects or raise large amounts of funds in order to make a difference.
Just supply frequent, consistent opportunities for every child at every stage to serve others.
The more children are exposed to the needs of others and realize how much they can do to relieve those needs, the more they will want to serve and begin thinking of their own ideas for how to provide helpful, compassionate care.
Jesus said that whoever welcomes a child in His name, welcomes Jesus Himself (Mark 9:37). When we welcome children into serving the kingdom, we are welcoming the heart of our Lord—a servant's heart—and allowing that heart that loves others so well and completely to be shared and multiplied in the heart of every child.
Challenge kids to answer the questions: How do I pray? What can I give? Where can I go? Who will I serve?
In Tales of the Not Forgotten, kids and parents follow real-life stories of kids as they take you on a journey to faraway lands. See the hand of the great Storyweaver writing endings you'd never imagine!