Volunteer appreciation is about recognizing those priceless, wonderful, selfless people who dive right in to whatever craziness you ask of them.
The ones who are there early and who clean up late. The ones who—no matter how many times they've been knocked down—keep showing up!
They are key in keeping the church wheels moving. Most days, we want to shout it from the rooftops. WE. LOVE. VOLUNTEERS!
But there are times we get busy and just don't communicate it well.
Saying thank you, well, it's everything.
It's all about relationship. Know your volunteers. Affirm their hearts for Jesus. Celebrate their influence in your church.
Be specific and timely in saying thank you. Everyone is sacrificing something to serve—whether that's time, money, or energy they could be using for something else. Your appreciation makes all the difference in the world.
There are SO many things we could do for volunteer appreciation.
But let's focus on just 6 ways to HIGH-FIVE volunteers.
1. Well-Placed Words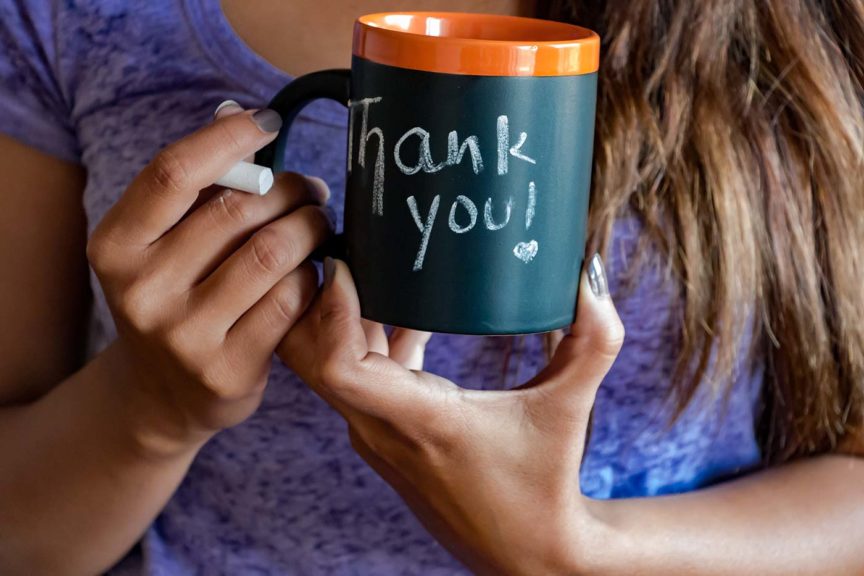 In Proverbs 18:21 the Bible tells us "The tongue has the power of life and death, and those who love it will eat its fruit" (NIV).
So, let's give some life!
Words of encouragement don't have to be elaborate or overwhelming, they just have to be kind.
We all know that being kind isn't hard (for the most part). It's not overly challenging. It is simple and easy to do. Let's practice it.
Write a thank-you note or email. Simple is enough. Affirmation lifts the spirit and encourages volunteers to keep serving.
Make a short video with your phone. Send them a quick "Hey, hey we love you!" You'll make them smile.
2. Time Together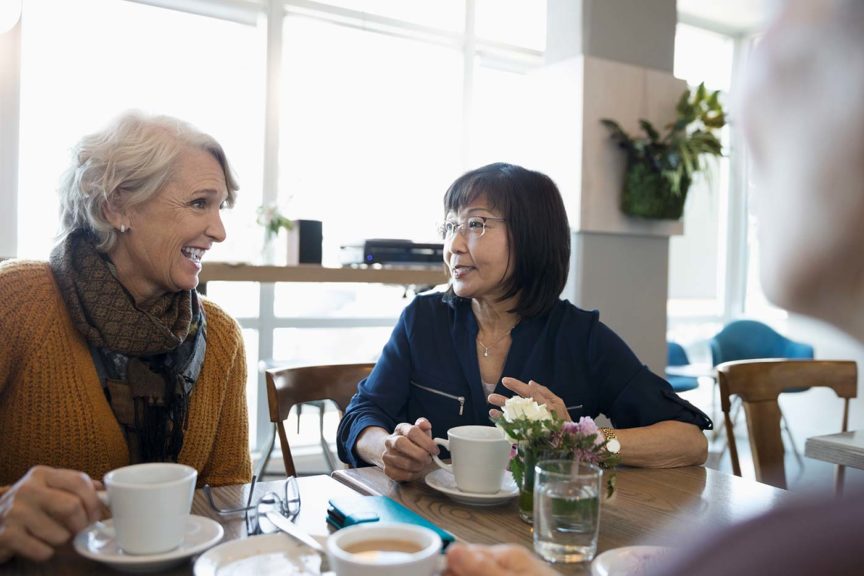 I also understand that time is hard to give. Start small. Dedicate 30 minutes to volunteer appreciation and meet with your team members once a quarter.
Time is valuable, especially now. Our time is in high demand. Taking time out of your schedule speaks volumes about how much you care.
I promise that once you start investing, you'll see the benefits.
Take your volunteers out for coffee. Spend some time in 1-on-1 conversation to let them know you are there.
Do something relaxing or fun together. Organize a hike or a trip to a local landmark. Enjoy one another's company outside of "work hours."
3. Thoughtful Gift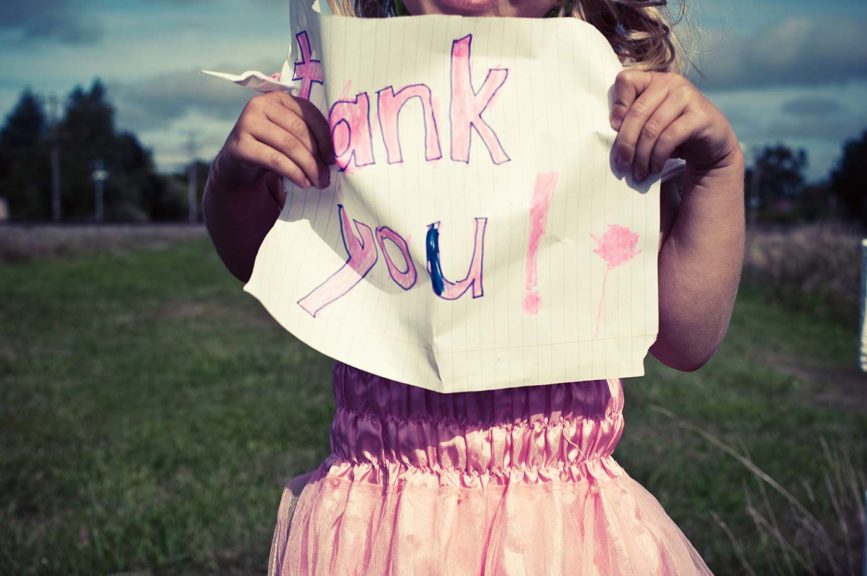 You feel loved when someone gives you a gift, no matter the cost.
You feel extremely loved when you know the person put time and energy behind a gift specifically for you.
Have you ever had a child draw you a picture? Sometimes it's an object that you can't even identify, but it mattered to you. She spent time, energy, and creativity on something for you.
You can give your volunteers that same boost.
Think of gifts that would matter to them. Gifts don't have to be expensive, just personal. Birthdays or anytime.
Lots of people like to take notes. Give out notebooks with an inscription on the first page: Take Note—I think you're awesome! Or a kind written word from you!
4. Silly Ideas
We don't have to be super serious all the time. Fun is KEY in building team camaraderie and excitement.
Did you know? Laughter can lower stress and boosts the immune system. Let's get laughing, people!
Pass out lotion or soap with a reminder: The kids are in GOOD HANDS with you!
Surprise your volunteers with $5 coffee gift cards and say, Thanks a latte!
Who doesn't love s'mores? Pass them out and let them know, We need s'more like you!
Give them a plant (real or fake) and affirm them: Thank you for helping kids grow in God's love.
5. Group Appreciation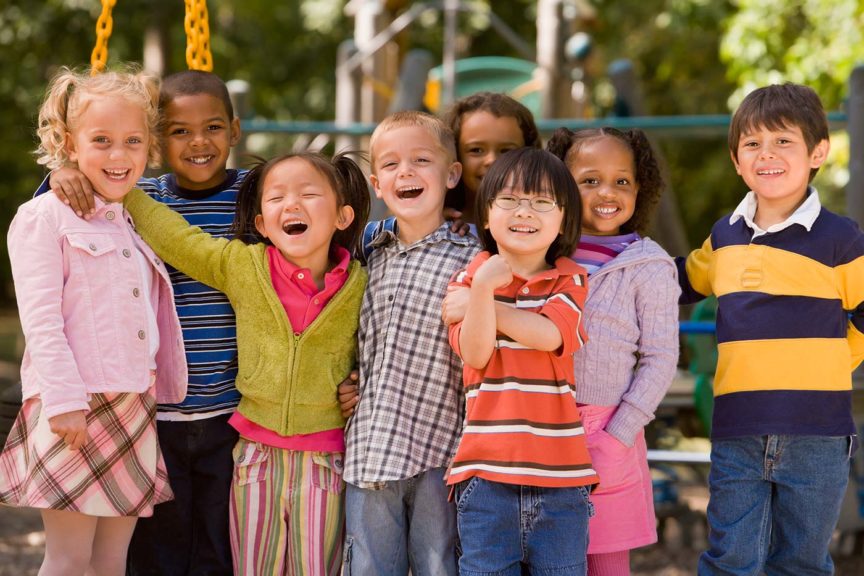 Volunteer appreciation doesn't need to end with you as the leader. Encouraging words can be from the whole group!
Take some pressure off of yourself and spread the wealth. You'll be surprised at how far this will go.
Imagine receiving a piece of paper with 10 sentences describing what people love about you. It would help you realize the impact you were having. It would affirm you as a Christ-follower. It would make you feel part of a community that cares.
It would mean the world to you.
Give volunteers something from the kids they serve. Have the kids create a picture or tell personal stories about a volunteer who has helped them. Share the stories through letters or video.
Get your team members together and have them each write a sentence about a volunteer. Gather the sentences and anonymously put them on a paper titled The Things We Admire About You.
6. Time Away
Give them a break! Volunteers are superheroes, yes. BUT they still need a nap every once in a while.
Give them a chance to refresh and take a pause. Sometimes a fresh breath of air brings all sorts of new life into a team.
Space for breaks is often hard to do. Start small. Give them a week off. Allow them to be poured into. Some of them may not want a break, but reassure them that taking a breath is okay.
Let your volunteers know it's OK to take time off. What a way to say thank-you—by giving them time for rest.
Take them to a conference or a ministry network event you attend. Investing in their gifts will encourage them in their ministry.
Anxiety weighs down the heart, but a kind word cheers it up.

—Proverbs 12:25 (NIV)
Some of these volunteer appreciation ideas take more time than others, but mixing up the thank yous will make a big difference.
Volunteers are key to your ministry at church. So, take some time, and let them know that THEY. ARE. LOVED!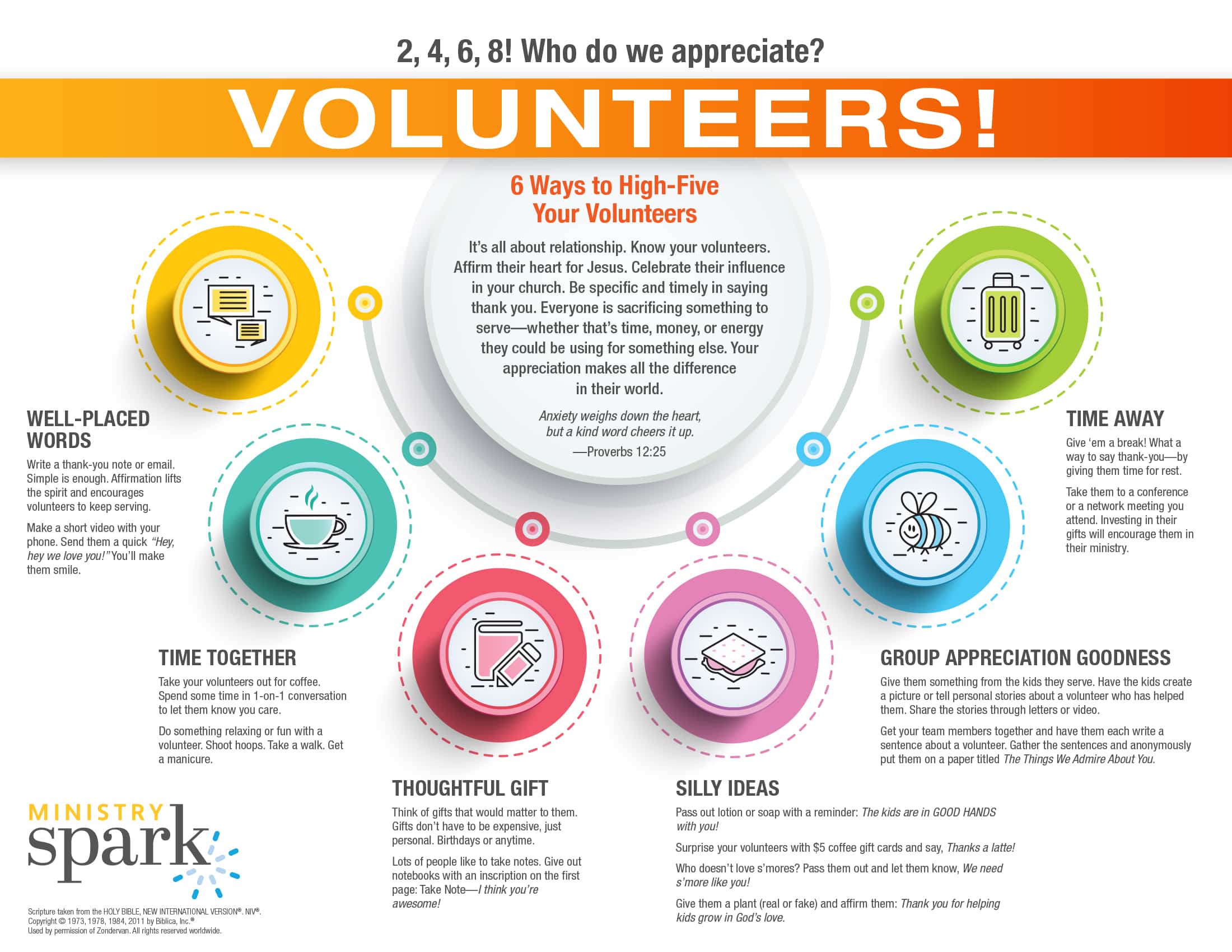 2, 4, 6, 8! Who do we appreciate? VOLUNTEERS!
Download this printable infographic and hang it in your office! A reminder for giving thanks is a good thing to keep around.