Your experience in ministry is impacted by your life and story. I believe that God designed it that way.
My own family history isn't exactly filled with roses. It's quite the opposite really—dark and painful. But I've always believed that God can take anyone's pain and turn it for their good.
While there are many details I could share about my story, the one that is most significant here is that I grew up fatherless.
I remember hearing my father's voice on the phone for the first time when I was 3 years old. He was calling to let me know that he was sorry, but he couldn't be in my life.
As a 3-year old, I really didn't know how to process that information. It came out in my attitude, my behavior, and my relationships.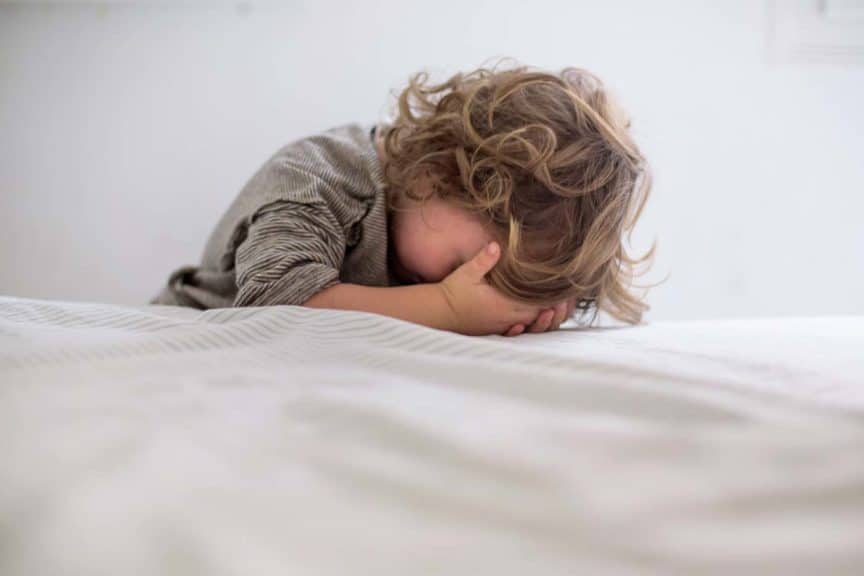 How Growing Up Fatherless Impacted My Call to Ministry
As a result of being fatherless, I carried a lot of hurt and bitterness throughout my teenage years and even into the beginning of adulthood. The hurt and bitterness were sometimes heavier than others.
From the age of thirteen, I knew God had called me into ministry. I didn't know where or in what capacity, but I had a distinct awareness of and deep sensitivity to the things of God.
I was serving in high-capacity roles and experiencing success in school and on my job—life was great.
And then one day, I was just knocked flat by the realization that I didn't have a dad in my life to affirm, to guide, or celebrate my successes.
As a result, I began to question everything about my life including my faith, my relationship with God, and especially my call to ministry.
All throughout my twenties, I battled through those heavy thoughts, feelings, and emotions. But in spite of my pain and doubts, God continued to show me He is faithful.
He opened a door for me at a church in New City, New York, where I had my first opportunity to serve as a children's pastor.
Almost a year later, I met a guy by the name of Michael Chanley. Through his mentorship, I found the grace to continue on the path that God had called me to—to impact kids and families!
Michael poured much of his wisdom into my life, and he helped me find healthy ways to deal with my hurts and wounds caused by abandonment.
During this time I truly experienced God's healing power to take over and fill the broken places of my life. And because of that, I decided to become for someone else what I did not have for myself.
Becoming a Spiritual Father for the Next Generation
What does all this mean? And what does it have to do with "Being a Man in Children's Ministry?"
Men truly have a special gift and an ability that women don't have. It's the ability to father the next generation and pull out of them what they don't see in themselves.
We are in desperate need for true spiritual fathers to rise up and pour into the next generation of kids. Men who stand in the gap without any sort of ulterior motives—no strings attached.
Spiritual fathers have a unique relationship with the kids they mentor and coach. Their connection goes beyond sharing knowledge and laying out rules and guidelines—this is a deep relationship.
We see this in Paul's letter to the church in 1 Corinthians 4: 14-21.
Paul's Model of Fatherhood
14 "I am not writing these things to shame you, but to warn you as my beloved children. 15 For even if you had ten thousand others to teach you about Christ, you have only one spiritual father. For I became your father in Christ Jesus when I preached the Good News to you.16 So I urge you to imitate me.

17 That's why I have sent Timothy, my beloved and faithful child in the Lord. He will remind you how I follow Christ Jesus, just as I teach in all the churches wherever I go.

18 Some of you have become arrogant, thinking I will not visit you again. 19 But I will come and soon- if the Lord lets me, and then I'll find out whether these arrogant people just give pretentious speeches or whether they really have God's power. 20 for the Kingdom of God is not just a lot of talk; it is living by God's Power.

1 Corinthians 4:14-21
The kids in our ministries desperately need true spiritual fathers, coaches, and mentors who exemplify these verses from 1 Corinthians.
And if you are a man in Children's Ministry, you have the unique opportunity to not only step into that role, but to raise up spiritual sons who will one day become spiritual fathers like yourself—and like Timothy. Awesome, right?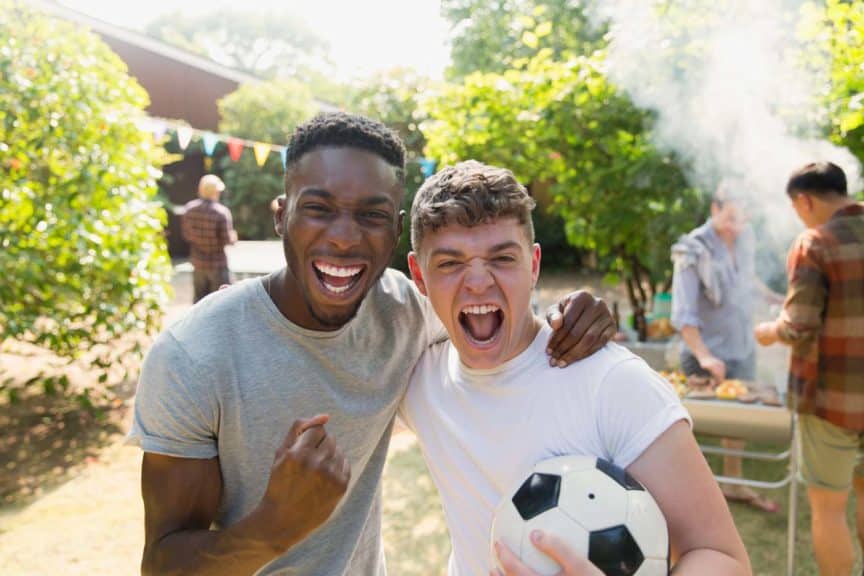 In 1 Corinthians 4: 14-21 Paul uses some powerful words that paint a true picture of what it means to be a spiritual father. I believe that as men in children's ministry we could benefit from what he is teaching us here:
A spiritual father admonishes his children.
A spiritual father models and encourages righteous decision making.
A spiritual father corrects his children.
So let's dig into these points.
1. A spiritual father admonishes his children.
In 1 Corinthians 4:14 Paul says, "I am not writing these things to shame you, but to warn as my beloved children." Spiritual fathers protect their children from potential pitfalls in life.
In another version of Scripture, the word "warn" is translated as "admonished," which means to warn or give a gentle rebuke for poor decisions.
Spiritual fathers have natural opportunities to teach. They guide their spiritual children and provide a safe place to learn and grow in Christ.
Paul uses the terminology "beloved children." This speaks loudly of Paul's relationship with the Corinthian church.
He not only loved them, he adored them. He couldn't stop thinking about them—they were on his mind all day and night.
I am the director of a children's ministry of about 1,200 kids. While I can't love on and reach all 1,200 kids, there are those few the Lord placed on my heart to love, adore, and raise up to be godly sons and daughters.
One of the ways I've been successful is by asking the Lord to draw my attention to a specific family or two—to lay them on my heart and help me see what they need.
Once He does that, I do my best to act in obedience. Some families simply need words of encouragement.
For other families—especially if there isn't a dad in the picture—it's a matter of going to a baseball or soccer game and cheering.
While I'm not able to do these kinds of things for every fatherless family in my ministry, I encourage other men to invest in children in our church—especially those who don't have fathers active in their lives.
2. A spiritual father models and encourages righteous decision making.
Another important characteristic of a spiritual father is simply this: A spiritual father encourages and models right decision making. 1 Corinthians 4:16 says this, "So I urge you to imitate me."
Spiritual fathers will always point their kids back to God. In this passage "urge" also means to "exhort" or to "encourage."
In the same way, spiritual fathers should encourage their children to trust God, repent from sin, study God's word, and share their faith.
A wise spiritual father knows that in order for exhortation to be received properly, it has to be delivered through the vehicle of relationship.
The children in our ministry desire to learn and grow, but if a spiritual father or leader shows a lack of concern for their personal lives, any advice or guidance they share will fall on deaf ears.
In Hebrews 10:25 it says, "And let us not neglect our meeting together, as some people do, but encourage one another, especially now that the day of his return is drawing near."
Many scholars believe that Paul was the writer of Hebrews. Whether that is true or not, we could definitely see the pattern that the Scriptures would like for us to follow.
Spiritual fathers set an example of what it means to be Christlike.
In 1 Corinthians 4:16 Paul urges the church to imitate him. He also mentions this in 1 Corinthians 11:1, "you should imitate me, just as I imitate Christ".
Spiritual fathers model Christlike behavior in their public and private lives.
They know that modeling Christ and keeping Him first are the best teaching tools one could have. As spiritual fathers, we exhort our kids and in turn raise them up to exhort others.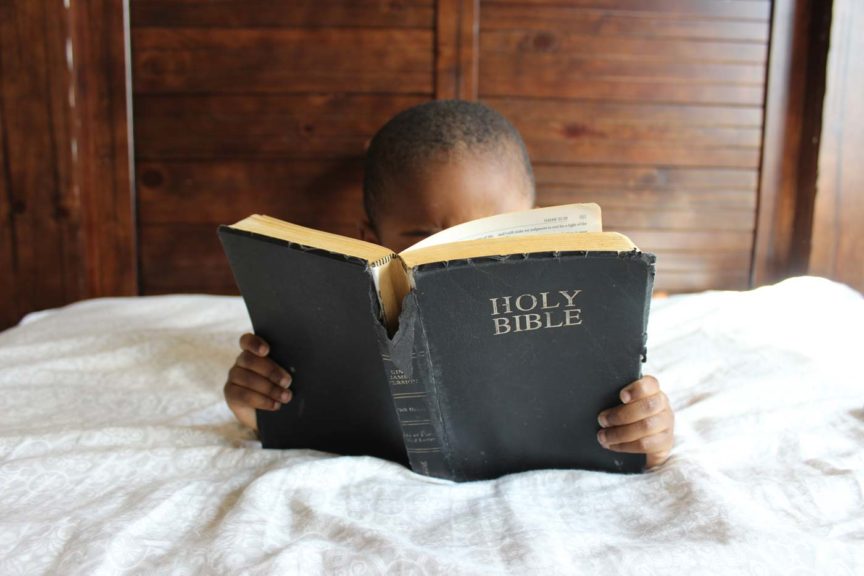 3. A spiritual father corrects his children.
This is the part that many spiritual fathers tend to skip over. We either do this very well, or we don't do it at all.
Consequently, I think it's important that we answer this question before we dive into this point: Is correction biblical? I have to say yes—correction is biblical.
In Hebrews 12:6 we read, "For whom the Lord loves He chastens, And scourges every son whom He receives."
This Scripture reveals the Father's heart on correction and His intent behind it. "Chastens" describes corrective discipline used in training a child.
But discipline is not meant to be administered harshly—it is meant to be administered in love.
In 1 Corinthians 4:18–20 Paul had to administer some correction to his children. Verse 18 reveals to us the reason he brought correction—the people were puffed up, which is another way of saying they were arrogant.
I would hear the older generation make statements like this about the younger: They don't like correction, they are too arrogant, they aren't teachable, and the list goes on.
Additionally, true spiritual fathers will never run away from a challenge, they will face it head on. That's exactly what Paul did—he spoke into their situations in love and with a fatherly tone.
He told the church in verse 19 "I will come to you shortly if the Lord wills". Paul came alongside them to train and nurture—not to condemn or to belittle them.
When bringing correction, preserving the relationship should always be a top priority.
Practical tips for how we can correct well:
Always start from a place of wanting the best for the individual.
Never correct in anger.
Sandwich your conversation—start with something positive, introduce the correction, and then end with another positive.
Find a warm place to have the conversation. If you're correcting a child, make sure you do so in a safe place that isn't in front of other children. If you're correcting another adult—particularly a staff member—have coffee or go to dinner.
Be sure to communicate that you are for them and want the best for them.
Spiritual parenting in action
It's important for every spiritual father to know that, while words are great, it's even more powerful to put those words into action. 1 Corinthians 4:15 says, "you have countless tutors, but few fathers."
My prayer for those who are reading this article is to inspire you to do one of the following.
Step up! Become the spiritual father that God has called you to be.
Become more aware of your calling and the need for more spiritual fathers in children's ministry.
Encourage other men to be spiritual fathers in their community.
Spiritual fathers have a unique calling. We recognize the potential in others. We call out the potential we see in others. We make it a priority to invest in the lives of others and step in when there's a need.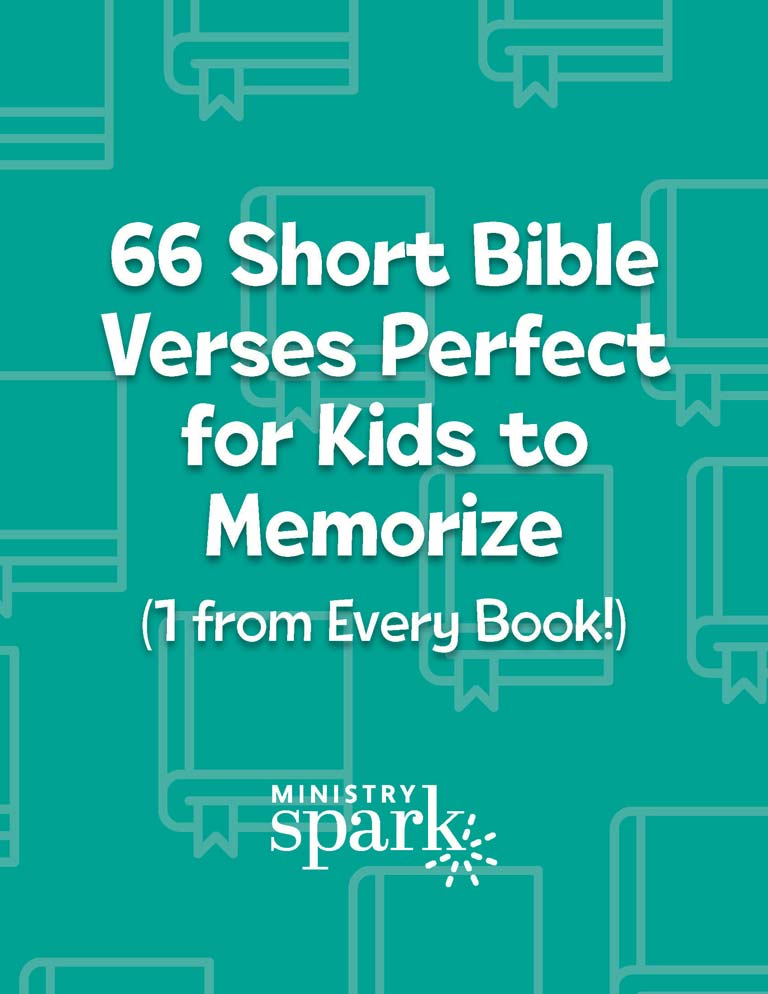 66 Short Bible Verses Perfect for Kids to Memorize
Memorized verses are the rails the Spirit's instructions run on. How much track have we laid? Download this guide on Short Bible Verses. With 1 verse from every book, kids will learn to hide God's Word in their hearts!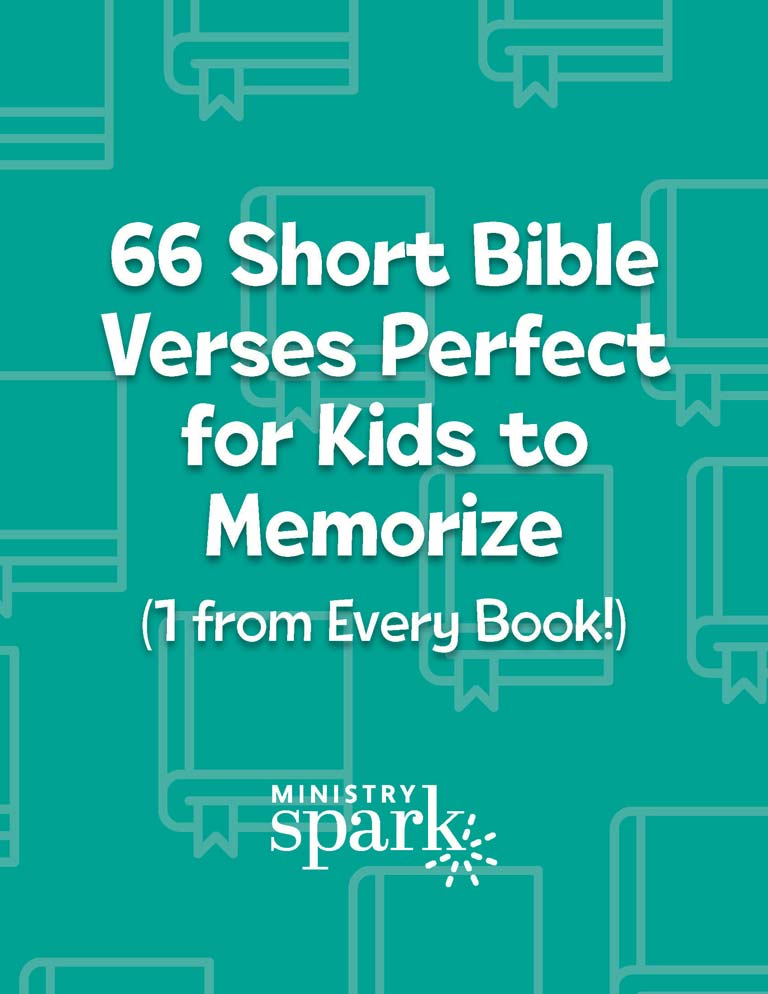 66 Short Bible Verses Perfect for Kids to Memorize
Memorized verses are the rails the Spirit's instructions run on. How much track have we laid? Download this guide on Short Bible Verses. With 1 verse from every book, kids will learn to hide God's Word in their hearts!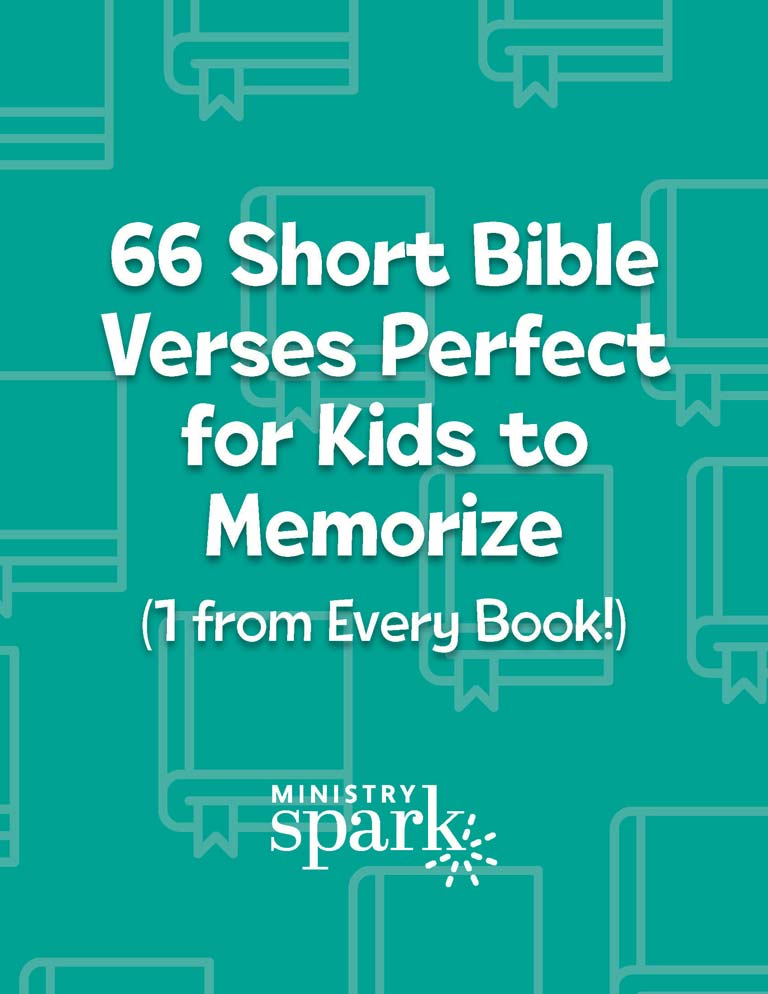 66 Short Bible Verses Perfect for Kids to Memorize
Memorized verses are the rails the Spirit's instructions run on. How much track have we laid? Download this guide on Short Bible Verses. With 1 verse from every book, kids will learn to hide God's Word in their hearts!