Most parents do it almost every day. It can create new emotional, mental, and even physical bonds, associations, and memories. It can take as little as 15 minutes or as long as 81 hours—or maybe that's just what it feels like when you're desperate for your precious little partner to finally go to sleep. It's powerful, loving, and educational. And when it involves God's own words as well, it can be spiritually transformative.
What is it? Reading. Specifically, reading picture books aloud to small children.
A 2014 paper from the American Academy of Pediatrics made a strong statement. It said that reading aloud "stimulates optimal patterns of brain development." Another study by the Cincinnati Children's Reading and Literacy Discovery Center found that reading picture books aloud with children created the best experience for a child's developing brain when compared to other forms of stimuli. They called this "The Goldilocks Effect."
Researchers studied the brain response in 27 children, all about age 4. Simply hearing a story was not enough to fully engage the child's brain. In contrast, animated stories (TV shows or videos) created so much stimulation that the result was that the child's brain couldn't fully process the experience.
Author Meghan Cox Gurdon described the results in her book The Enchanted Hour, the child's brain "can relax into the experience of being read a picture book. There is a bit of a pleasurable challenge in making sense of what he's seeing and hearing. There is time to reflect on the story and see its reverberations in his own life."
Enhancing Important Relationships
As Christian children's author and storyteller Bob Hartman often tells parents and caregivers, "Having a child on your lap with a book in your hand cements two very important relationships—between you and your child and between your child and words.
And if the story is one of God's stories, it simply expands that effect to one more foundational relationship—between your child and God."
Those are relationships every children's minister wants to encourage and nurture as well. Adding and enhancing the use of picture books in your ministry can be a simple, beautiful, and powerful way to do just that.
"Having a child on your lap with a book in your hand cement two very important relationships—between you and your child and between your child and words. And if the story is one of God's stories, it simply expands that effect to one more foundational relationship—between your child and God."

Bob Hartman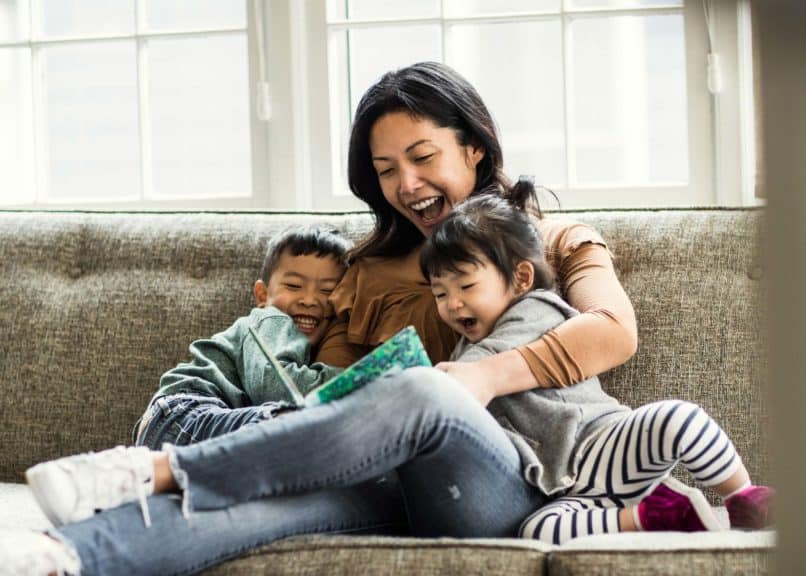 Expanding the Use of Children's Books
No doubt you already have some picture books in your nursery and preschool areas. But consider these three intentional ways of expanding the use of children's books in your ministry.
1. READ
Encourage your teachers and volunteers to read, read, and read some more. Reading picture books can be a great way to transition between activities or between session blocks. As children enter the room, pick up a book and begin reading in a "story corner." Children are often naturally drawn to the sound of someone telling a story. They connect with the pictures held up for them to see.
Without even saying a word of direction or raising your voice, you can see children gather closer. They then find a place to sit or stand so they don't miss the action. It's one of the simplest and best tools for classroom management.
Reading can also be a great way to address the needs of a child who is having a difficult time with typical classroom behaviors. This applies to kids who are feeling overstimulated by games, songs, or videos as well.
Have a few well-loved books at hand. Then a volunteer can easily grab a story and invite a child to read in a quieter corner. Provide a separate space where the child can be led to experience the kind of calm and focus they may need.
The repetition of favorite stories can also create a feeling of security—helping children to identify church as a safe space.
Reading is also a brilliant way to involve new volunteers. It's a way to include people who are uncertain about how they can serve in children's ministry. It's something almost anyone can do and requires little to no training.
Just pick up a book and start reading. Even for adults who may have literacy or language barriers, flipping through the pages of a children's book and pointing to the characters, and talking a child through a story will still create a beneficial effect on the child's development.
2. RELATE
It can sometimes be difficult to feel as though you are getting through to a child with a particular message. It can be hard to know how much the child will retain from that day's lesson. Reading Bible story picture books that coordinate with those lessons will help the child learn. They will remember the characters, story themes, and even Bible words and phrases.
That's one of the reasons why Bob Hartman, who developed the story text for the wildly popular YouVersion Bible App for Kids, wanted to create the Clever Cub Bible Stories series. He noted that there are many family ministry initiatives focused on helping parents pass on stories of faith to their children.
Creating children's storybooks that focus on God's stories of care, creation, and protection is a perfect way to give caregivers tools. They can then enable the next generation to absorb and really understand God's big story and where they fit into it.
Spiritual Development
Laura Richie is another children's author who agrees with the powerful effect reading Bible stories aloud together as a family or in a children's ministry setting can have on a child's spiritual development. Her series of Bible story retellings (The Advent Storybook, The Easter Storybook) aims to provide God's Word for children in a way that accurately reflects the biblical meaning and cultural understanding of each story. She writes in a way that is simple for young minds to process. She helps them see how they are a part of God's plan for rescue and renewal.
The new board books in this series, utilizing the same beautiful illustrations by Ian Dale that appear in the books for older children, remind us that a child's faith development starts from the very beginning. This is when their bodies and brain develop as well.
In the first year of a baby's life, their brain doubles in size. The terrible twos, in fact, are mostly terrible not because a child is so bad at behaving. They are so good at absorbing information and creating new neural pathways. The result is that sometimes the amount of stuff happening in their brains and bodies is just too much for them to handle!
What a wonderful time to introduce God's stories of love, grace, and forgiveness and then repeat them over and over again.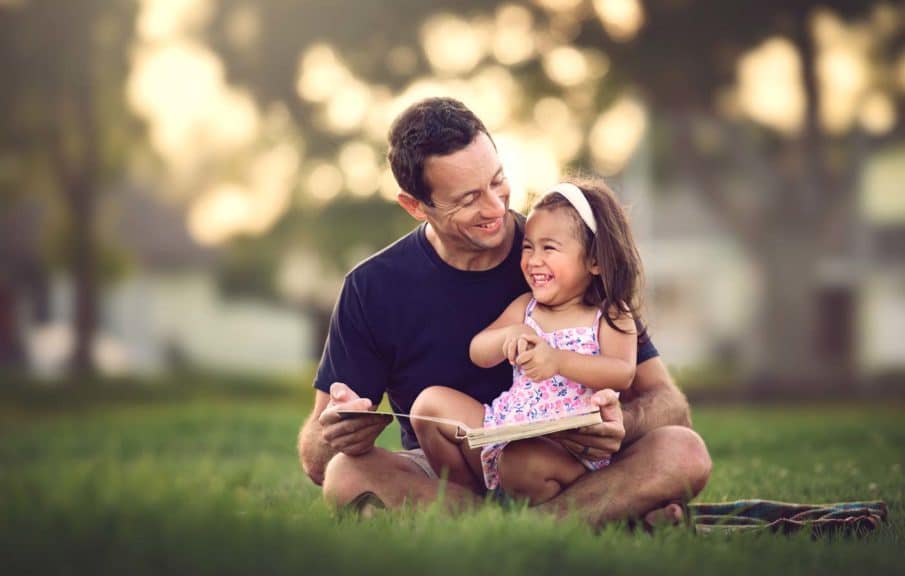 Added Benefits
Children's storybooks can also help children relate to other human beings. They can understand difficult issues such as saying goodbye to a loved one, dealing with anxious feelings, and childhood fears.
When these storybooks talk about those human feelings through the lens of the Creator of all human emotion and in the comforting presence of a trusted, caring adult, the simple act of reading a picture book can become a spiritually healing act. It can transform trauma into a trust-building opportunity and shape pain into pathways to Jesus.
3. RECOMMEND
Have you ever had the experience of someone recommending a good book to you? And then have you read that book and had that experience of its goodness? What did that do for you? How did it make you feel about the person who suggested it? Did you want to go back to them and talk about the experience or get more recommendations?
Now think about acting out that same scenario with the parents you interact with every week—either in person or online. What happens when you recommend a truly helpful resource to a caregiver? It seems like such a simple thing to do—an almost non-action, right?
It seems passive. In just a few minutes, you can research some books and make a list of recommendations.
The simple act of suggesting helpful, Bible-based storybooks and other picture books to families gives you the chance to establish yourself as a trusted source for faith education. You get the chance to put one more relational block down in a bridge between that family and the church.
This impacts families who are already involved or those who have not yet ever stepped into the building. You can start a natural, spiritual conversation that has a high likelihood of continuing and growing into a beautiful relationship with that family.
Recommending children's books costs you nothing, yet the return on investment can be amazing. Go the extra step to create a children's library in your church. Put actual books in parents' hands. The results can be great and have a longer-lasting effect on the lives of those children and their whole families.
Time with Family, Time with God
Many positive effects of reading children's books are often overlooked. This is the one time a day when many parents are firmly committed to setting aside time to spend with their child. During this special time, they focus on God.
Many families find the idea of daily devotions difficult or overwhelming. Reading a book every night before bed is fairly easy to achieve.
Many families may not pray together daily. Instilling a bedtime routine that includes a book with a prayer in it seems totally doable.
And many parents may not have the discipline of daily quiet time. The special time with their child in their lap has become their quiet time with God as they read a Bible story together.
As one reviewer of Clever Cub Gives Thanks to God said, "My husband knows the Bible well, but I don't. I found this to be a fun way to learn about different stories. I look forward to when I can build up a little library of these books for my daughter!"
Children's ministry is not easy. You are likely often spread too thin and exhausted by the expenditure of energy that you make each week. This includes your attempt to care for the children right in front of you. It also includes the ones in your community whom you may have met just once or haven't even seen yet.
Using children's picture books to read, relate, and recommend God's Word to families is an easy and effective way to expand your ministry. And this will ultimately expand the kingdom of God.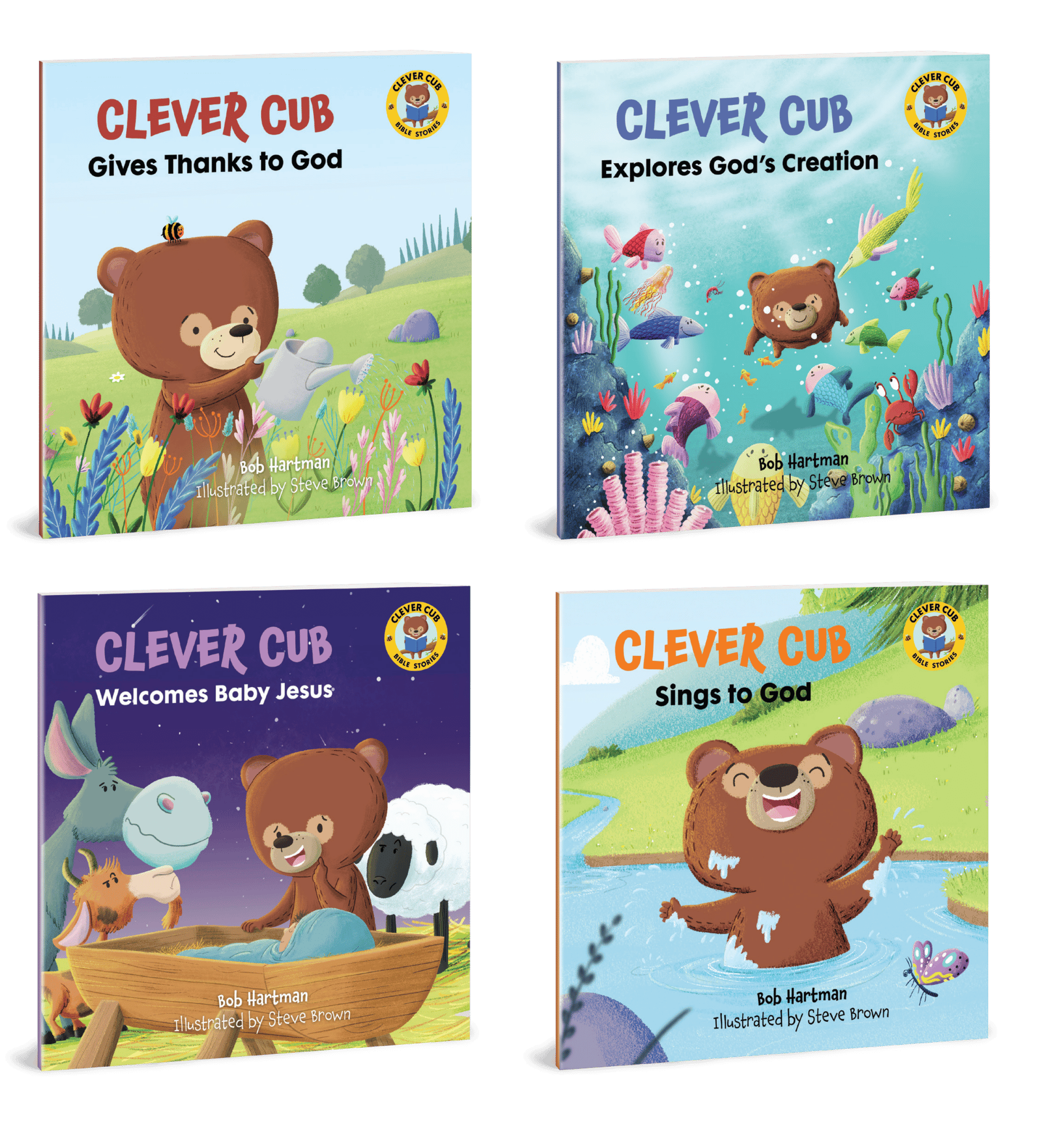 Learn more about God and the Bible with Clever Cub
Clever Cub is a curious little bear who LOVES to cuddle up with the Bible and learn about God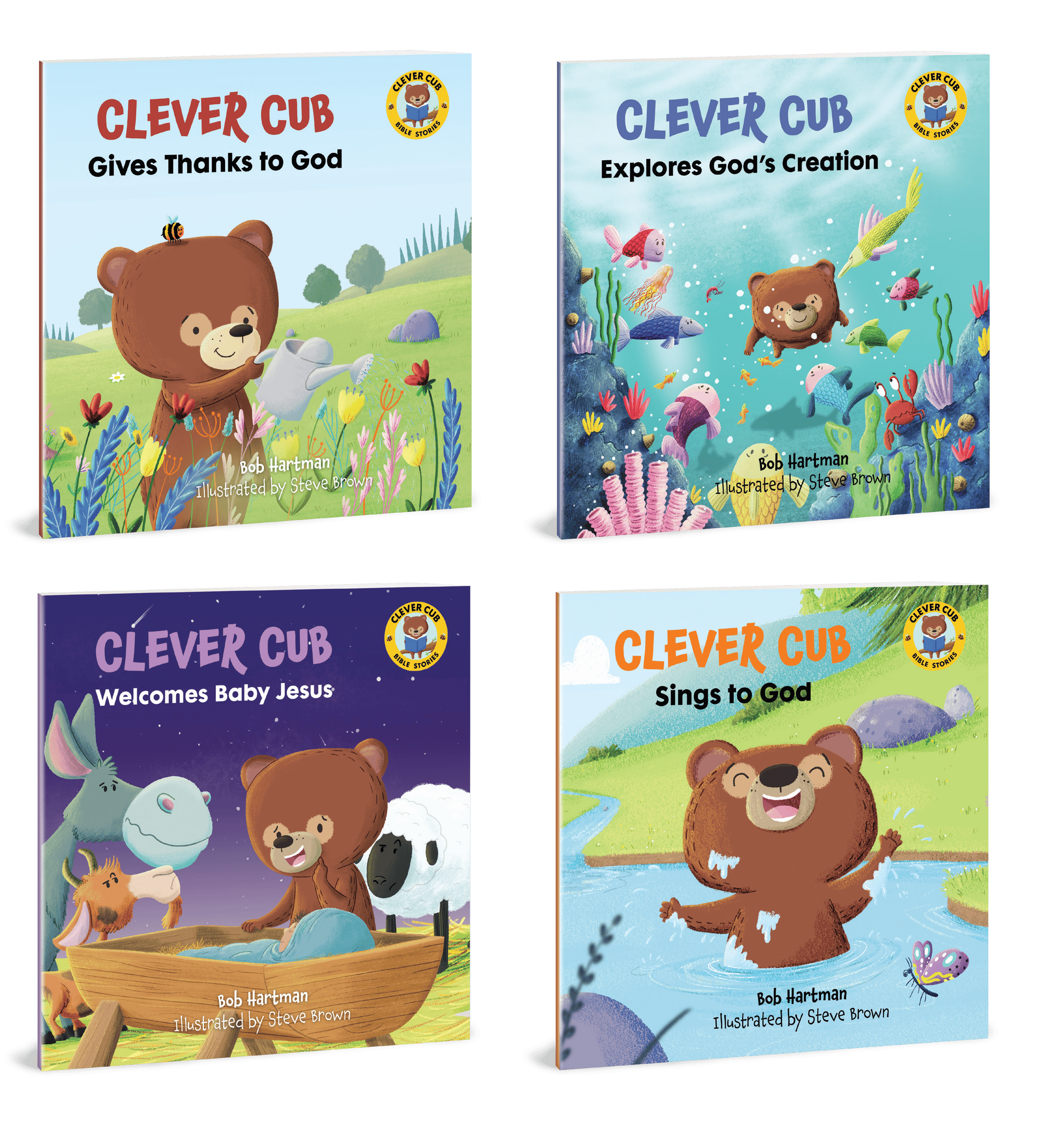 Learn more about God and the Bible with Clever Cub
Clever Cub is a curious little bear who LOVES to cuddle up with the Bible and learn about God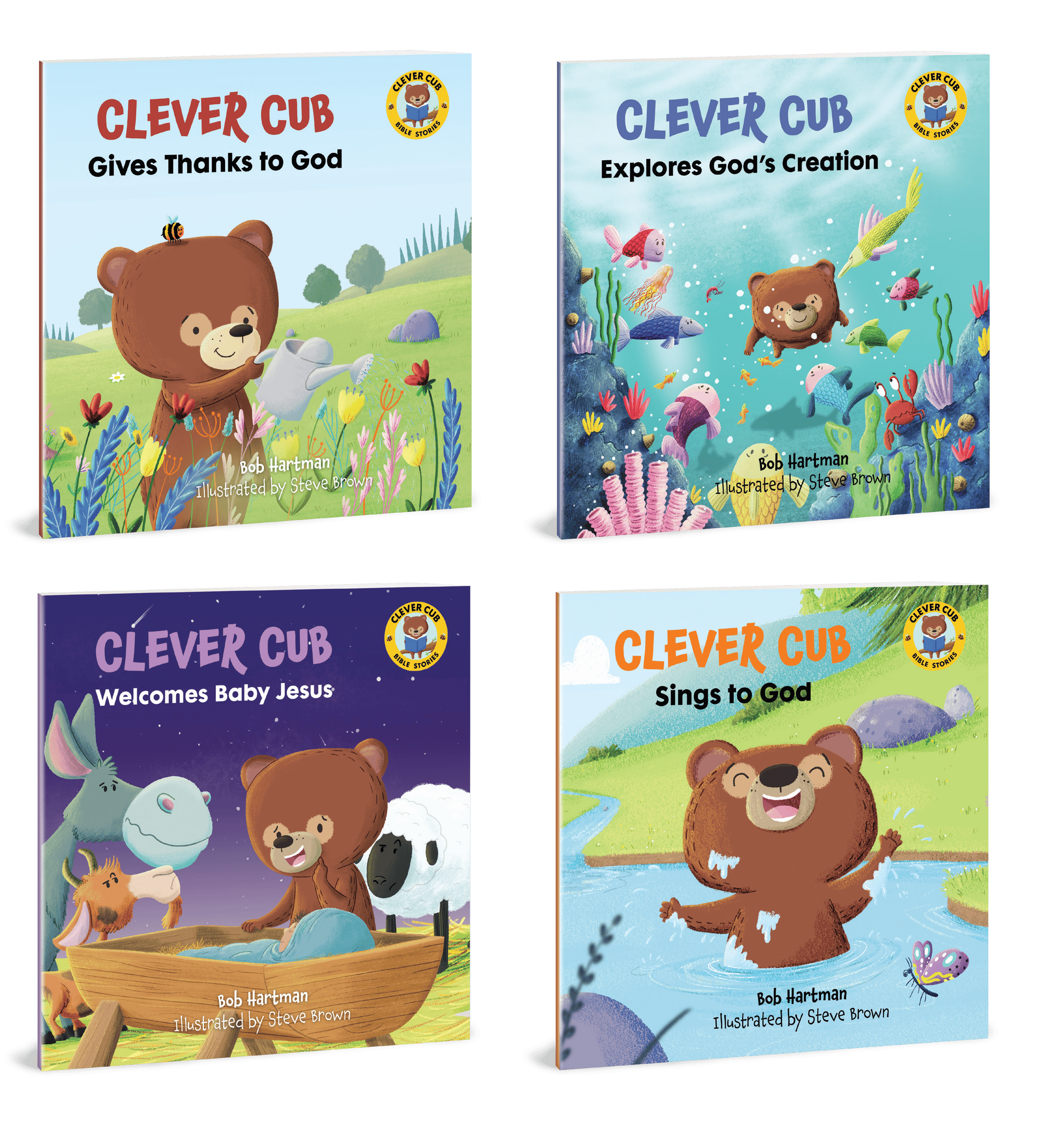 Learn more about God and the Bible with Clever Cub
Clever Cub is a curious little bear who LOVES to cuddle up with the Bible and learn about God