Jesus didn't limit His welcome to the clean compliant kids, the children who are able to move from room to room without assistance and articulate their needs through words, or the children who do what they are told the first time.
He does not specify which kids He is welcoming; therefore, I believe He's telling us that He welcomes them all, and we are to welcome them all too. Regardless of their backgrounds, abilities, or energy levels we are to provide safe spaces. We want ALL kids to belong, know Jesus, and grow in their faith.
Kids who don't fit in at school should find a place to belong at church. Children who may be left out in some spaces should be welcomed with open arms in our churches.
Inclusion in Children's Ministry: Welcoming Families with Open Arms
Unfortunately, research has shown that families with kids with special needs or disabilities don't always feel welcome in church. Studies show that one out of three families parenting kids with special needs or disabilities have left at least one church because their child was not included or welcomed.
If we have true inclusion in children's ministry, families feel welcome.
Families who are following James 1:27 in caring for orphans are encouraged by their church families to adopt or provide foster care. But when they bring their new child into the church, many share that due to their child's behavior or special needs they do not feel welcome. And in some cases, they are even asked to leave.
I think we all would agree we want to do better. We can do better.
The kids more likely to be excluded at church are the ones with less visible disabilities including autism, anxiety, depression, ADHD, and oppositional defiance disorder. These are disabilities that affect behavior.
These invisible disabilities are often misidentified by ministry leaders as behaviors that need to be stopped or corrected. Unfortunately as I work with church leaders who are struggling to respond to challenging behavior in kids and students, I often see that their focus is on "fixing" or eliminating the behavior. But these aren't "bad" kids.
Often, kids and student who exhibit challenging behaviors are overwhelmed, don't have coping strategies, or have needs or disabilities that affect their behavior. Instead of moving straight to judgment, let's be curious and connect with the child while digging beneath the behavior.
Connect and Be Curious
Here's a way we can be curious while connecting.
A friend recently shared about a situation at church. Right before church started, her son had a meltdown. He had been through a lot, moving from one family member to another, then into foster care, all during his first 6 ½ years of life.
While he looks like a typical child, his experiences have been anything but typical. In the midst of the meltdown, my friend sat right down in the church lobby with all her kids, including the one screaming.
As they sat, many people walked by. Some stared. A few gave a smile and kept walking.
But then one person offered to sit with them, right there in the middle of the lobby. Another individual said she understood and was available for whatever they needed. Someone else offered to get some water for the mom and her still screaming child. And a friend stopped and took the other kids to get checked into their classrooms.
This mom said, "To feel seen and understood is so important." These simple acts of kindness made a huge difference.
Inclusion in Children's Ministry: Beyond Behavior
We typically don't know what is going on beneath the behavior. While we may think, or judge, that the child is out of control and just needs some discipline, there are so many things that could be happening.
Many special needs or disabilities are invisible, so while a child may look "typical" they may have unique needs. Trauma can also greatly influence a child's behavior, but we often aren't aware of what a child has experienced before they walk through our doors.
Instilling God's Word in every child's heart
With our easy-to-follow lessons, teachers can focus on kids' unique needs while helping them hide God's Word in their hearts.
So how might we build an environment in our churches that is welcoming to all? How can we truly have inclusion in children's ministry?
Here are some questions to ask.
What is best for your child?
A few years ago, as a child who had been diagnosed with autism was preparing for first communion, his priest, Father Joe, began considering possible challenges for him during a typical first communion ceremony.
Father Joe got curious and asked the family "What would be best for your child?" As they talked, Father Joe realized the environment for first communion, with all the people and noise, would not be best for this child. Rather than force the child to change, Father Joe changed the environment.
This child's first communion was held midweek in the church in front of his invited guests. The church provided flowers and a program specially designed for this midweek communion.
Asking parents, "What is best for your child?" can start a great discussion on how to best meet their needs.
How can we adjust the environment?
This quote by Alexander Den Heijer shows the importance of focusing on how we might adjust to better meet the needs of the child, rather than insisting the child change: "When a flower doesn't bloom, you fix the environment in which it grows, not the flower."
For a child with sensory issues, free time may be difficult with the noise and high level of activity. Consider making a quiet corner with some noise canceling headphones and activities like play doh or pipe cleaners.
A child with autism may have difficulty sitting in the middle of a large group of kids. So, consider another option so the child can still participate and feel safe. Watching from the door or the back of the room with a leader may be more comfortable initially for the child.
What is the need beneath the behavior?
A friend shared about a child who was labeled "out of control" by many leaders in the ministry. Rather than accept that label, my friend got curious and dug beneath the behavior.
Considering this child's home life, she knew that his family frequented the food pantry at their church and this child received free lunch at school. So, she started wondering, could this child be hungry? The next time he arrived on Sunday morning, she had a granola bar and cup of water waiting for him.
After several Sundays of this routine, his behavior greatly improved. This was not an out-of-control kid, this was a hungry child.
Something as simple as offering a granola bar won't resolve all challenging behaviors. But it does point to the need to dig beneath the behavior to discover the real need of the child.
How can we support this family?
Parents raising kids with special needs or disabilities experience levels of exhaustion and stress that most of us cannot even imagine.
Check in with these families. Ask what helpful support would look like for their family.
For a family with a child in a wheelchair, reserve a table at family-night dinners to provide them easy access and have volunteers ready to assist them to get the food to their table.
If a child loves trains (many kids with autism have "enthusiasms" so use these to help welcome them to your church), make sure a train is waiting for him each week in his classroom to help ease the separation from parents and to show parents that their child is known and loved.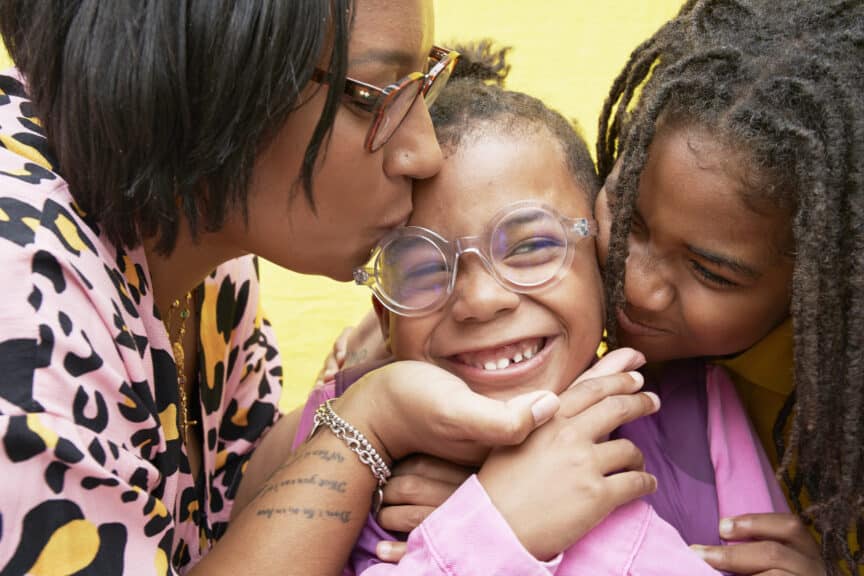 Inclusion Benefits Everyone
Jesus included all, and we can too.
The most important elements in providing a welcoming and inclusive ministry aren't fancy equipment or dedicated spaces. Instead, the most inclusive environments have leaders who are curious, who are willing to listen and adapt as needed to meet the needs of a child, and who partner with the family to determine what is best for their child.
A great first step to being more inclusive is to talk to families in your church and community who are parenting kids with special needs or disabilities.
Ask questions like, "What would inclusion and acceptance look like to you?"
Listen, then gather your team and pray about how you might meet those needs. It can seem overwhelming, but it's what God tells us to do. Providing safe and welcoming spaces for all kids to know Jesus and grow in their faith requires intentionality and teamwork.
It requires a plan for inclusion in children's ministry.
It may take time.
And it will definitely take effort.
The reward is watching families see their children engaging with other kids, being welcomed by leaders who are excited to see them, and growing in their faith in a community of their peers and safe and loving adults. The reward is showing others how we can welcome and accept people who are different than we are.
Providing a space for everyone benefits all.