Of all the special events that I remember from my childhood growing up in the church, there are a few that consistently stand out. The Christmas nativity pageant (I always played an angel), the Easter service (getting new dresses and having a yummy family dinner), and Vacation Bible School were all special.
I remember there always being several churches having VBS over the summer, and we tended to go to as many as we could. The music, the lessons, the games … I don't necessarily remember all the lessons or Bible verses, but I do remember feeling loved, accepted, and happy.
As a mom of teenagers with disabilities, I always felt a pang when my younger son wasn't able to have those experiences.
The people hosting VBS meant well. And my son and I tried hard, but our efforts typically ended with both of us in tears and my feeling guilt that there was one more childhood event my younger son wouldn't experience.
Luckily, our story doesn't end there.
Welcoming Children with Special Needs
In recent decades, more and more churches have started to take big steps toward creating environments where children with disabilities can experience the body of Christ.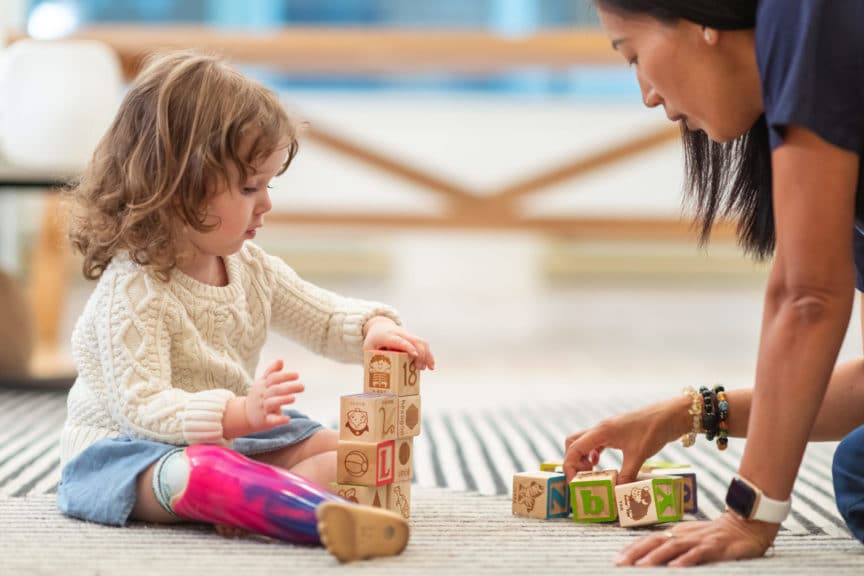 There are all sorts of creative ways to address special needs. For example, many children's ministries now offer buddies or other special programs for children with disabilities.
Churches are creating environments where families affected by disabilities can come and experience acceptance, love, and community. This is such a huge need and a tremendous ministry. Many special needs families are now able to attend church together as a family.
Designing an Inclusive VBS
The natural next step is offering VBS that welcomes children with disabilities.
My family's story isn't unique. Too many families of children with disabilities feel like special children's ministry events aren't for them—and I'm just talking about the ones who have a relationship with Jesus.
Can you imagine how the families who don't know the sustaining love of Jesus might feel when their children are excluded?
It's vital for us to tell them that not only are they invited, but that we WANT them to come! What an amazing opportunity!
Will including children with special needs be hard? Yes, not going to lie. Will it demand sacrifice? Absolutely. Will it all be worth it in the end? More than you can even realize.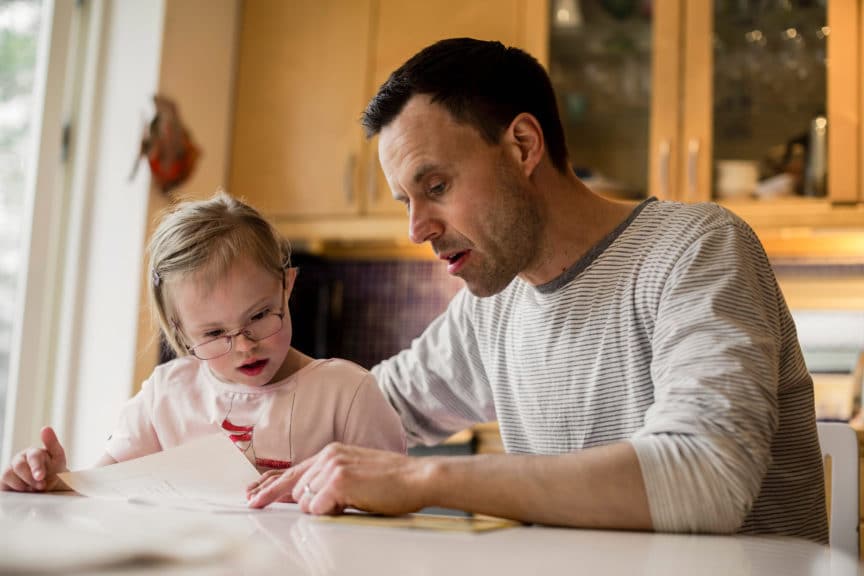 So, let's talk about how we can include children with special needs in our VBS programs.
Start with Openminded Questions
First off, you may need to change the way you look at things. So, make a commitment with your VBS planning team that you will stop saying "Can we …?" and start saying "How do we …?"
See, that wasn't hard.
Just a simple tweak in how you look at challenges will take you from a simple yes-or-no answer to an openness for the Holy Spirit to provide creativity and direction.
Look for Simple Solutions
Through this process, you will also find that the solutions you come up with to create an inclusive space for your attendees with disabilities also benefit those without disabilities.
Let me give you an example. We had a child who needed a visual schedule. He struggled with not knowing what came next and felt that every activity was going to last forever.
This resulted in several meltdowns and many tears on the first day of VBS. So, we quickly created a visual schedule for day 2. This helped him relax, and he started to enjoy the sessions as opposed to feeling like they would never end.
That alone made it a huge win, but that's not the only helpful thing the schedule provided. His whole team (there were five or six of them) started to use the schedule.
All the kids in his group benefited from having a visual schedule, and they all took turns consulting it and leading the way to the next activity. By the end of the week, they were like a little family—looking out for one another and helping each other.
Time and time again, I have seen how providing supports for a child with the disability helps the entire group.
Consider the Buddy System
One easy way to welcome children with disabilities to your VBS is by providing one-on-one helpers or buddies. These people can be available to help bridge gaps between the child with a disability and her peers.
For instance, you may have a child who is unable to walk. Then, the buddy can push her wheelchair to the activities and assist with crafts. The buddy can also help facilitate connections and relationships within the group.
Depending on the type of disability, you could have a teenager be a buddy or assign someone who is elderly and needs to go at a slower pace.
One year we had a child with cerebral palsy who wasn't able to push his wheelchair or use his arms very well. We tried to find a buddy for him from our regular pool of high school students and moms, but no one seemed like a good fit. Then we decided to think outside the box.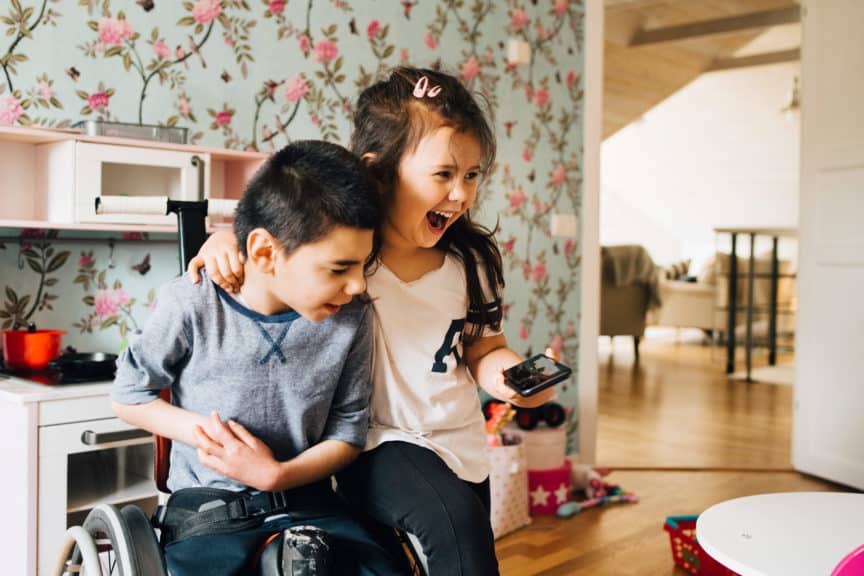 We had an older woman named Pat who had a hard time getting around but wanted to help with VBS. We asked Pat to be this child's buddy.
It certainly was a match made in Heaven. She was able to easily push his chair around to the VBS activities and, being a grandmother, quickly became a favorite in his whole group and helped him connect with the other children.
At the end of the week, Pat came to me in tears. She had been feeling like there was nothing she could do for the church due to her advancing age, but after her experience at VBS, she knew there was still more she could offer.
Later on, Pat became a small-group leader in our Sunday morning program and, with just a few accommodations, is faithfully serving today.
Train Your Buddies
If you do decide that having buddies is your preferred way to approach making your VBS more disability friendly, there are several ways you can train buddies even if you aren't sure who they may be paired up with.
I recommend that you do a couple of buddy training sessions leading up to VBS.
In those sessions you can provide a basic overview of different disabilities the buddies may encounter and offer ways to be prepared. At that time, you can have your buddy pool identify any specific disability they may be more comfortable with.
You may have a 19-year-old guy who is on the track team. He may prefer to assist one of your kids with autism who is going to need a lot of physical movement. You may have someone like Pat, who is older but is able to push a wheelchair around.
You can provide ready-to-go tools for them to use and explain how to use them. Visual schedules, fidgets, first/then items, and visual timers can help kids focus. For more ideas and tips on how to use them, dig into Sensory Toys Perfect for Including ALL Kids in Your Ministry.
It would also be helpful to provide a sensory room for kids to use if necessary. Get practical ideas for how to set up a sensory room—including budget, DIY, and blowout options—check out this article.
Use VBS Registration to Your Advantage
Your buddies are trained, the lessons are prepared, the sensory room is stocked, and the kids are arriving. Don't panic! You've got this.
A best practice is to offer preregistration online for any kids who want to come to VBS. As part of registration, you can have a link for parents of children with special needs, where they'll find a form they will be able to fill out.
Feel free to adapt this form we use to make it appropriate for your church. You should have hard copies of your form available for parents to fill out during registration in case they didn't preregister.
Follow up on the form with some specific questions related to that child's disability or needed supports.
For instance, if the parent says the child uses augmentative communication (such as a tablet with a vocabulary app on it or a "talker" which is a device that will audibly "talk" for the child using pre-entered words or phrases), you can ask if they will be bringing it to VBS (along with any instructions they may have about its use).
The more information you can get from the parents, the better.
Be Proactive
Each of the children who comes will have specific needs related to their disabilities, but there are some proactive ideas you can implement ahead of time to help your week of VBS go more smoothly.
Use these practical ideas to set up a sensory room or offer sensory-friendly options for your kiddos with sensory processing issues.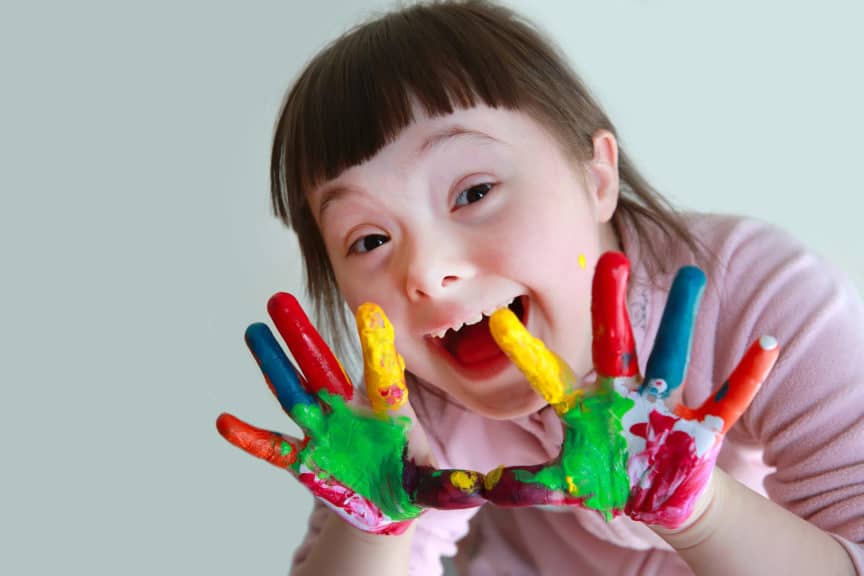 One thing to consider is alternative areas. If you have outdoor activities on the agenda, it may be a good idea to identify an indoor alternative if you have a child who is sensitive to heat or sun.
If you have a program that has a lot of kids in a large group, you may want to consider having noise-canceling headphones handy or a quieter area where that child can sit.
Be aware that some children struggle with competitive games, so giving them alternative options may make the difference between participation and meltdowns.
Other things to keep in mind:
After VBS
All these are great ways to make VBS successful for your kids with special needs … but then what?
If your church has a ministry to children with disabilities, definitely make sure parents who are new to your church are aware of that before their children leave VBS.
Parents of children with substantial challenges—especially parents who are not yet christians—are not invited to participate as often as they need to be. So, a personal invitation can be extremely effective and appreciated.
If your church doesn't have a special needs ministry, perhaps you could host a respite night or other special event to serve families of children with disabilities. Schedule your event shortly after VBS to create additional opportunities to connect not only with these families but also with other special needs families in the community.
There are so few programs for children with disabilities other than school, that news spreads quickly among special-needs families when their children are welcomed into community.
You may even be able to use VBS as an opportunity to launch a disabilities ministry and bless your church and God's kingdom in the process.
---
It's amazing to use VBS to create opportunities to reach out to children who have never heard the gospel—to tell them that Jesus loves them and wants a relationship with them.
Every year we have children come to VBS who have never set foot in a church before. But they were at VBS every day, learning more and more about the love of Jesus.
Let's make this opportunity available for all children, no matter their disability.
In the parable of the great feast (Luke 15-24), Jesus said to go out and invite everyone in, so let's do that. Let's all invite EVERYONE in!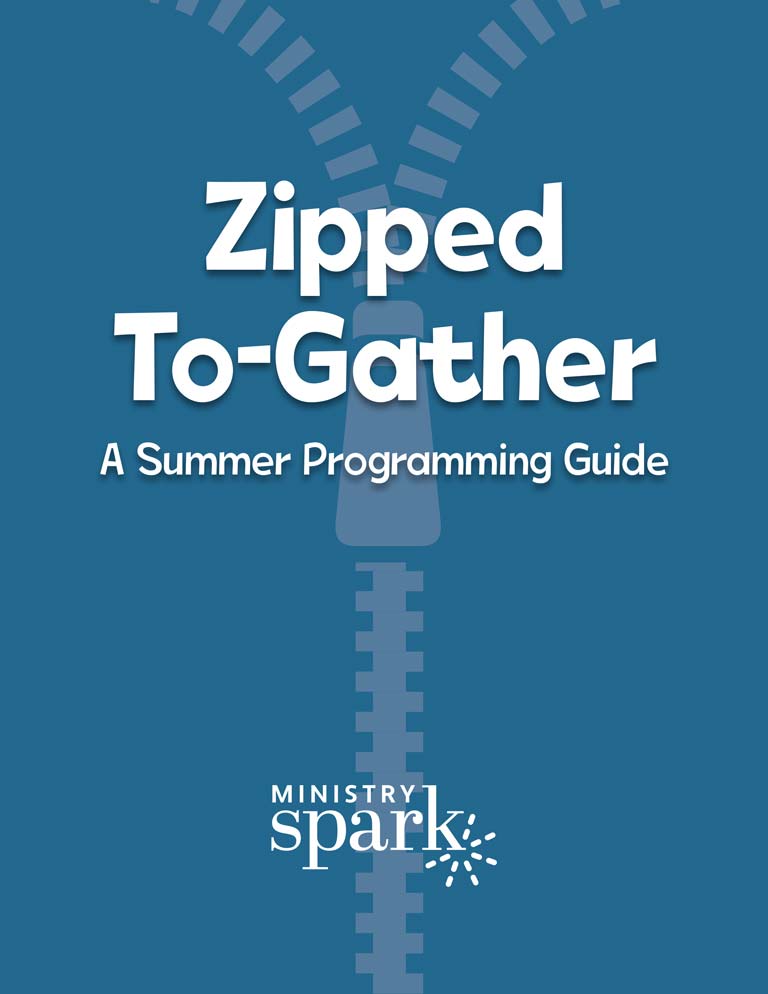 Zipped To-Gather: A Summer Programming Guide
Zipped To-Gather is an outreach program that invites and encourages parents to get involved in ministry to your community. You will simply provide the easy-to-find supplies (listed in this guide), and the parents will take it from there. Check it out!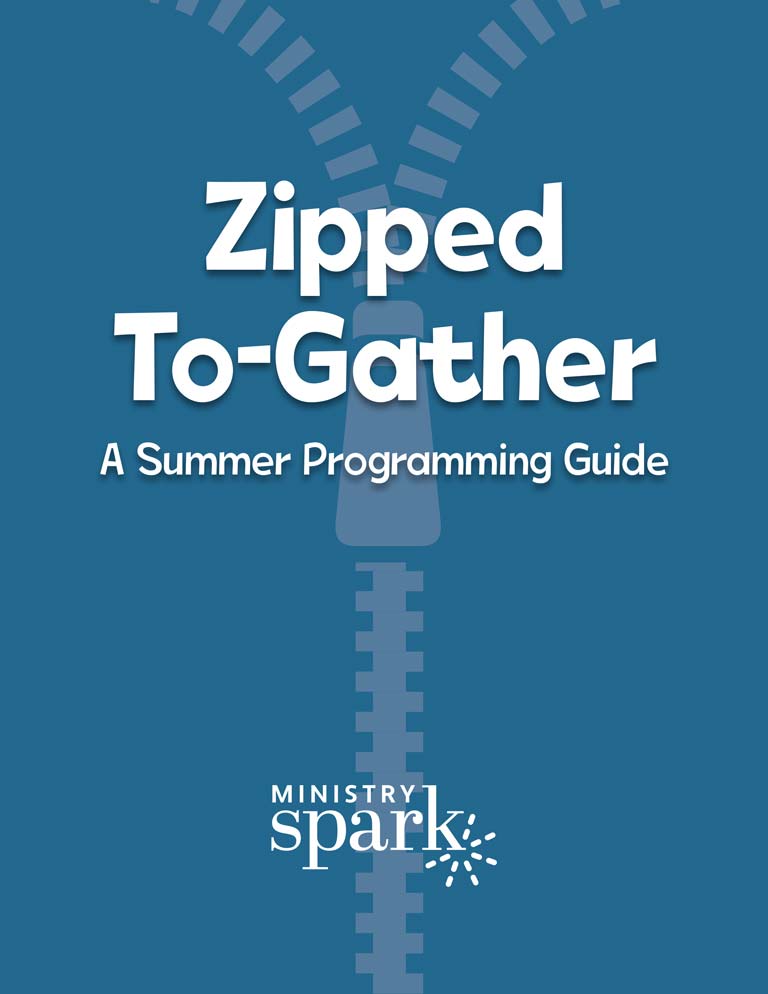 Zipped To-Gather: A Summer Programming Guide
Zipped To-Gather is an outreach program that invites and encourages parents to get involved in ministry to your community. You will simply provide the easy-to-find supplies (listed in this guide), and the parents will take it from there. Check it out!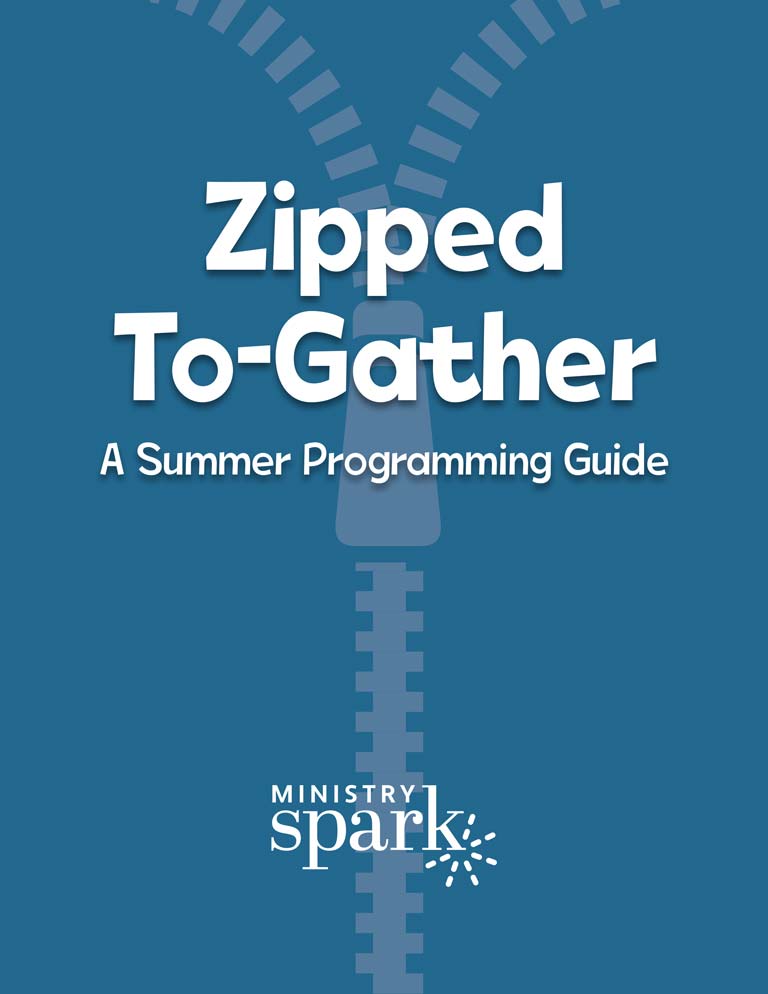 Zipped To-Gather: A Summer Programming Guide
Zipped To-Gather is an outreach program that invites and encourages parents to get involved in ministry to your community. You will simply provide the easy-to-find supplies (listed in this guide), and the parents will take it from there. Check it out!