Editor's Note: This interview is adapted from a Rally Point Ministry Podcast episode—Help Parents Overcome Awkwardness and Get Their Kids to Talk—for ease of reading. You can listen to the full podcast here.
This is probably the most common question we get in family therapy. It goes something like, "My kid won't talk to me. You know, I ask them questions and they always answer with, 'I don't know,' or something like that."
So, it's really relevant for us to talk about how create open spaces at different ages, because the challenges change over time.
And what we're seeing is a movement in the church called family ministry. We're not throwing away youth ministry. It's important. And so is children's ministry.
But the idea of understanding that you work with the entire family system is so much different—as it is with counseling. So, where God is taking the church is exciting, because this family ministry approach is healthier.
What are some of the difficult, lifelong conversations that many parents are struggling to have with their children?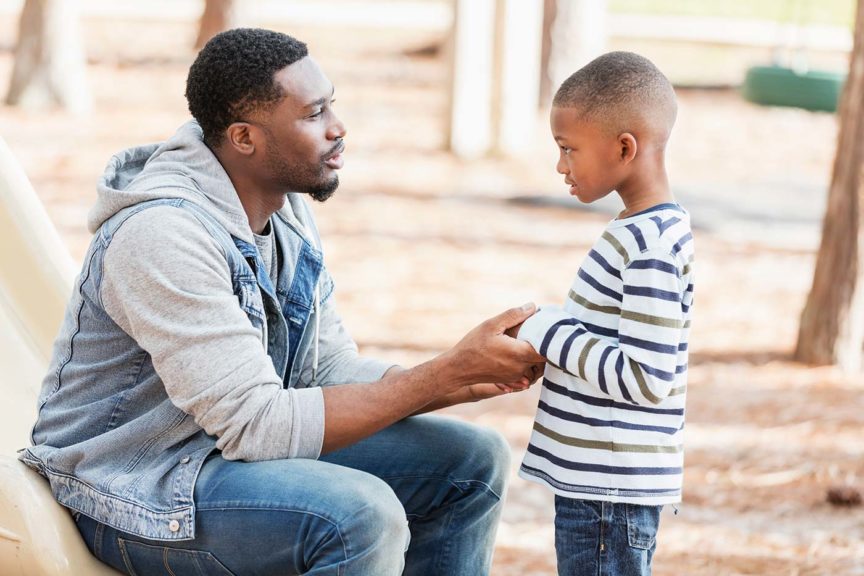 Part of parenting is the lifelong conversation. But it's the biggies like talking about sex and sexuality, drugs and alcohol, and also the issues of discipline.
When I talk to parents and ask, "How many of you received good, positive, healthy sex education from your parents?" There might be 4 out of 400 that raise their hands.
It's a continual process like when we talk about phases related to how you discipline kids—you're going to discipline a 4-year-old very differently than a 14-year-old. The concept of discipline is even more different when your children become adults, but that's still a phase of parenting.
You can't have a conversation with your own children or anybody else's kids without talking about media use, influence, and abuse—which includes porn and addiction.
It's a process that is like an onion peel. You have a conversation when they're younger, and then you continue that as they grow. Doing it in layers will also make it more comfortable for them to have conversations throughout their lives.
For example, if you wait to bring up sex until they're 13, it becomes harder because they've likely already seen pornography by age 11. So, they aren't going to really talk to you because they aren't comfortable having these types of conversations.
On the other hand, some parents think you have to sit down and tell kids everything in huge detail, but you don't. You simply make it comfortable by just having dialogue. For example, when a child is younger, they can identify male and female parts pretty innocently and move on. It's usually adults who make the conversation uncomfortable.
You build from one age to the next and then your children will begin to feel safe for the next conversation—especially when you approach the topics calmly.
What are some of the biggest obstacles you've seen parents run into that get in the way of starting some of these difficult conversations?
Sometimes parents didn't make right and wise decisions about their sexuality, or they never had a healthy role model. And so, they either don't know what to say, or they're afraid kids are going to ask about them.
So, sometimes I think it's harder for them. I think the awkwardness comes typically from the parents, not so much from the kids—at least not until they get to a certain stage.
That does change because if you're trying to talk to a 13-year-old boy about sex, that's not a conversation they're looking to join.
Sometimes parents will get too lecture-y or preachy.
As soon as they do that, then that kind of shuts down the kid. Or if they're very dogmatic and just cut them off, then the kids are going to think parents are going to cut them off every time they have a conversation about it.
This doesn't mean you should have weak convictions. It just means you need to approach it calmly with your children. It's creating connection with your children.
Parents need to understand that healthy sex education, drug education, or whatever is about dialogue. It's a process. Later you will come back to it at another angle and move on. And continue that way—especially on tougher issues, you don't ever want to close the dialogue completely.
And it's important to be honest—don't try to scare your children into a decision and just tell them they will get AIDs if they have sex outside of marriage, because that's not the case. Being honest in age-appropriate ways will enable your children to trust you.
How should parents bring up these kinds of conversations?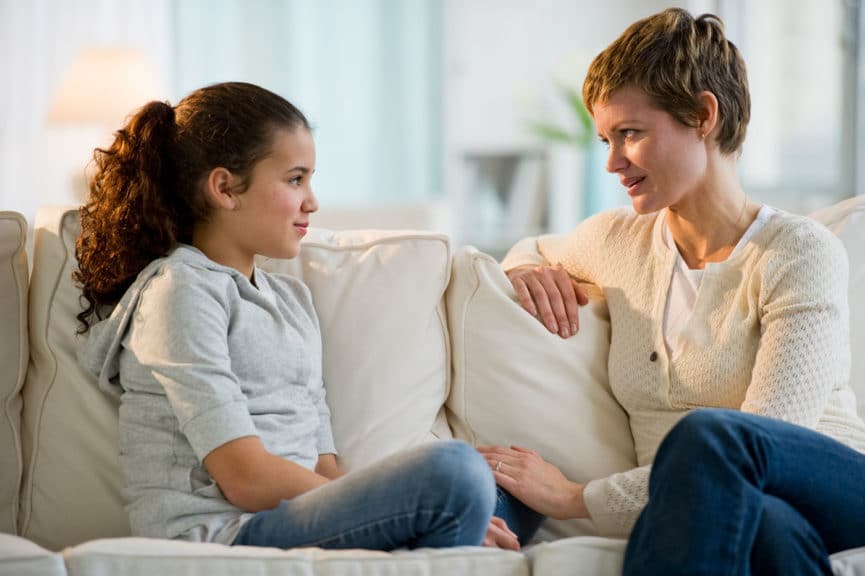 These conversations take place in those times that I call planned spontaneity. It's the times when you least expect it when the good conversations take place. It's really important to personally tailor your dialogue with your kids because each kid is different.
And sometimes we parents blame ourselves when it's really not our issue. It's more about our kids just making some poor choices, or maybe they're just trying to figure it all out.
Anger is a secondary emotion. There's always something behind the anger. In other words, if your son or daughter is angry at you (and they're 17), then there's a reason for that. And it may not be you as the parent. It may be that their boyfriend or girlfriend broke up with them, they may feel pressure from school, or they could even be angry at themselves.
But I find that if I see anger, I'm kind of happy because that means I can kind of work backward and try to figure out where that anger is coming from. You are the one who has to help them identify it.
Leading as Parents
As parents, you have to lead—and you do that with authority. But you also lead with love. Own up to your mistakes, apologize to your kids, but also correct them and be the authority in their lives.
Many parents today don't lead and instead let their kids take over. But parenting with honesty empowers kids to be real and in touch with their own brokenness.
For example, you could say, "Hey, the reason I have so much passion about sexual integrity is because I didn't always make good decisions. And my passion is for you to make better decisions so that you don't carry the baggage that I had to carry into my teenage years. And even into our marriage."
You don't have to pretend to be perfect, but you also don't need to share every detail about your life either.
How do you move through this kind of continuum where you're now parenting adults?
Ultimately, they still want to know the answer to one question—even if they violate your values or go a different way than what you believe.
Do you still love me?
As parents, it's really important that we help them understand that you're not going to shun them or walk away from them. We sometimes get too angry—outside of tough love—and we're mean about things.
You may have to let them live out the consequences of some of their poor choices, but you've still got to be their greatest cheerleader.
What would you say to ministry leaders or parents who are right on that edge of giving up trying to connect?
I would first say welcome to the club. We've all experienced it. There's been times in my life where I thought, What am I doing here?
But the hope we have is in God. The one who hears our prayers.
He is an eternal God who's going to give us the strength to persevere. And sometimes we think, Oh, He's going to give us this great, amazing victory. But no, He's just going to give us the strength to persevere.
And there's real beauty in that.
Scripture says that we should train up a child in the way to go, and in the end they'll return. It doesn't say when or how; it just says that they will. It may be years from now, but the hope comes from the Heavenly Father—the one who loves our kids even more than we do.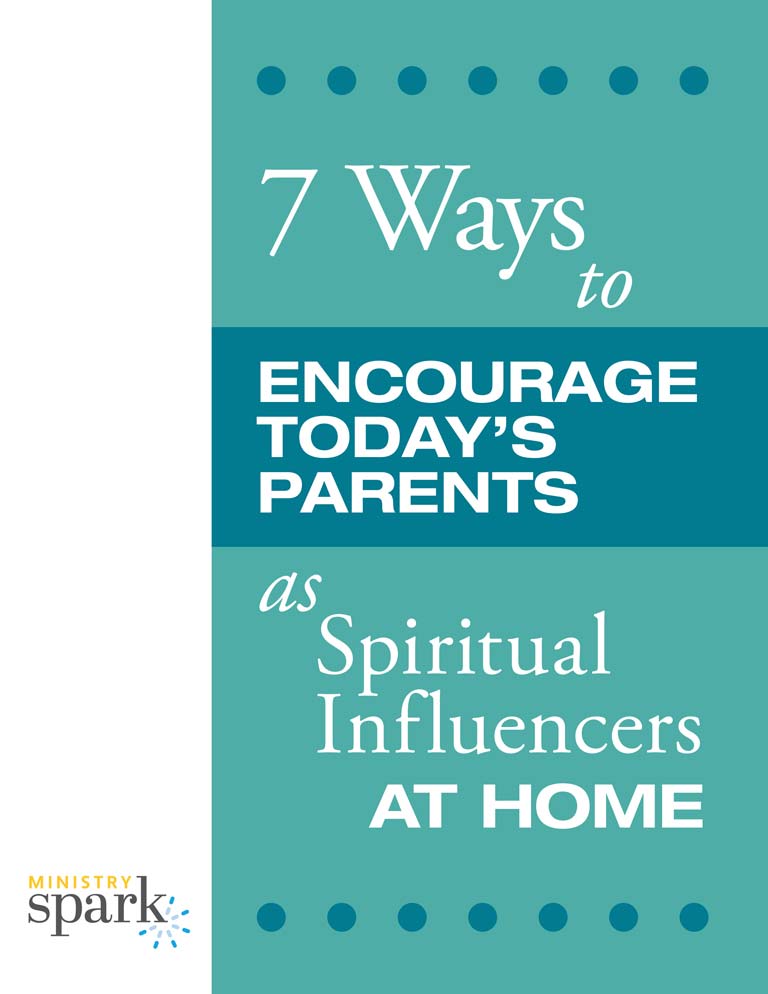 Ready to help parents create an environment for spiritual growth?
Get ready to help families with their most important task, in our guide from Ministry Spark: 7 Ways to Encourage Today's Parents as Spiritual Influencers at Home.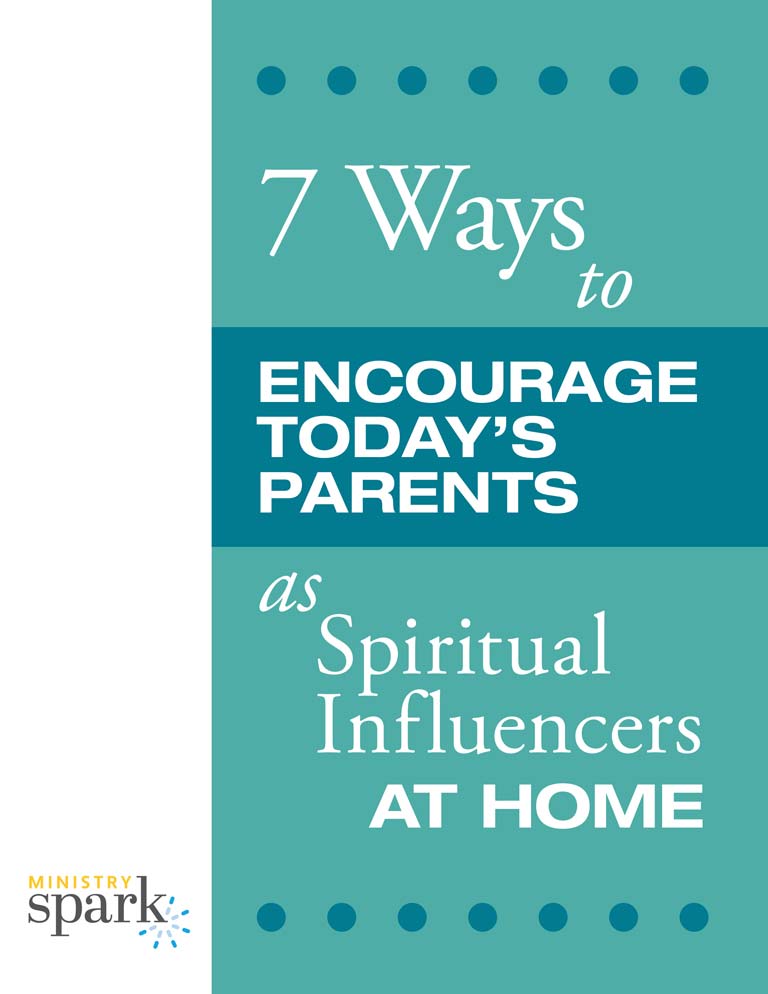 Ready to help parents create an environment for spiritual growth?
Get ready to help families with their most important task, in our guide from Ministry Spark: 7 Ways to Encourage Today's Parents as Spiritual Influencers at Home.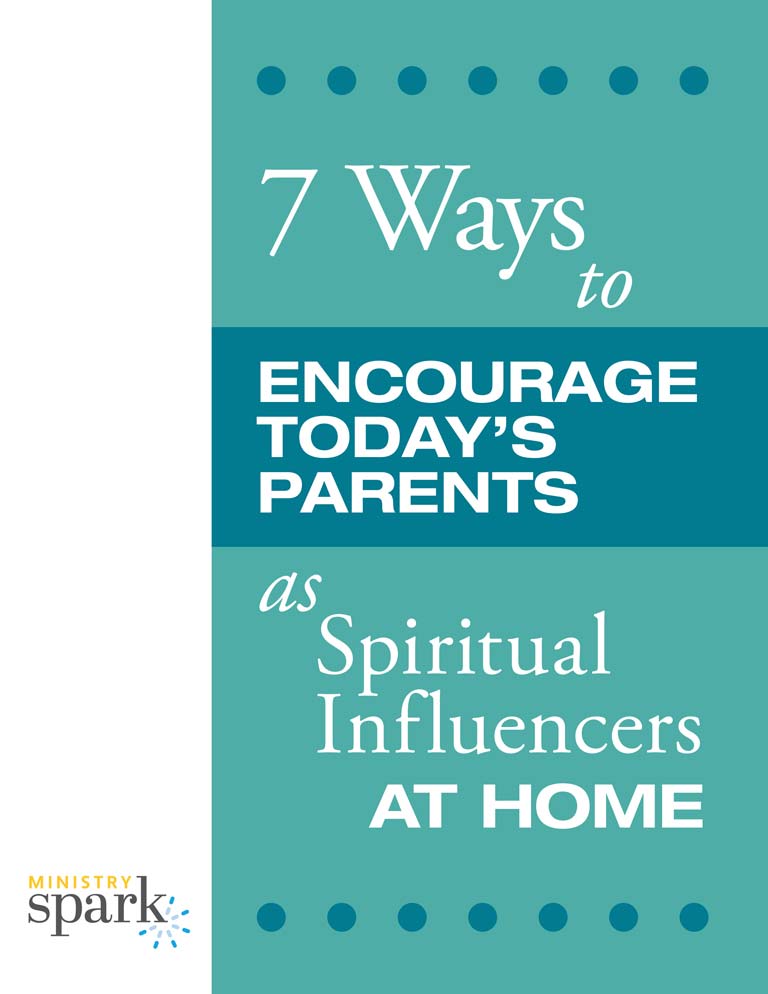 Ready to help parents create an environment for spiritual growth?
Get ready to help families with their most important task, in our guide from Ministry Spark: 7 Ways to Encourage Today's Parents as Spiritual Influencers at Home.