One of my favorite things to do is snuggle with my son. I am infinitely blessed that we share the love language of physical touch. We can sit on the couch and hold hands, and he'll lay his head on my shoulder. I can feel the tension melt from our bodies. That is, until I feel the buzz from my cell phone in my pocket and I'm immediately distracted.
Occasionally, Nathanael will let me tend to my phone. But every once in a while, he reaches for my hand or grabs my cheek and gently swings my head in his direction. He looks into my eyes, and I say, "I'm back!" More than anything else, he wants to know that I'm listening. That I'm present. That I love him. That I care. And nothing can communicate that more than my undivided attention.
Jesus As Our Example
As leaders in children's ministry, there is MUCH that requires our attention. One of the areas that often gets neglected is caring for our leaders. They are grown adults or even teenagers who require little direction. Because of this, we often get focused on other areas that need more of our leadership, guidance, and focus.
We can rely on Jesus as our example and our motivation. The truth is, Jesus spent a lot of time caring for His leaders. As followers of Christ and teachers of the gospel, we are called to care for our leaders. It is what Christ did while He walked with His disciples.
In one of the last conversations that Jesus had with Peter, His appointed leader after He would ascend back to heaven, He reminded Peter of his calling: feed my sheep (John 21). Jesus calls us to do the same. We should tend to our leaders' needs, oversee their spiritual growth, and encourage and challenge them in their ministry and spiritual journey.
Jesus was raising up the next generation of disciples—isn't that what we're called to do as leaders as well? Jesus prayed with His leaders, ate with them, taught them, and encouraged them. Let's take a look at what this can look like for us as children's ministry leaders.
Jesus Prayed with and for His Leaders
In John 17, Jesus asked the Father to protect His leaders, give them joy, and unify them through the Word. Jesus knew His leaders, their mission, and what they would struggle with. He asked the Father to guard them against all evil.
When we know what our leaders are facing in ministry as well as in their personal lives, we are called to unite with them in prayer. Recently, I had a leader share some pretty difficult struggles concerning her aging parents. I felt helpless because there was literally nothing I could do. I offered to pray with her, and she reminded me prayers are just what she needed!
One of my favorite verses in the Bible is from Philippians: "In every situation with prayer and petition with thanksgiving, tell your requests to God. And the peace that surpasses all understanding will guard your hearts and minds in Christ Jesus." Pray with and for your leaders that their hearts are guarded with God's peace.
Jesus Shared Meals with His Leaders
My favorite thing to do with leaders is to eat with them. Jesus did, so no guilt there! Nothing unites leaders quite like food or good coffee. At the beginning of the Christmas season, we have a leader brunch in between our Sunday morning services and invite all our leaders to bring their families.
Everything is provided by the parents of the kids we serve, so we can say "thank you" for leading throughout the year. It's a festive atmosphere with Christmas music playing and staff enjoy mingling around the tables while families eat together.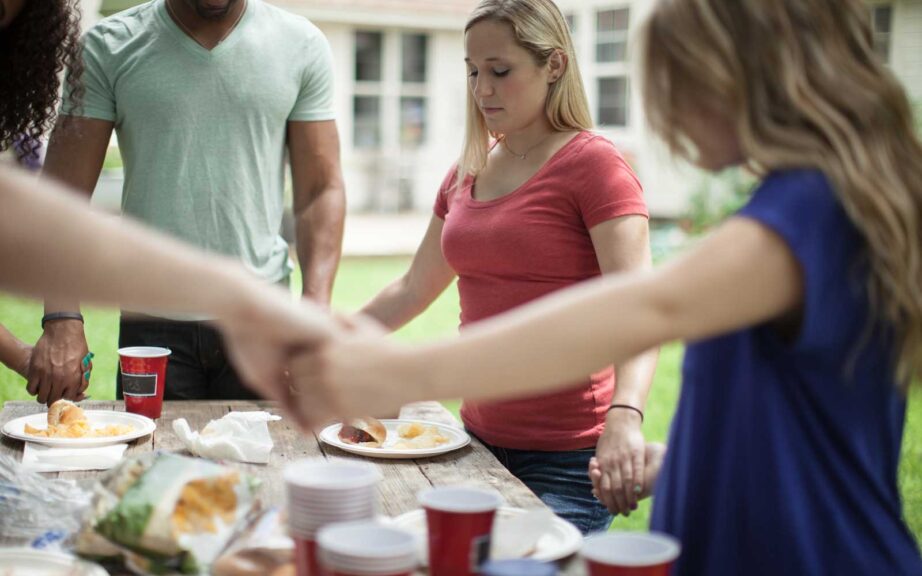 We also gift leaders with an ornament for their Christmas tree as a small token of our gratitude. Get your leaders together at least once a year to share a cup of coffee or a meal. Take the opportunity to personally thank them for their service and continue to build relationships!
Jesus Spent Time with His Disciples
As leaders, we are called to do the same. Lead by example. Pour into leaders what you want to see from them and equip them to do the work you've asked them to do. We try to do all these things throughout the year in various ways.
We send monthly emails with tip videos, encouragement, and any information we want them to know about the upcoming month. Before any ministry event or program, we gather leaders ahead of time to pray with them. We equip them for the night, and occasionally teach about a topic that's been concerning our church, community, or families.
As often as we can, we jump in to teach and lead right alongside our leaders. This helps build morale, lead by example, and often helps us learn from our leaders new and fun ways they're engaging the kids!
Jesus Encouraged His Leaders
I'm not sure why, but this is the area I struggle with the most! After a ministry night or event finishes, I typically mind myself sitting at my desk or driving home and praising God for the AMAZING leaders I have. But I am always in awe.
Take the next step with me and SHARE that encouragement with your leaders! Send a personal text, email, phone call, or handwritten note to your leaders when you see them do something you'd like to emulate. Build this habit into your regular routine—everyone benefits from regular encouragement.
When your leaders experience tough times, either personally or in ministry, share with them this truth from Jesus. "In this world you will have trouble. But take heart! I have overcome the world." (John 16:33)
When we take the time to care for our leaders, we are modeling how Jesus cares for His people. Building trusting relationships will strengthen our ministries.
Be intentional about how you care for your leaders. Follow the example Jesus laid out for us. And take heart—Jesus has overcome the world!