Many churches are reopening their doors now. My church reopened this weekend for the first time since the coronavirus pandemic began. They were careful, thoughtful, and handled everything about as well as I could have asked.
But my wife and I did not attend. Why not? Because, for us, attending service would have been an hour of managing our children instead of worshipping God.
At the time of writing this, I have a 4-year-old and a 1-year-old. The past couple of months of "stay at home" and "safer at home" have been pretty tiring for my wife and me.
If you don't have a young family during this time, either think back to when you did or imagine what it would be like to have even a couple of little ones running around.
Now imagine having young children and being completely homebound—no grocery runs, no park time, not even a play date. Just you and your kids and a lot of prayers for creativity and physical stamina.
We are tired. We are worn. And we are slightly overwhelmed. But we are trying to do what's best, and sometimes we are even getting it right.
Don't get me wrong, we have had times of pure joy and have experienced depth and beauty within our family over the past few months. But we're doggone tired. Coming up with at-home activities that are unique, engaging, and fun is a good challenge a few times a week.
But every day for over 60 days now? Let's just say that even for 2 creatively bent parents, we are completely out of ideas.
Reopening Church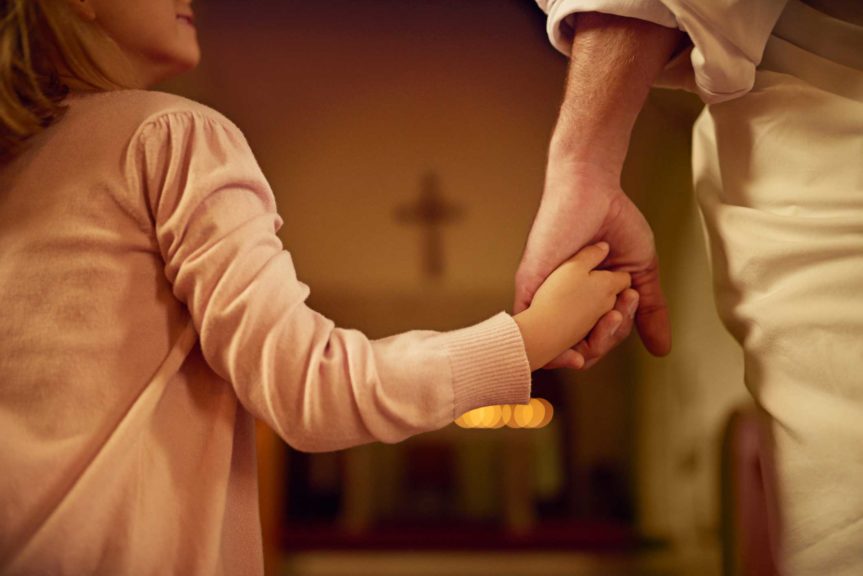 As our church started rolling out their plan for reopening services, I was a little disappointed to learn that the only option for kids was to attend the service with their parents.
Our 4-year-old can't pay much attention at all right now. She's far more interested in the playground she sees as we walk in. And our 1-year-old … well, I probably don't need to convince you that he's not quite ready for an exegesis yet.
The truth is that your church has families like ours. And because of the past 60+ days, we are more eager than ever to be somewhere with them other than home.
Even if your senior leadership has told you that you aren't allowed to open up children's classrooms or groups, understand that families and children will be looking to you for guidance. So, in a way, whether your classrooms are open or not, your children's ministry is reopening.
And with this reopening comes an opportunity to engage, lead, and love families in your church greater than ever before.
If you leave families like mine high and dry, you will leave them disappointed and even possibly considering other places to worship. And a church without young families is a church with a bleak future.
I don't say this to scare you, but rather to encourage you: doing something is better than nothing. No matter what your church's reopening plans are, you must have practical and helpful steps in place for each phase. And you need to accommodate as many different family dynamics as possible.
Let's consider some of the options below. You'll want to make sure the ideas you run with line up with the CDC guidelines and your state and local restrictions.
Reopening Limited Classrooms
This decision might be out of your hands.
But if you're able, opening up classrooms is definitely worth considering. If I were in your shoes, I would consider opening very few classrooms to start. I'd even have a strict limit on how many children can be in each room at a time. The reason so many organizations are choosing to phase re-entry is because it allows you to learn and pivot as you go.
Note that there are a lot of policies to think through here.
What would it look like to choose 2-3 classrooms and have 5 children able to attend for each service?
With this option, it will be very important to consider how to communicate to your church body in a loving and caring way. Your choice to be careful will bless your families, even if it falls on the ears of people who weren't able to get there. You're showing all families your dedication to their children.
Also, consider having parents pre-register children for services. And, if possible, have an option for parents to sign-up for email updates, even if they try to register late.
Activities in the Sanctuary
Let's say your senior leadership has determined that all classrooms (or most) are going to be closed. The easiest path in this scenario may be to include children in the main worship service. But for some families (like mine!) that is really difficult.
Even if you provide the typical Christmas-Eve-like coloring and activity book, you're going to have kids who are unengaged and antsy.
What would it look like to reimagine your Children's worship experiences into a corner of your sanctuary? Or even from the stage? What if you had a couple of adult leaders that could lead preschool and/or elementary games and activities during the church service?
It might be a little chaotic, but it also might be a breath of fresh air to have some youthful zest in the room during your service.
Consider playing games where everyone can social distance like Simon Says. Sanitize some handheld whiteboards and markers to have a Bible Quiz or drawing time. You could even use a book or old school flannel graph to have some storytime with them, too.
Even wheel out a TV for some of the kids to watch VeggieTales!
You could also create an area for families with infants and encourage them ahead of time to bring a blanket with a few toys to give their babies space and freedom to play.
The truth is that your services have to look different already. Stopping and thinking creatively about how to create space and freedom for families may actually end up being less disruptive in the long haul for your service.
And it will certainly communicate love and attention to these families who are desperate for any kind of a break.
Go Outside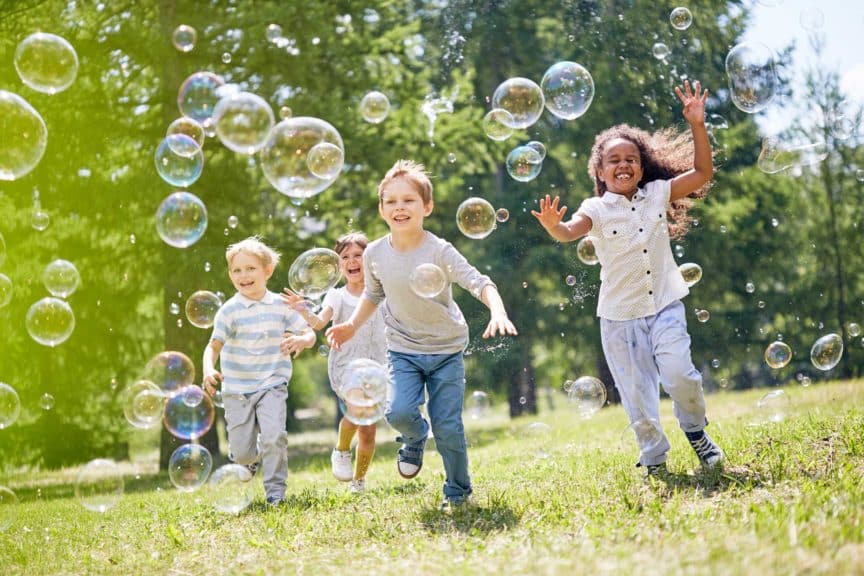 Even if it's just for a 30-minute portion of the worship service, having some time for kids to get their wiggles out and allow parents to focus could be a big win for your families. Have kids follow your adult leaders outside if you have a field to play in.
Here are a few simple ideas of games you can play:
AEROBICS SESSION
Get your highest energy adult leader to plan out some good ol' fashioned kinesthetics. If the leader wants to dress up in their best 80's attire, all the better! Kids will get a kick out of having a fun workout in the sun.
THE ALPHABET CHALLENGE
Have kids spread out in a wide circle. The leader gives them a topic like person from the Bible or fruit or something you can do while social distancing. Then going in order around the circle, kids follow the alphabet to come up with an answer that fits the prompt.
For example, fruit could garner apple, banana, then cantaloupe.
CHALK TIME
Every kid gets a piece of chalk to draw, challenge each other to Tic-Tac-Toe, or anything else their imagination could come up with! This could also be a great chance for kids to write encouraging notes on the sidewalk or even for their parents as they leave the service that day.
You could also provide a Ziploc bag for kids to take their chalk home with them to do the same in their own neighborhoods.
Just doing something will give kids something to look forward to during the service that's directly for them as opposed to the parents having to figure it out and hope it goes well. Be sure to communicate to your parents too, so that they and their kids can be looking forward to their outside time.
Show Individual Attention
I've noticed many churches leading campaigns to connect with one another through a phone call during this unique time. Most churches are using these conversations to check in on them and see how the church can be supportive of them during this time.
Whether you've gone through something like this already or not, your church's reopening is the perfect time to spread a round of intentional love.
Communicate early and often about what parents can expect and how they can best partner to make things safe and fun for their entire family. Facebook, email, and phone calls will go a long way to keep your parents informed.
Think through:
parents of teenagers
parents of preschoolers
mixed families
fostering families
Show that you care!
While your church likely can't have personalized solutions for every family situation, it's important to recognize that every family situation will be trying to figure out how to participate in your church's reopening phases.
Send Activities Home with Parents
Chances are that you might be doing this already through email. Keep doing it. We parents, especially of small kids, are happy to receive any and all suggestions you have for things to spiritually lead or families or just have some goofy fun together.
The curriculum you use should have lots of great activities and games. Scan through some past lessons to see if any would be good in the home. While many may not be appropriate for larger gatherings right now, most should be at least adaptable for the home.
The most important thing here is to keep it simple. Assuming that you serve on a small team at your church (or maybe you ARE the team), you don't need another trivial task on your to-do list.
But this one in particular has the power to communicate to your parents with even a simple suggested activity that they are not alone and that they matter to your church.
Are you noticing a trend here? Families at your church really just want to know that they are seen during this season.
Conclusion
This isn't an exhaustive list of how to reopen your children's ministry, but it is something that can help you begin thinking about your families. I urge you not to leave families high and dry during your church's reopening.
And with a little creativity and intentionality, you can figure out the best way for your ministry to care for them deeply during this time.
Families will be looking at you for answers and direction when the doors to your church open. Be ready for them in whatever capacity you can. Continue to be prayerful. Continue to be prudent.
God will meet you in your preparation and help you care for your families best.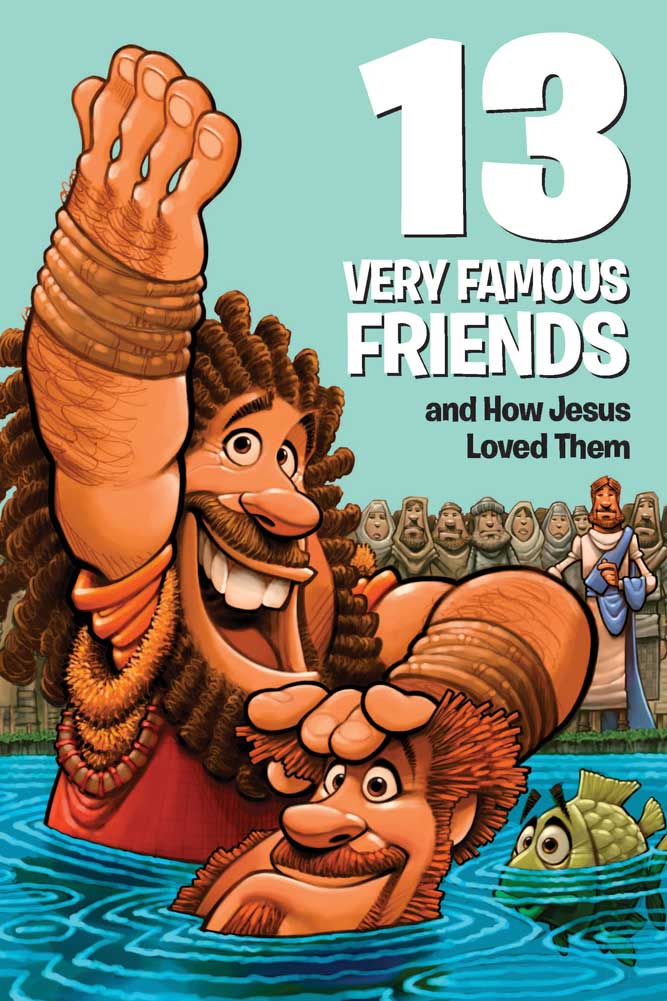 13 Very Famous Friends and How Jesus Loved Them
Help kids discover the faith-building, life-changing love of Jesus tucked into 13 stories of Jesus's famous friends and how He loved them. They will begin to understand what it means to love one another as Jesus did.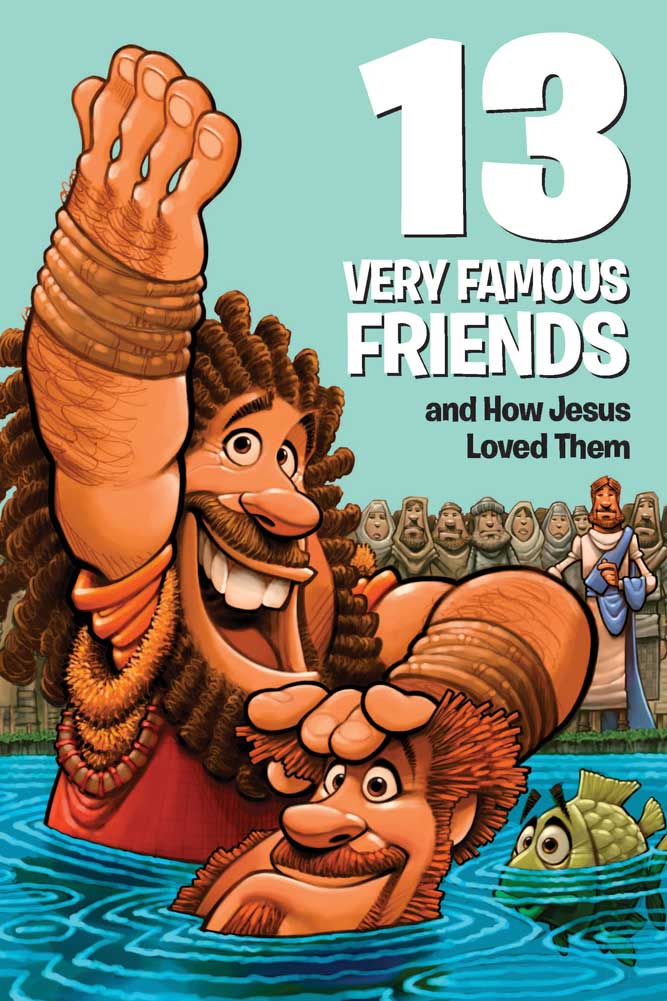 13 Very Famous Friends and How Jesus Loved Them
Help kids discover the faith-building, life-changing love of Jesus tucked into 13 stories of Jesus's famous friends and how He loved them. They will begin to understand what it means to love one another as Jesus did.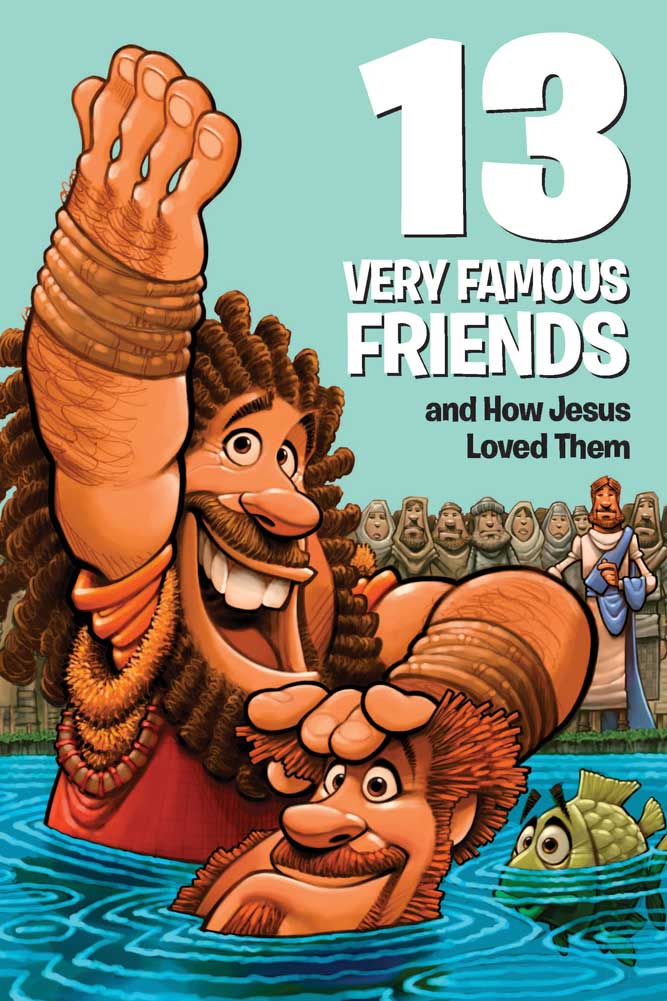 13 Very Famous Friends and How Jesus Loved Them
Help kids discover the faith-building, life-changing love of Jesus tucked into 13 stories of Jesus's famous friends and how He loved them. They will begin to understand what it means to love one another as Jesus did.