Note from the Editor: As we navigate life and its many challenges and seasons, we can always trust God's direction—especially when we ourselves cannot see through the glass. We can trust that God's strength is found in our most fractured moments, and He is with us in all things.
We are reminded of the words of Paul in 2 Corinthians 12:
"A thorn was given me in the flesh, a messenger of Satan to harass me, to keep me from becoming conceited. Three times I pleaded with the Lord about this, that it should leave me. But he said to me, "My grace is sufficient for you, for my power is made perfect in weakness." Therefore I will boast all the more gladly of my weaknesses, so that the power of Christ may rest upon me. For the sake of Christ, then, I am content with weaknesses, insults, hardships, persecutions, and calamities. For when I am weak, then I am strong."

2 Corinthians 12:7-10 (ESV)
As you read this article, you may be feeling similar pains and pops in this season of your life. Know that God has us in His hands—no matter our brokenness. And that is the best place we could ever be.
The Window
The large picture window facing my backyard has always been a wonderful place to sit and view life. In years past before the sun was fully up in the morning, it offered hazy anticipation of color for the day.
In the fullness of the afternoon, I soaked up sunbeams and warmth as my infant daughter napped in my arms like a cat. At dusk, it gave a front-row view of my daughters playing with the dog.
Minutes, hours, and years were spent looking at life through that window; babies changing to toddlers, and young children to teenagers. I witnessed life through that clear pane of glass … until I didn't.
The peculiar, stifled pop shocked me when I heard it. Curious, I stood to investigate, searching around the living room for the place the sound had originated. When nothing notable was obvious, I drew back the curtain to look outside and was stunned by the window's sudden deformity.
The window through which I watched my world mature had shattered into thousands of pieces that blocked any view. Now only fractured sunbeams twisted in on themselves, causing the glass to emanate an unnatural beauty.
Broken But Not Done
This brokenness mesmerized me, and I instantly yearned to examine its physical change. I lifted my hand to the frame that seemed to be holding fast. My fingers danced gently over the shards to prevent dangerous fragments from lodging in my fingertips.
What had appeared to be perfect glass was now fragmented mosaic pieces of its former self. Yet the solid frame willed the pieces to hold together to maintain strength even in their weakened condition. I sat in awe of the window.
I had not foreseen its impending collapse on sunny summer days or snowy wintery mornings. Its strength appeared resilient to extreme temperature changes or harsh weather events. Yet, beyond what my eye could see, a change occurred in the makeup of the glass.
The combination of sand, soda ash, dolomite, limestone, and salt cake formed by heat, and tempered to withstand the extreme had broken. Broken not because of a ball thrown carelessly in the house but because structurally, inside a place unseen and unknown, it collapsed.
I was unaware that as days passed and temperature, wind, and rain exerted pressure, the window could no longer hold the weight of the weakness, and with a pop, the brokenness was revealed.
My Brokenness
The window through which I viewed life suddenly became a picture of my internal struggles. My body and flesh hold together the internal struggle for strength to appear whole. Yet, the light within reveals cracks, though I choose not to acknowledge or stand still to examine.
After days of sitting in front of the damaged window, I began to push the crippled glass to its limits, tapping and pressing against a piece until it collapsed inward. Instinctively, I pulled away, waiting for the other pieces to tumble downward.
But when they held, displaying a strength I didn't expect, I began pushing and pressing pieces over and over—daring the pane to hold together.
I wanted the collapse. I wanted to witness the glass coursing down into a pile of sand, dust, and fragments. So, I goaded the frame, pressing each piece out of place, willing it to "JUST GIVE IN." But I gained no satisfaction, for even in its weakened state, there was a strength unseen holding it together.
In moments of weakness, looking through the replaced window, I reflect on the window that existed there first, and my reflection in it. I want my appearance to allow God's beauty to shine as it ought.
But I am living in and through moments where the "pop" inside me is felt, and the fractures are revealed to others through imperfect actions, distraught responses, twisted mistrust, and a shame that is from the garden. In my resilience, I will myself to remain upright and in action, refusing to just give in.
I deny, deny, and deny God's coaxing power to lay it all down.
The Beauty in Surrender
And finally, when I surrender, the peace of God, which surpasses all understanding, washes over me, mending my shattered heart, body, mind, and soul. In my weakened state, He gives me His peace and strength.
In moments of quietness, I sense God looking beyond my perceived deformity, but viewed through His grace, He sees unearthly beauty. Time with Him heals the minutes, hours, days, and years of holding back and being strong.
His attention melts away my armor and the need to fight. I sit, I lie down, and I weep in the presence of His love, accepting His power and strength to redeem and restore me for His plans and purposes.
"He gives power to the faint, and to him who has no might he increases strength."

Isaiah 40:29 (ESV)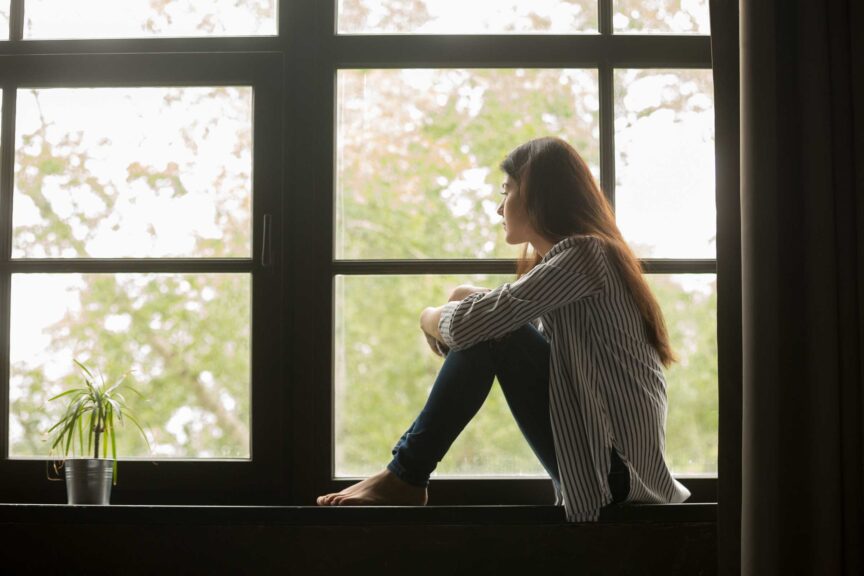 Time for Reflection
As life happens in and around us, we can trust God in our brokenness. And, in our shattered souls, we have to sit and work through the tension of the now and not yet. We can trust that He has us. Recall the words spoken to Paul—God's grace is sufficient for us.
As you spend time with Jesus, do you take moments to be before being consumed with 'doing' life? How does your time with Him show up in the rest of your day? Do you see Him working in your brokenness?
Are there areas of your life that feel as broken as a shattered window? As you surrender to His will, what do you sense Him speaking to you?
Remember that God cares more about your soul than anything else. In John 16:33, Jesus tells us of the suffering we will face but reminds us that He is all we ever need.
Be encouraged today. In the midst of whatever you're facing—He shows up, every time.
Prayer
God, You love me just as I am. You see me with all of my cracks, and You pull me even closer to You. Forgive me when I forget to spend time with You. I know that when we are together, you are fully listening to me and loving me. Thank You!
Thank You for having a plan for me. Please help me to reach out to You when I get off track and make plans of my own. I am strong Lord, but You are stronger. I love You. Amen
Blessing
May the Lord be with you as you go and tell children about all He is and all He has to offer them. May our all-powerful, gracious God hold you close as you remember how loved and cherished you are. As you recall that brokenness is designed to draw you to our King, may you know who you are in Him as you sense the strength of the Holy Spirit when you rise in the morning and before you fall asleep each night.
May His presence go before you, walk beside you, and follow up behind you. Find rest in knowing that you are more than you do, and He longs for you to be. May His light shine through you as you anchor yourself to Him. And may your life speak of His wonder so boldly that all who encounter you see Him.