Editor's Note: We asked our Ministry Spark community a series of questions in an open-ended survey. We heard from 165 ministry leaders. These are a summary of your responses. (Part 1 can be viewed here).
Many churches are planning to celebrate Christmas and Advent—in-person and virtually—while many others have no plans or aren't sure of what to do.
The most popular of what we heard was at-home packets for families for celebrating the season, while also having a live-streamed celebration together.
The 3 main categories we split answers into were in person, virtual (at home), and hybrid—meaning both in-person and virtual options.
IN PERSON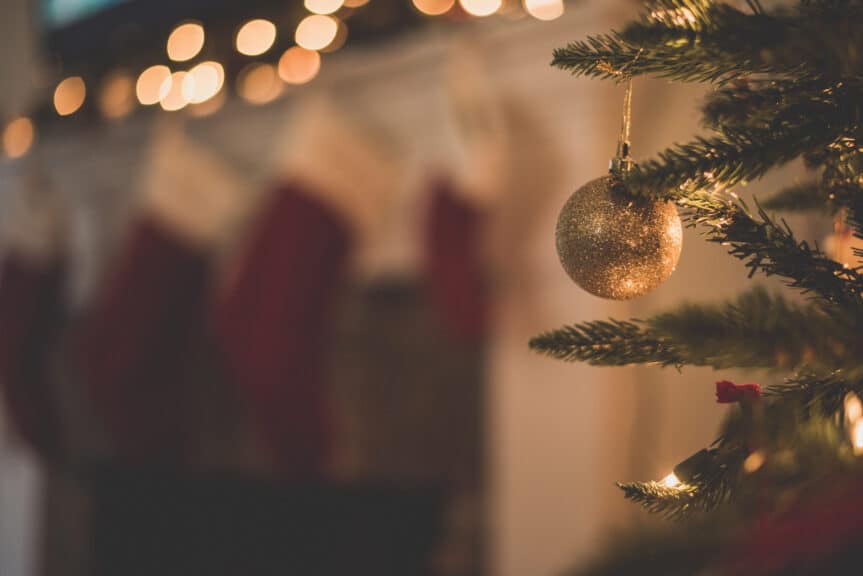 Some churches are planning to continue ministry just as they have, while others are making their in-person events more compatible with the challenges of COVID.
"Maybe an outdoor nativity!"
"We're just trying to keep things as normal and as safe as possible."
"We are offering a family service multiple times the week leading up to Christmas."
"We are doing a "Light Before Christmas" event the first Saturday in December. Families can come in one at a time to take a picture in front of our tree. They then walk through our sanctuary down a row of lighted mini-Christmas trees decorated by members of our congregation. There will (hopefully) be live music from members of our congregation singing from the altar area. As they leave, they will receive a small bag with pre-packaged breakfast items and "Christmas in a Box" Advent devotional kit to do together. We are also having families sign up for a Nativity Play. We will set up the stage in the sanctuary, and they will come in one family at a time to film their part. Then we will put it together to make a Nativity video."
"Movie nights at the church. A Christmas event outside with luminaries, live nativity, choir, handbell performances, stations for children to do a game or craft activity."
"We host an event called "North Pole Kaufman" and we are adapting it this year to keep all activities outdoors: snow hill; snowball fights; games; cookie decorating, etc. We will present the Christmas Story, musical style, in our worship venue. This will take place multiple times with limited seating to maintain social distancing."
VIRTUAL (AT HOME)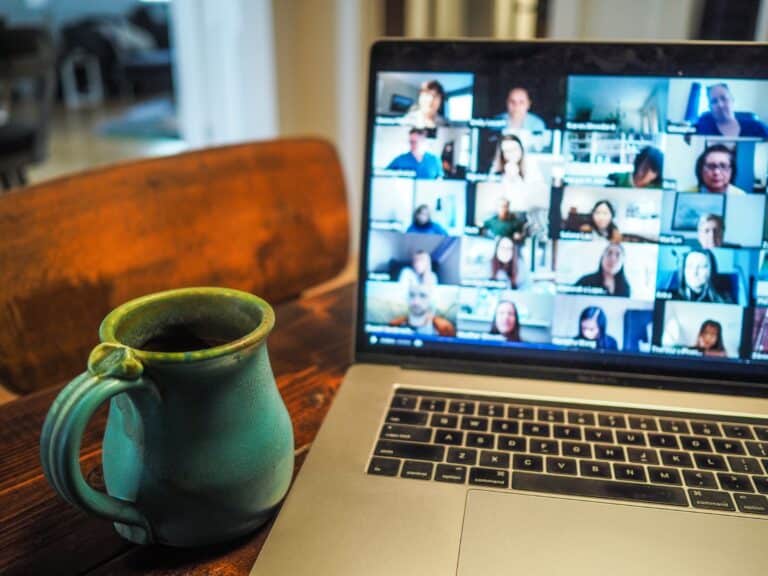 This option is popular, and there are some great ideas!
"We are filming a Kids' Christmas Video. We have been asking several children (on individually scheduled days) what they know of the Christmas story. Then we will film adults as they act out the story the children have told."
"We will get each family to record a piece of the Christmas play and then stitch it together."
"We will ask the children to invite many friends over Zoom. They can dress in any Christmas character they like and act it out. Even non-Christians can join as one way to share the gospel."
"At-home activity kits for families—with Advent activities and craft ideas with supplies."
"Creating a video song montage by having parents send in a few seconds of their kids singing a song."
"Delivering boxes filled with supplies to throw Jesus a birthday party. Do an online Christmas service for kids."
"Our plan is to do an Advent Box that families can pick up. They will have 4 weeks of devotions and additional activities for them to do together. We will support this through the online video curriculum provided as well."
"We are preparing an Advent calendar that the families can open and peg up each day—includes the Scripture of the day plus suggestions for a craft, game, or community project."
"We're doing a virtual presentation of the birth of Christ. We'll be shooting video of kids in their own homes."
"We are showing 3-5-minute kids' video segments in each live-stream service so during Advent the videos will be the story of the nativity."
"I am going to ask each family to record a song poem or short play. Then combine them and have a watch party."
"Virtual VBS during Christmas break."
HYBRID CELEBRATION
These church leaders have ideas for engaging families both in person and virtually in their homes.
"A Christmas party, skit, and caroling (To be recorded for our elderly members); a Christmas story read during our Christmas Eve service pre-recorded."
"We will do a Birthday Party for Jesus and will have something for families to do at home."
"Activities will be available during the sermon for each week of Advent, having families come Christmas Eve to light candles, and will have a livestream."
"Providing an Advent celebration kit for each family which ties into traditional practices of Advent wreath, giving to others, and celebrating Jesus' birth. Family Christmas nativity "play" outside."
"I will be sending each family with preschool-elementary kids an Advent kit that will have a family devotion book, a Gospel-centered Christmas album, a fun Christ-centered Christmas countdown, plus fun items like hot cocoa packets and candy canes. My hope is that as families are staying home more, this kit will inspire them to make the most of the time they have together. Our church will also be producing a special Christmas event with music and storytelling that will be livestreamed."
"Outdoor stations of parts of the Christmas story that families or kids can walk through, Christmas concerts with social distancing, Christmas in a box."
"We will send out songs to families; and if they feel comfortable doing a kids' choir, we will have that in person. This will be livestreamed as well."
"Our church saw success when we've mailed or delivered things to families and then followed up with videos of our team demonstrating activities, instructions for how to make crafts, reading Scripture, etc. We do plan to have in-person services where we do special programming for kids on and the day before Christmas Eve."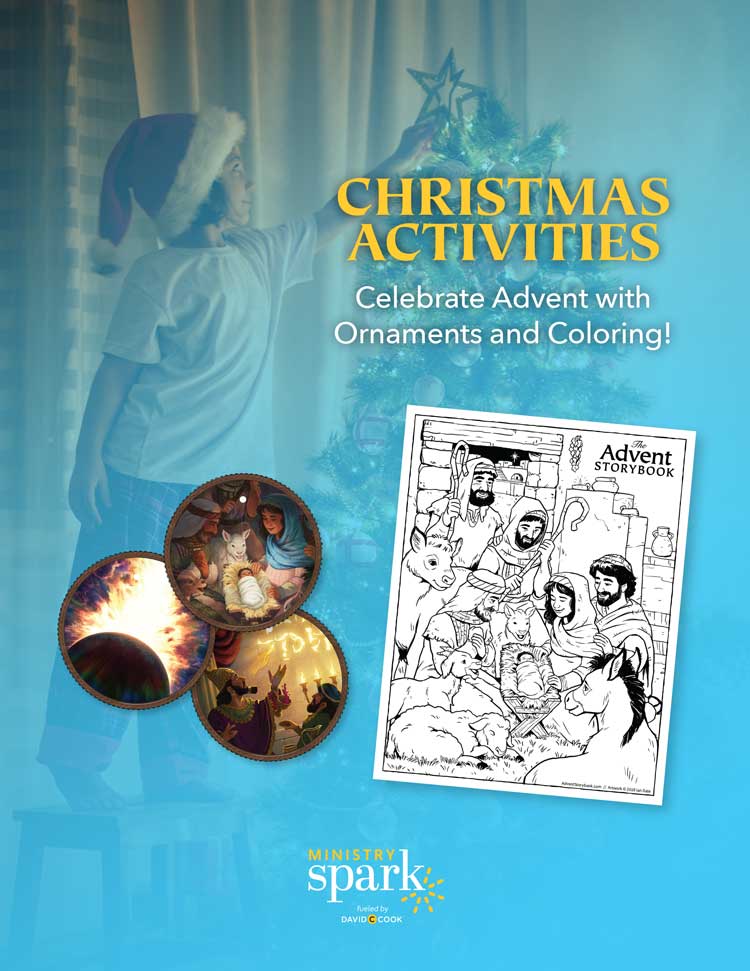 Celebrate Advent with Ornaments and Coloring
Inside this download, you'll find 25 illustrated ornaments celebrating each day of Advent and a Christmas coloring page!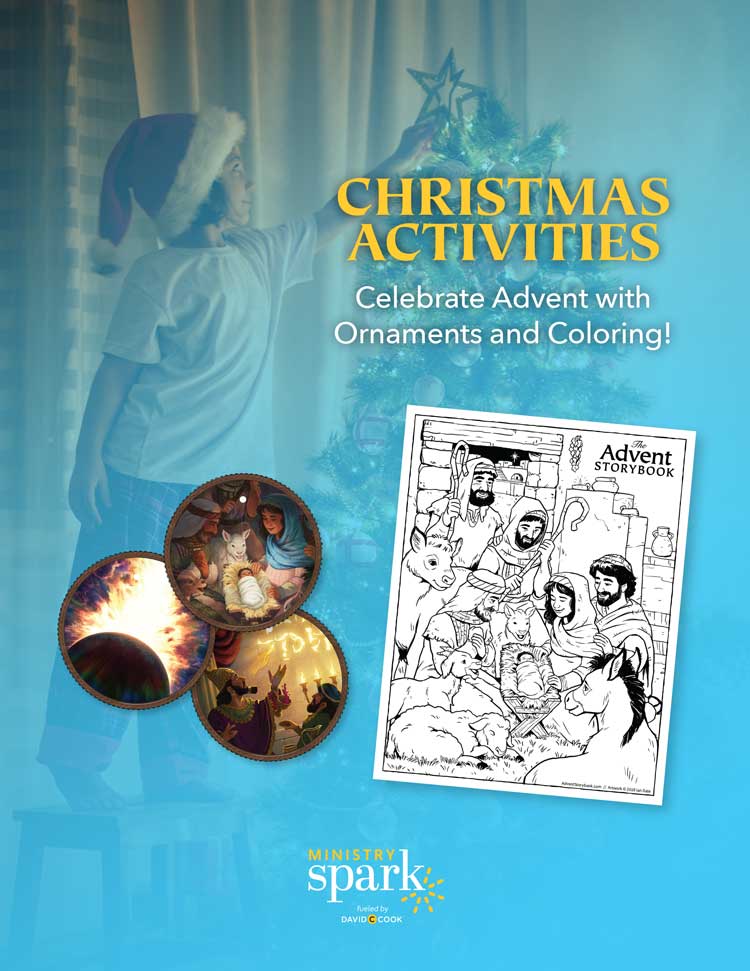 Celebrate Advent with Ornaments and Coloring
Inside this download, you'll find 25 illustrated ornaments celebrating each day of Advent and a Christmas coloring page!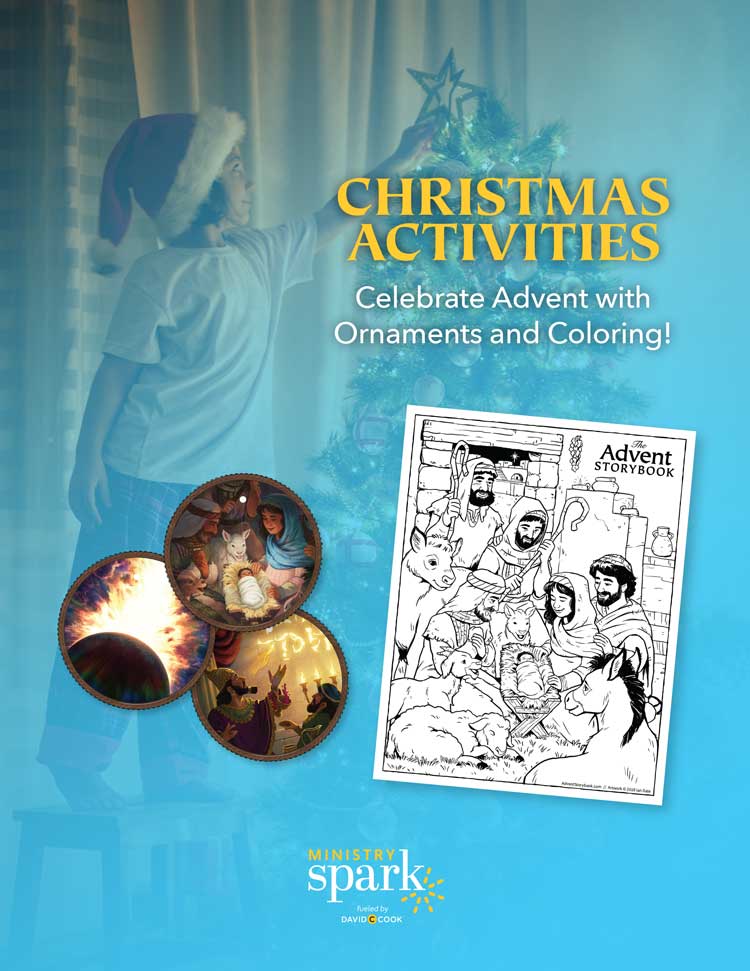 Celebrate Advent with Ornaments and Coloring
Inside this download, you'll find 25 illustrated ornaments celebrating each day of Advent and a Christmas coloring page!