Editor's Note: This is part 2 of Faith Over Fragmentation: How to Move Forward as the Church. For part 1, check out this article.
In the first part of this article, we discussed the idea of faith over fragmentation and how we can move forward even though times are challenging right now. As states begin to open up, many of us feel overwhelmed with the work that lies ahead.
We are here to let you know that we are in this process with you and want to help guide you in your re-entry planning.
Know that it will be all worth it and that God is there for us through it all.
"This is my command – be strong and courageous! Do not be afraid or discouraged. For the Lord your God is with you wherever you go"

Joshua 1:9
In part 1 of this series, we covered:
Strategy and Planning
Policies and Procedures
In this post, we'll take this time to discuss:
Volunteers and Leaders
Resources and Training
Innovation and Adaptability
Let's get started!
Volunteers and Leaders
Coordinating your volunteers and church leaders often feels like a daunting task—even before COVID-19 hit. Here are some ideas to help lighten that load.
Communicate, Communicate, Communicate!
There is no such thing as too much communication right now. In fact, increasing communication is probably the best bet for getting information across successfully. Your volunteers are relying on you for information, so give it to them.
Some things you need to communicate:
It's important to ask your volunteers if they're ready for in-person volunteering. Not everyone feels comfortable being around other people right now and that's okay. Make your volunteers feel comfortable, no matter their decision.
You may still be able to use them in your ministry even if they're not able to serve on site. Ask if they would be willing to volunteer digitally or from home.
When your church is ready to begin its ministry again, you need to communicate with your volunteers so they know exactly what to expect. Things are going to look a lot different, and they need know the new rules to follow. If you don't have a handbook, now is a great time to create one.
Check the CDC guidelines to ensure you don't forget anything! Begin with general church policy, go over everything in its entirety, and be sure to point out new additions.
These additions will likely include things such as wearing masks, social distancing, and appropriate physical contact. Be sure to note your wellness policy, as well. Volunteers get sick too!
Give them time to process this information and ask questions before coming back in the building. This will help everyone feel really prepared.
Plan Ahead
Along with communication, it's imperative that you plan ahead. While you also need to flexible and ready to change, it's far easier to make changes when you have a plan. Plan out your volunteer schedules as far in advance as you can.
Have people available to sub if someone is unable to come in. Give volunteers ample ideas of social distancing activities they can do in classes.
Having a plan will also aid in helping your volunteers feel more prepared and the more prepared they feel, the less stressed they will be, and the better they can lead the church!
There's a lot of things to keep in mind when working with volunteers and other church leaders.
Resources and Training
Resources
Remember, every church will do things differently during this time. It's important to do what will work best for you and your congregation. Keep the CDC and Opening Up America guidelines readily available as reliable resources. Stay up to date with your state's current guidelines, as well.
And continue to check Ministry Spark for free articles, resources, and webinars related to re-entry! Here are a few that may be valuable to you:
Definitely download the free Re-Entry Roadmap. This resource was created specifically to help guide you through the re-entry process. Go through it with your staff to get more ideas and better plan your physical re-opening.
Lastly, make sure you have resources available to your volunteers. Encourage them to do their own research and stay informed. Keep quick-check posters on your walls. Be there for them when they have questions—you are their most valuable resource!
Training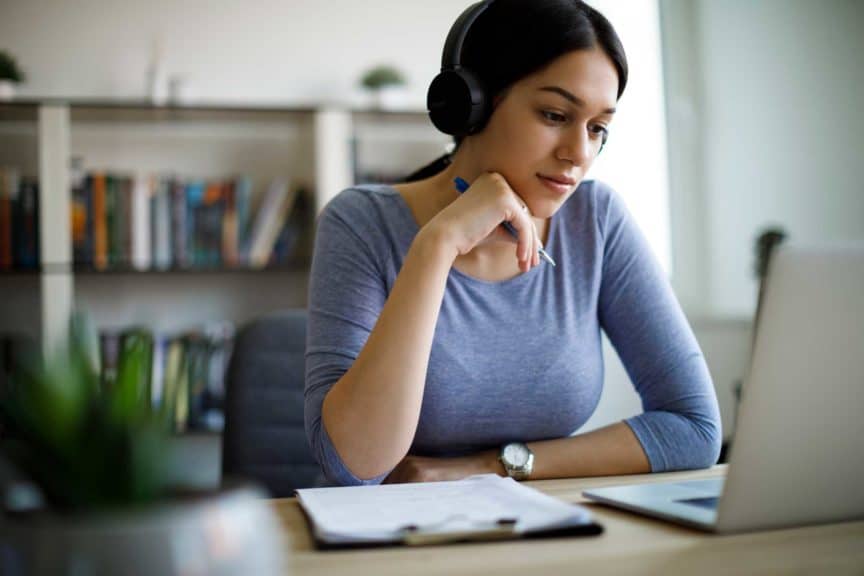 Like resources, training will vary from church to church.
The most important thing to remember is communication. Make your policies known to everyone in your church—physical and digital. Everyone hopes to be back together one day, so make sure everyone is on the same page when it comes to your guidelines.
You may find it helpful to send a recorded video of someone reading your church's handbook. It may also be wise to send out a quick-reference sheet with the most important guidelines or any policy changes you may have made. This allows people to be informed and results in them feel safer to return.
Also ensure your volunteers and staff are properly trained to work face-to-face. This is very important as they are representatives of the church! Take time to go through new policies with them. Teach them anything new they might need to know.
Over-communication is the best form of communication right now. If your volunteers feel prepared, you can relax knowing that your ministries are in good hands.
Innovation and Adaptability
During these unprecedented times, we need to be creative problem-solvers! This starts with building a culture of innovation amongst your staff, your volunteers, and your congregation. Encourage questions and ideas. Give people a way to speak their minds.
There may be a good idea or the perfect solution just waiting to be brought up. Be open with your people, and they will be open with you. This article outlines how to create a culture of innovation. Review it for more great ideas!
Be open to change.
In addition to a culture of innovation, you also need to cultivate a culture of change. Through leadership and example, show everyone in your church that you embrace change. If something isn't working, be willing to alter the plan.
If you hear a good suggestion, also be willing to implement it. As you begin to re-open and bring people back in to church, it's important that everyone is on board for changes. With things as unpredictable as they are right now, it's hard to effectively plan for the future.
We need to be flexible with a strong ability to pivot. Let everyone in your community know that there's a high possibility of change. Along with this, ensure people that everything will be okay.
Humans are naturally opposed to change—we like habits, we like to know what's going to happen next. Be there for your community and comfort them, these times are hard for everyone.
Reimagining
While these times are challenging, they are also exciting! This is a time where you can dream and re-imagine what your church looks like. Use this as an opportunity to make the changes you've felt unable to make before this. There's no time like the present to try something new.
As always, be encouraged in the Lord who is here for us always. You can do this!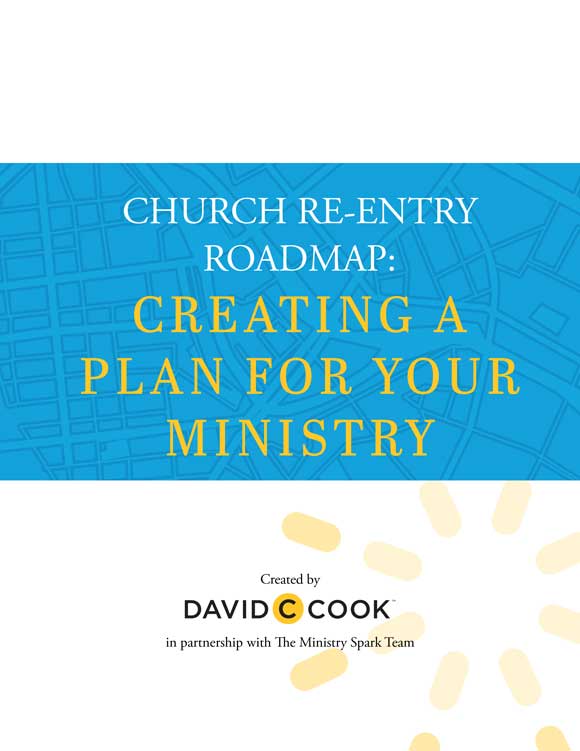 Creating a Plan for Your Ministry Post-COVID-19
This guide can be used as a post-COVID-19 re-entry planning tool for your entire church or for a ministry within your church body.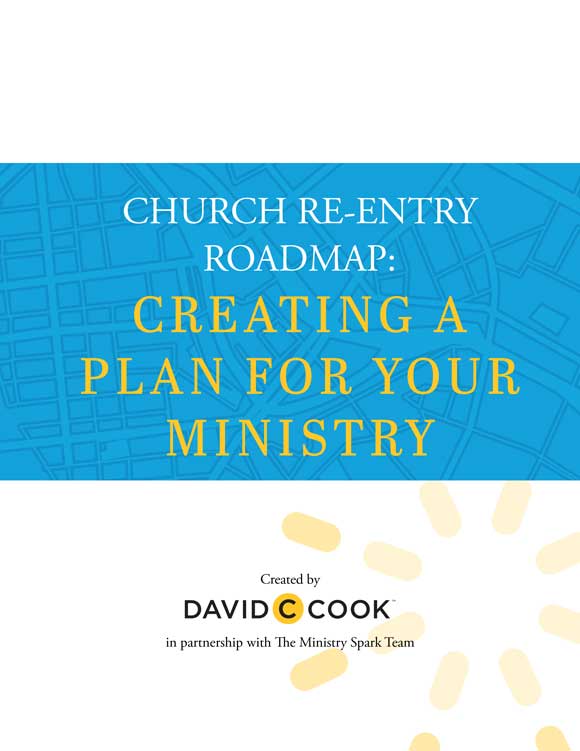 Creating a Plan for Your Ministry Post-COVID-19
This guide can be used as a post-COVID-19 re-entry planning tool for your entire church or for a ministry within your church body.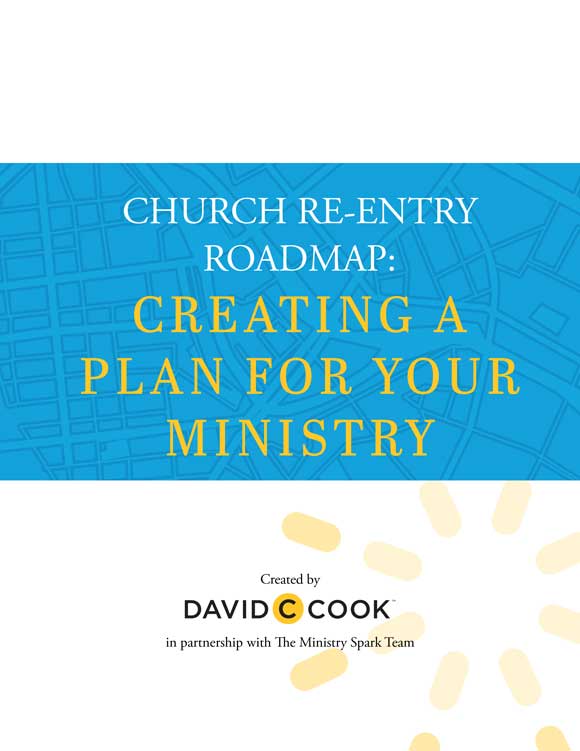 Creating a Plan for Your Ministry Post-COVID-19
This guide can be used as a post-COVID-19 re-entry planning tool for your entire church or for a ministry within your church body.