Your church's check-in system can make or break a family's initial impression of your ministry.
From the moment a family drives into the church's parking lot and walks through the front doors, they're getting an impression of the church and formulating a decision about whether or not they will return.
You have an opportunity to make a great impression that will help everyone feel welcome and excited to return.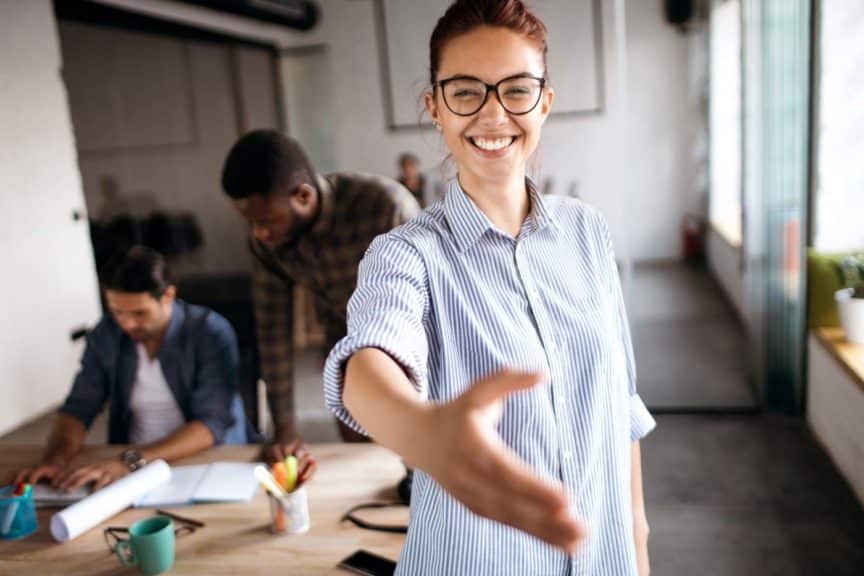 Having a great church check-in system and process sets the tone for everything else a family will experience at church on Sunday morning.
Let's exceed their expectations and help families feel welcome by paying attention to these key areas:
Greeting EVERY Family
Make sure every family who comes through your doors feels welcome and is greeted warmly by a friendly face. This applies whether you're in a church of 30 people, 300 people, or 3,000 people.
We all know how unwelcoming and cold it feels when we've walked into a store or restaurant and not received a warm greeting.
You can guard against that by placing your friendliest people as greeters. Or have them host at the entrances and the check-in area.
I have a friend who owned a Chick-Fil-A restaurant that was known for its amazing employees. I asked him once how he trained his employees to be so friendly and kind to everyone.
He told me something that has stuck with me. It went like this: "You can't train people to be genuinely kind and friendly if they're not. You hire friendly people."
As children's ministry leaders, we probably have a good sense of who on our teams should not be greeters!
You don't want someone with a perma-frown to be on your frontline. Put your friendliest people at the greeter stations. These are the people who are naturally outward-focused and aware of the people around them.
Remind greeters to be on the lookout for new guests and to initiate contact right away. The best is to greet new families before they have to ask how to check in.
One church I visited had parking lot greeters holding signs that said "Blink your lights if it's your first time, and we'll guide you to VIP parking at the front." That was such a great perk for me as a first-time visitor!
Church Check-In Stations
The check-in area should be easy to find, staffed with friendly volunteers, and clearly marked with signage. You can have a volunteer-manned check-in station or opt for a self-check-in station.
Regardless of the type of church check-in system that works best for your church size, you can position a host team member near the check-in area to greet families and answer any questions.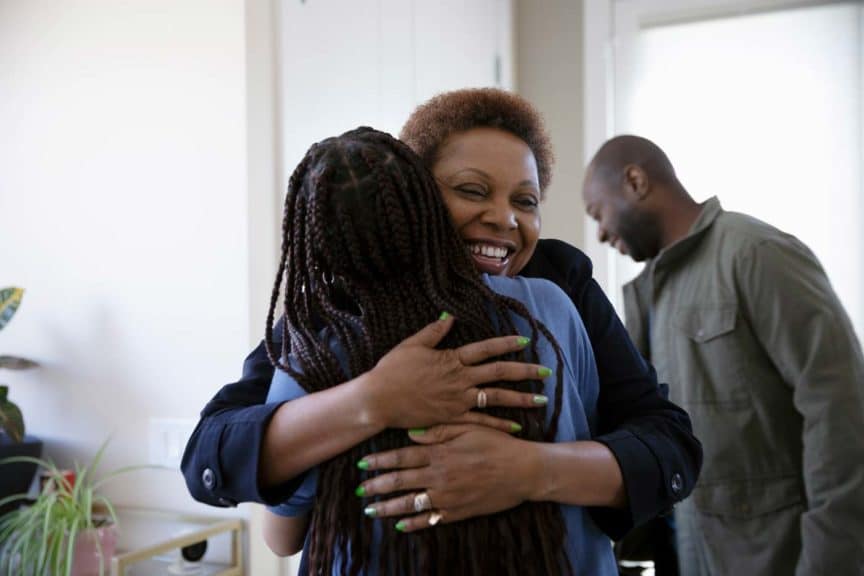 Simple registration forms for new families will help us collect basic information about the kids and family.
If there are custody issues or pickup precautions for any kids, capture that at registration.
You'll then need to notify your children's ministry leaders and maybe even put a small discreet mark on the child's name tag or lanyard to alert and remind their teachers.
You can designate a special check-in area for first-time guests. This way they don't have to wait in a long line or hold up others while filling out registration forms.
Self-Check-In Stations
Self-check-in can be fast and help cut down on lines and waiting.
It can be done using any number of devices. Some examples are tablets, scanners and bar code cards, computer monitors with touch screens, or even mobile phones of parents who have already registered their children.
Self-check-in systems can be based on phone numbers or last names. Granted, self-check-in can feel a bit impersonal—especially for new families.
And there could also be technical issues with the device or printer if improperly used. The Wi-Fi might even be slow or the network could go down. Aah, technology!
Manned Check-In Stations
Manned check-in stations usually consist of a desk with multiple volunteers.
This system may take a little longer for families to get through the line, but it's more personal than self-check-in. It gives volunteers a chance to get to know the families. It also gives parents a chance to ask questions and even connect with one another while they wait.
The volunteer-manned station tends to be an easier option for parents who are juggling a lot. Balancing babies, bags, Bibles, and balloons while keeping track of their toddlers can be a lot at times.
These parents often don't have a free hand to type their information at the self-check-in station.
Combining Self-Check with Manned Stations
You could also choose to have a mixture of both manned check-in and self-check-in stations. This approach allows parents to choose the method that works best for their family.
It might work well to have a check-in desk with volunteers and also have an area nearby with tablets on floor stands or wall mounts (or computer stations).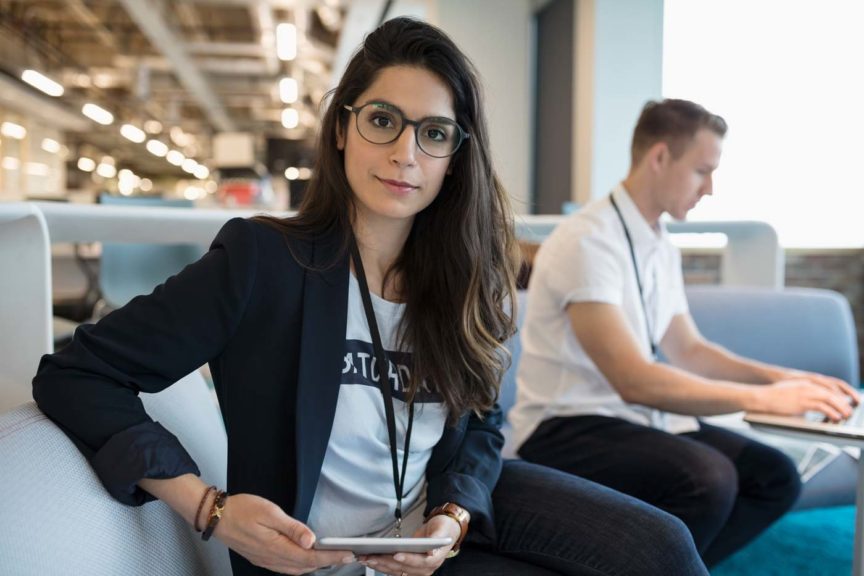 Offering self-check-in bar code scanners or tablets at your manned check-in desk is another option to consider.
Making Your Church Check-In System as Easy as Possible
There are several things you can do to minimize chaos and long lines during the check-in and drop-off times.
Staff your check-in area with plenty of well-trained and clearly identified volunteers. This includes designated hosts whose only job is to greet and walk new guests to their classes.
You also need to make sure your check-in area is positioned in a spot that isn't hard to find and won't get easily clogged with foot traffic.
Your signage needs to be clear and easy to follow. This will help parents feel comfortable about where to check in, where to take their kids, and where to find them when the service is over.
If you're not sure if your church check-in system is easy and your signage is clear, you could invite a friend from another church to be a "secret shopper".
Ask them to check out your children's ministry from an outsider's perspective, and then report their feedback to you.
If you're using an electronic church check-in system, you need to test it before each service to ensure that everything works properly and is turned on before people arrive.
Even if you use a computerized check-in system, it's wise to be prepared with preprinted paper stickers just in case of an electronic failure or loss of internet signal.
Church Check-In Systems
There are lots of children's ministry check-in options to choose from—you just need to find the options that fit your church best. Here's a list of a few check-in systems to consider:
Stand-Alone Church Check-In Software
These web-based, electronic options are great as long as your church has reliable internet access:
Integrated Church Check-In Software
There are several church management systems that offer an integrated check-in module. These can be helpful because they allow the church to capture all its administrative information in one system.
Church management systems provide a single platform to organize and track attendance, track giving, manage events (including registration), schedule and send reminders to volunteers, plan worship services, and more.
Here are a few church management systems to consider:
Non-Web-Based Computerized Church Check-In Systems
If you want to utilize computers without having to rely on the internet, Mudpie Creations might be the answer.
They make a program called Child Check-In that scans bar codes and prints tags, all without internet. Just be aware that it does not work with Mac/Apple products.
Non-Digital Church Check-In Systems
You could preprint your own matching stickers using labels on sticker paper and using paper rosters at each classroom door where parents sign kids in and out.
You could use oiled bracelets with key ring holders and matching tags for kids and parents.
Give Parents Information
Goal: Make it as easy as possible for new parents to get answers to their questions before they even ask them.
One way to do this is to identify your volunteers—using T-shirts, name tags, stickers, lanyards, or signs so parents can easily tell who your leaders are and where to go for information.
Post easy-to-follow signage. You want parents to know where to park and enter your building and how to find the church check-in area, classrooms, restrooms, and worship center.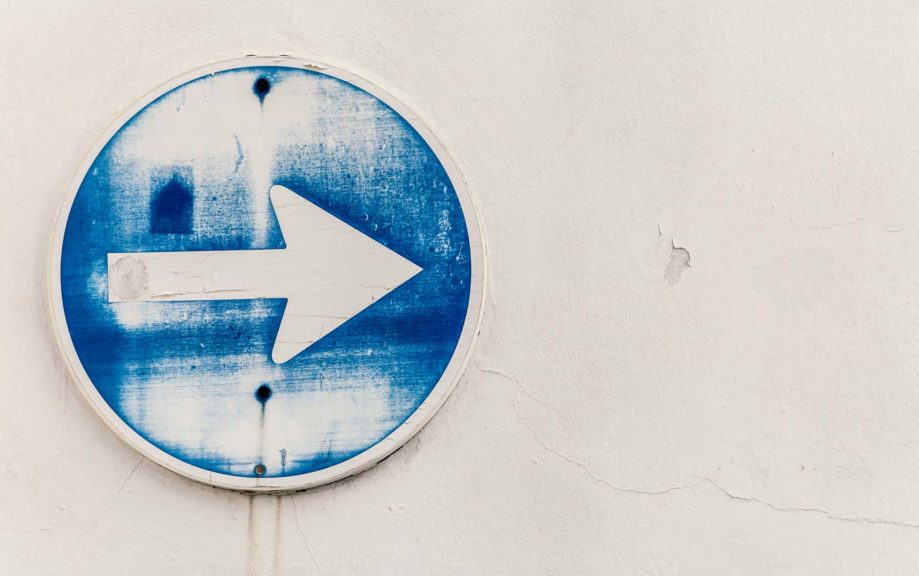 They need to see basic information about your ministries and know what to expect.
You can provide cards or pamphlets with information about your children's ministry and your policies and procedures. Safety policies and procedures are especially important for new families.
Make sure your volunteers are well-informed about your church so they have the answers to common questions.
Volunteers who aren't prepared lead to major frustrations for a new family!
I once visited a church that sent me to four different locations before my kids were checked in and off to the right classrooms.
A simple way to equip your volunteers with information about the children's ministry is by printing a simple "cheat sheet" for them.
Provide answers to frequently asked questions and significant children's ministry information. Some examples include the times and locations of services and how to get kids checked in.
Engage Kids Immediately
Our volunteers need to be trained to engage kids as soon as they enter their classrooms. You can provide arrival activities or special toys to engage them immediately.
It's especially important to draw in new guests and help them connect with other kids—you want them to start having fun as soon as they enter the classroom.
For some people, small talk and casual conversation comes naturally, but for others, it feels awkward and unnatural.
It can be helpful to have "practice" sessions with your volunteer team a couple of times a year so you can teach them how to engage new guests.
And if volunteers have a hard time initiating conversation with kids they don't know, you might provide a list of conversation starters and questions to ask.
If someone in your church is an expert in hospitality, consider bringing them in to help lead hospitality training sessions with your volunteers.
We had someone in our church whose full-time job was in hotel and guest hospitality. We invited her to lead our volunteer team in a training session on how to interact with our guests.
That is still one of those most impactful sessions we've hosted.
Pickup Time
Part of an organized and smooth check-in system is having a plan for check-out. Pickup time needs check-out policies and procedures that are clear and consistently followed.
Whether you're using an electronic church check-in system or a pen and paper check-in system, you need to use a check-out system that ensures that only the authorized parent or guardian picks up their child.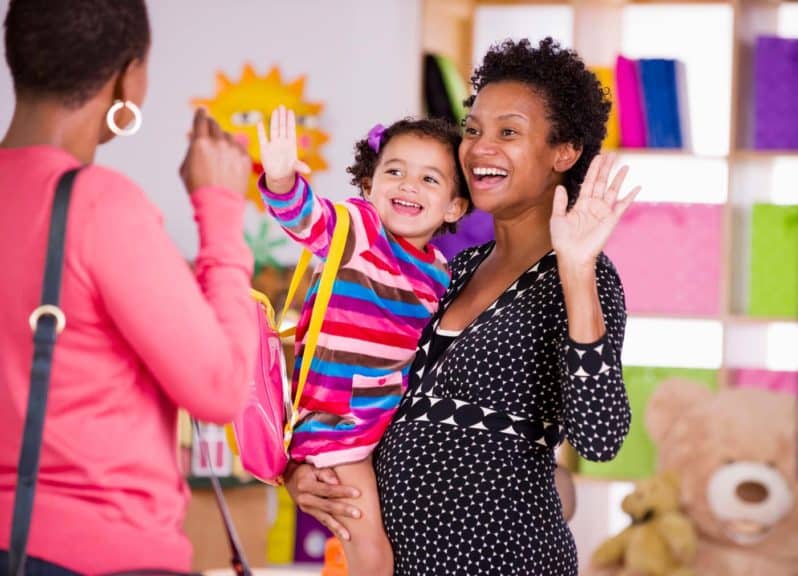 Safety First
Want to know what will make you panic? Imagine a parent coming to pick up their child, and the child not being found in your room.
I've experienced this firsthand. A child disappeared from her classroom but had run out to visit friends in another class.
Another time a preschool child had been moved to a different preschool class than the one where he was dropped off.
Thankfully, those situations ended well. The parents got their kids back and we put more effective guidelines in place to help ensure everyone's safety!
Knowing you have church check-in systems in place to make sure kids go home with the right parent is an important safety policy to enforce in your children's ministry.
The guardian of each child who checks them in before class must present the identifier your church has chosen. It could be a sticker with a code that matches the code on the child's sticker, a matching key ring, a matching lanyard, or other ID.
If a parent or guardian has lost the designated identifier when they come to pick up a child, have a procedure in place to check the person's identity (such as looking at an ID or driver's license).
Check the child's registration to see if there are any pickup precautions. Verify that the child was checked in properly and is allowed to leave with the adult attempting to pick them up.
Safety Matters
It's important to enforce the policies and procedures consistently. Check every parent's sticker or check-out item—even if you know the people.
If you skip over people you know, others will notice that you don't enforce your policies. That can specifically be disconcerting to a new parent.
When it's time for parents to pick up their kids, it's good to have a volunteer stationed at each door.
Remind volunteers to greet each parent as they arrive. Even more importantly, remind them to make sure no child leaves the room without being properly checked out by an authorized adult.
Once check-out begins, you need to be sure to keep kids engaged and away from the door.
Check-out can be a bit drawn out, but you can use this time to create opportunities for deeper connections.
Following Up with New Families
Following up with families after their first visit is one way to make them feel welcome. You can connect with a phone call, email, postcard, or letter.
In addition to providing information about your kids' ministry, you could give a simple gift for kids when they come for the first time. It could include small toys or stuffed animals, items with the church's logo (such as cups, Frisbees™, balls, or T-shirts), and candy.
A church we visited recently mailed us a hand-written card from the children's pastor. It also included a five-dollar gift card for each of my kids for a local frozen yogurt store!
---
You should always be on the lookout for ways to improve check-in and check-out procedures. The system that works best for your church check-in now may not be the system that will be best for your church.
A streamlined and smooth check-in and check-out system helps set the tone for families to feel welcome. You want them to feel safe, loved, and excited to be at your church.
It helps them feel comfortable and want to come back week after week—where they get to hear the message of the gospel and encounter the life-changing power of God.
If you liked this article, you may also like: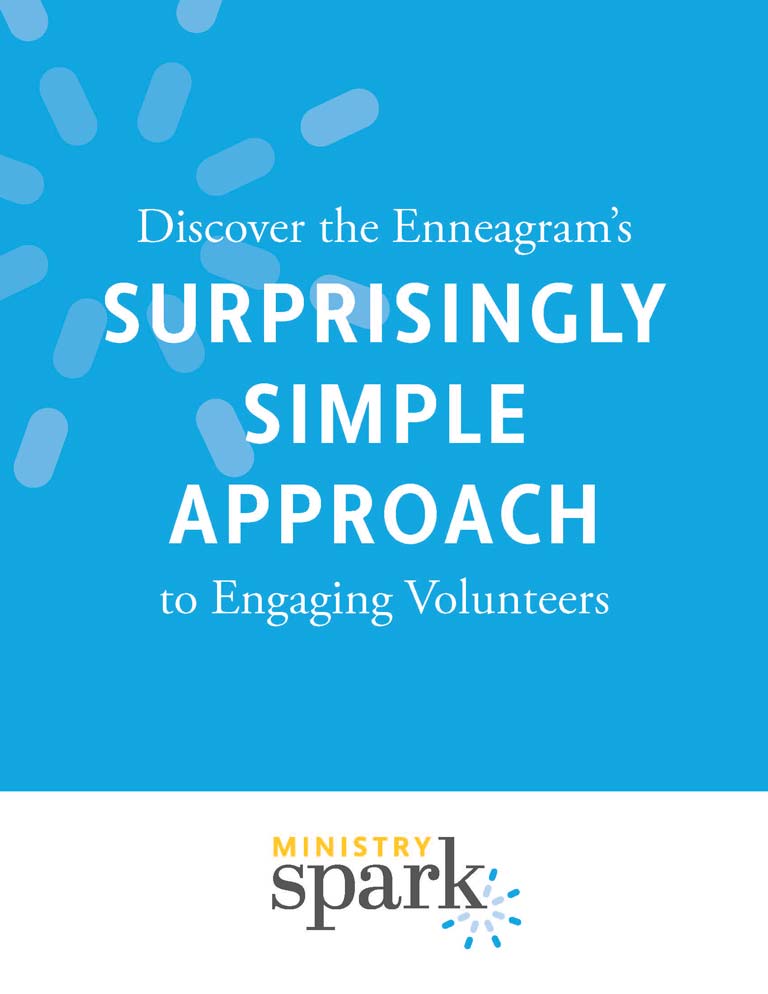 Discover the Enneagram's Surprisingly Simple Approach to Engaging Volunteers
Ready to learn how the Enneagram can help you inspire your volunteers? The Enneagram is all the buzz right now, and we want to equip you to use it to motivate your folks for service! We've covered all 9 personality types, with helpful tips and Scripture verses.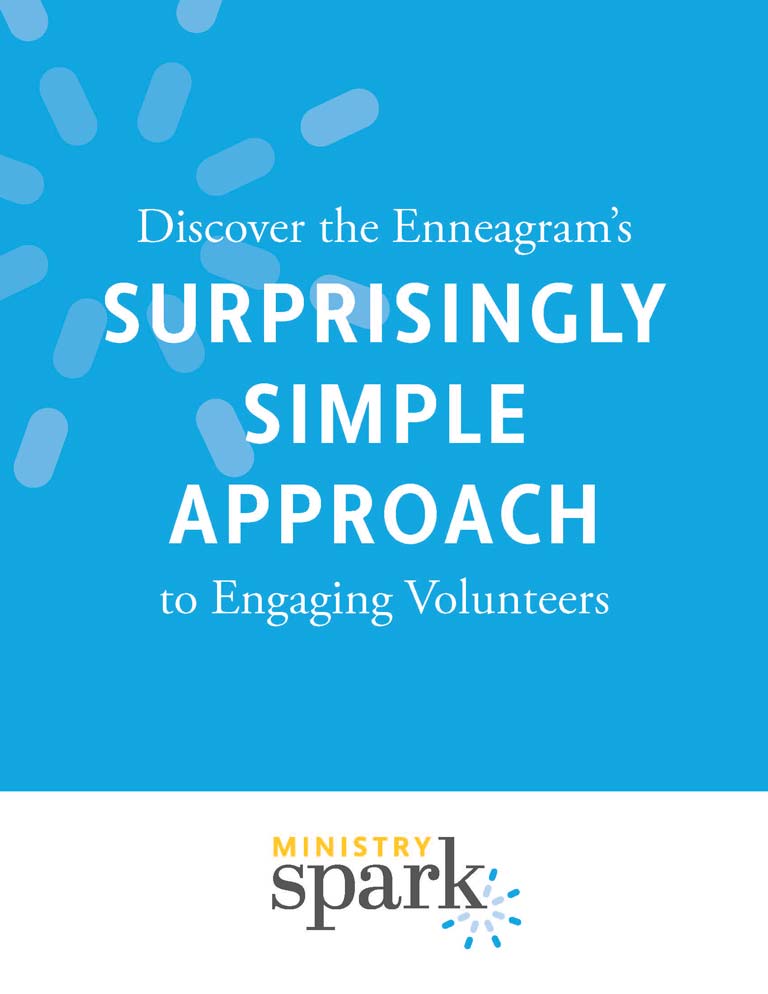 Discover the Enneagram's Surprisingly Simple Approach to Engaging Volunteers
Ready to learn how the Enneagram can help you inspire your volunteers? The Enneagram is all the buzz right now, and we want to equip you to use it to motivate your folks for service! We've covered all 9 personality types, with helpful tips and Scripture verses.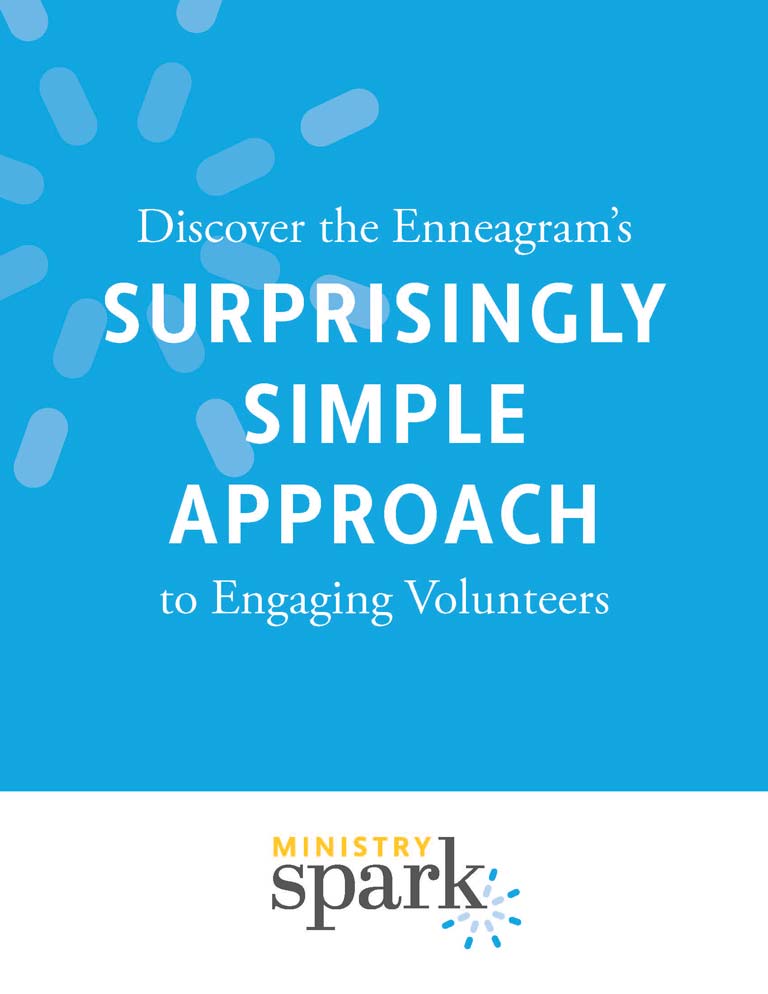 Discover the Enneagram's Surprisingly Simple Approach to Engaging Volunteers
Ready to learn how the Enneagram can help you inspire your volunteers? The Enneagram is all the buzz right now, and we want to equip you to use it to motivate your folks for service! We've covered all 9 personality types, with helpful tips and Scripture verses.