This article was transcribed from the Back to the Basics of Children's Ministry webinar. You can watch the full video here.
The basics of children's ministry are foundational to how we run our ministries. So, when asked to speak on this topic, I went back to a verse that really frames my personal ministry. It's from Psalm 71: 17-19.
If that's not a basic, I don't know what is. These are the truths that we want each of the kids who come through our ministry to proclaim. We want them to know that they are known and loved by God. And we hope that they recognize that knowing and that loving from their very earliest childhood—that's why we do what we do.
As ministers, we want to be used by God to proclaim these truths, to tell these stories, to inspire the faith of the next generation.
But how do we begin? What are the basics? What are the essentials a children's ministry that enable us to stay laser focused on what we want our kids to know about God and about themselves?
Back to the Basics of Children's Ministry
As we look at the basics of children's ministry, I'd like to hit on four key points:
Know your story.
Prioritize relationships.
Never cease praying.
Basics of Children's Ministry 1: Know Your Story
We are wired for story, are we not? So the first thing we need to know is our own story—our own faith journey. How does following God impact my life? And why is it important for me to share with the kids that I serve?
Simon Sinek has made "Know your Why" a popular phrase. And that phrase is repeated by a million different people. And when I feel discouraged or burnt out, or I need to remember why I'm doing what I'm doing, I can go back to my own faith story and focus on my own why.
So, the church that I grew up in celebrated its 100th birthday in 1986. was in elementary school for that celebration. So as you can imagine, it was multi-generational, it was well established, it was in a rural community, and it was a place that was as much home to me as my own home was.
And some of my fondest memories from my childhood were running around my church, playing games with my friends who were really more like cousins to me, or making meals with my mom and my grandma to take to new babies or families who were struggling attending potlucks and weddings and funerals.
We shared life together from cradle to grave.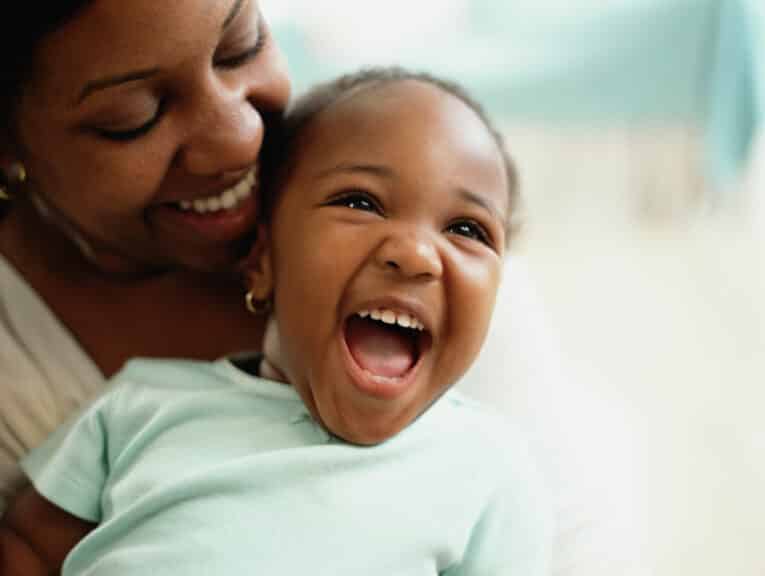 Sharing Life in Faith
And it was on this foundation that my faith journey began, and it's there that I began to understand who God was, my need for Jesus, and how to live in community.
Many, many people in that church beyond my immediate family modeled Christlikeness in front of me, and this went beyond just modeling. They actually spoke words of life to me. They showed me my need for Jesus and made clear the way of salvation for me. So they earned the right to do that, to say those words, to call me into community, to hold me accountable, because we had relationship. They were my community.
And that's God's beautiful design, right? For us to live in community with one another, to share life and faith together. And as I grew up, I realized that my faith community had shaped me in a way that I wanted for my own children.
Foundation for Their Faith Journey
I have four children I wanted to experience that. Honestly, when I came to a pain point around church a few years ago, and I stepped out of church community, it was this foundation, my story, my faith story that drew me back, drew me back to the church, drew me back in to church community. And I gave church another chance because I wanted my own kids to have that.
I know that church is an imperfect community, and we don't always get things right, but it's given to me much more than it's ever cost me. And so knowing and remembering my faith story and my why, help keep me following Jesus. Because I follow Jesus and I have that story, I want to share that story with the next generation. So there's a second part to our story. We need to know our personal faith story of course, but we also need to know our church's story.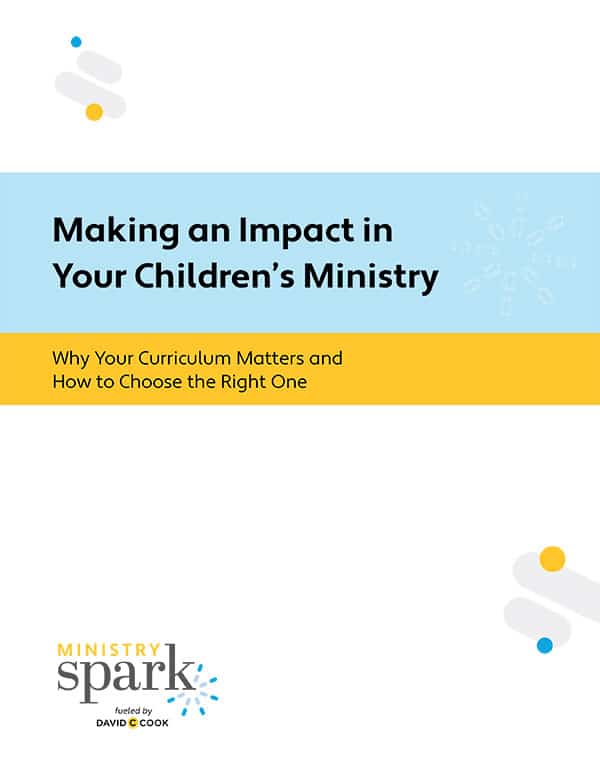 Making an Impact in Your Children's Ministry
Why Your Curriculum Matters and How to Choose the Right One
This guide was created to help you dive into some of the topics facing your ministries today and lead into why your curriculum matters and how to choose the right one depending on your needs.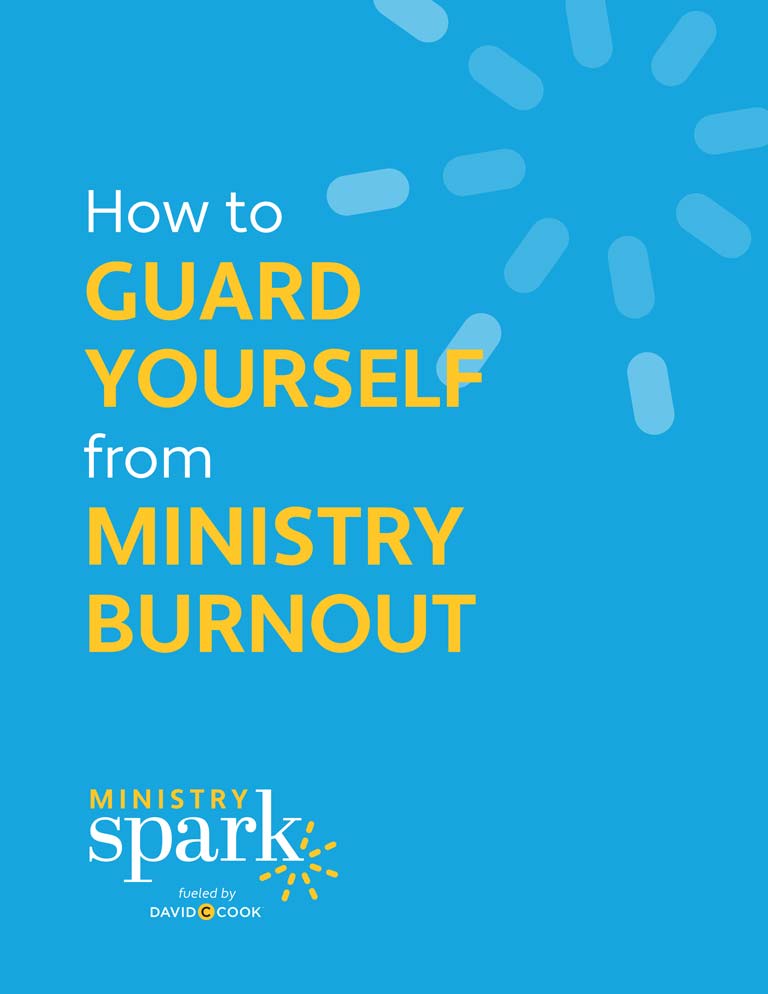 How to Guard Yourself from Ministry Burnout
There are moments in every leader's journey that defines whether they move forward or give up. Things happen, life gets hard, and opportunities come and go. Download this guide to be encouraged in your leadership walk with the Lord!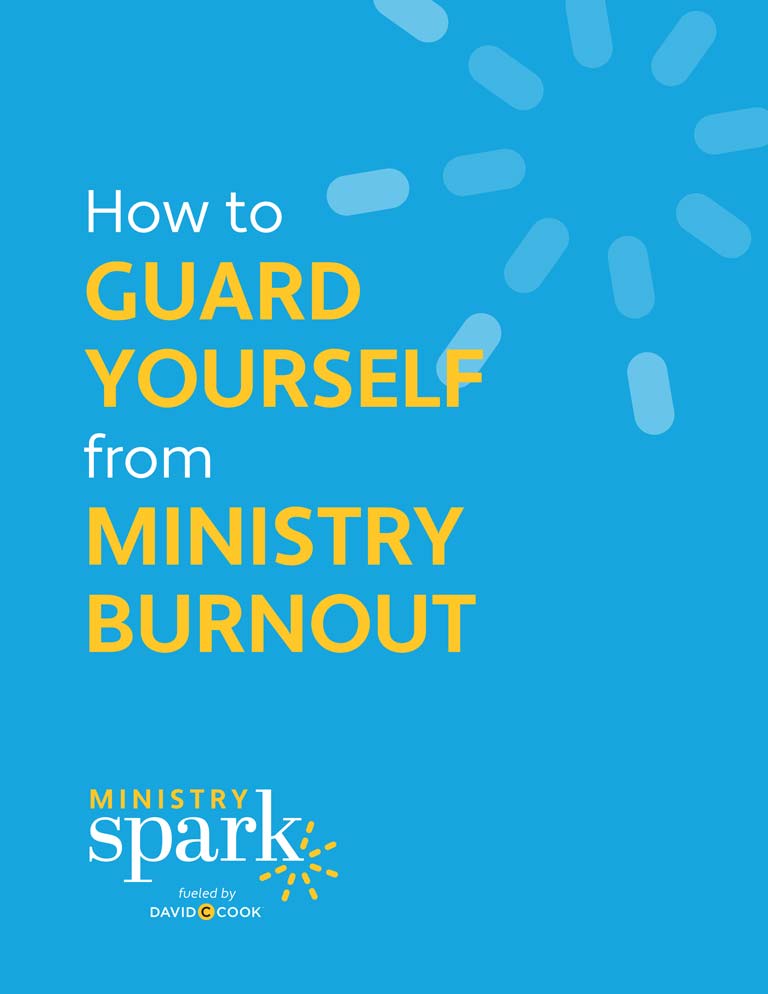 How to Guard Yourself from Ministry Burnout
There are moments in every leader's journey that defines whether they move forward or give up. Things happen, life gets hard, and opportunities come and go. Download this guide to be encouraged in your leadership walk with the Lord!
Know Your Church's Story—Your Community
Catherine Stonehouse—if you don't know her, she's a great voice in children's ministry—says in her book, Children Matter that every church has a story. A story happens in a particular time and place with a distinct cast of characters. And just as each person is unique, each church community is distinct.
Now we all see the social media feeds full of shiny new great things in children's ministry. We're part of networks, and we have colleagues who are doing amazing things in their church ministries that we want to emulate. But one of our main jobs in our role as children's ministry leaders in unique and distinct churches is to discern the needs of our own community. We need to know our church's story and be a student of the church that we serve, the kids that we serve, the families that we serve.
I grew up in a rural church. My first ministry job was in an inner-city urban context. And now I serve in a large suburban affluent church. And so every church that I've been a part of has had really distinct needs. Some of the churches needed really strong community programming. Some churches had really practical needs.
Every Church Looks Different
When I was serving at a church plant in an urban ministry context, a social worker was on speed dial. My friend who was a social worker, because the kids and families I served at that church had practical needs that needed met before they ever could hear about Jesus or gain any Bible knowledge.
Sometimes they needed access to food or electricity. And I worked within the school community to help meet some of those practical needs of the families that we served.
You may have other needs in your community. In the church I serve in now, families are maxed out. Their kids are pulled in a million directions on sports teams, so they need more simplicity. They need us to really streamline access to resources and programming.
Knowing the context where you serve will really help you most effectively serve the families that you're there with—the actual families you're serving.
Reading and responding to our community and their needs at a particular time and place is one of the basics that is worth focusing on as children's ministry directors. That brings us to our second basic: centering our vision and values.
Basics of Children's Ministry 2: Centering Our Vision and Values
Our values are timeless. They speak to the need of every human being. So we need to ask ourselves, what are the values that only the church can provide in the life of kids and families?
Reggie Joyner says that churches need to innovate on the original intent of the church instead of the new of culture. So when we center our vision around a very few essentials, we can recognize the things that we really want to say yes to and the things that we really need to say no to.
Carrie Nieuwhof says that vision is a leader's best friend, and it's free.
If you don't dream big dreams for your church, who will?
Children's ministry leaders develop and hold the vision and values for the families in our communities. How are we going to take these ministry ideas and use them to serve our kids and families? Keeping them at the forefront of the conversation in our church communities is one of the essentials of our job.
So I lead a family life team that actually serves two congregations, and we regularly sit down and ask ourselves, what are the essential lessons, experiences, and milestones that we want all of our kids to have by the time that we launch them into the world? We really try to take a long view and then develop our ministry around those essentials.
I want to share just a few of those with you that we've come up with for our congregations. But I encourage you to take time with your teams in your context, knowing that every ministry is unique and develop these values for yourself.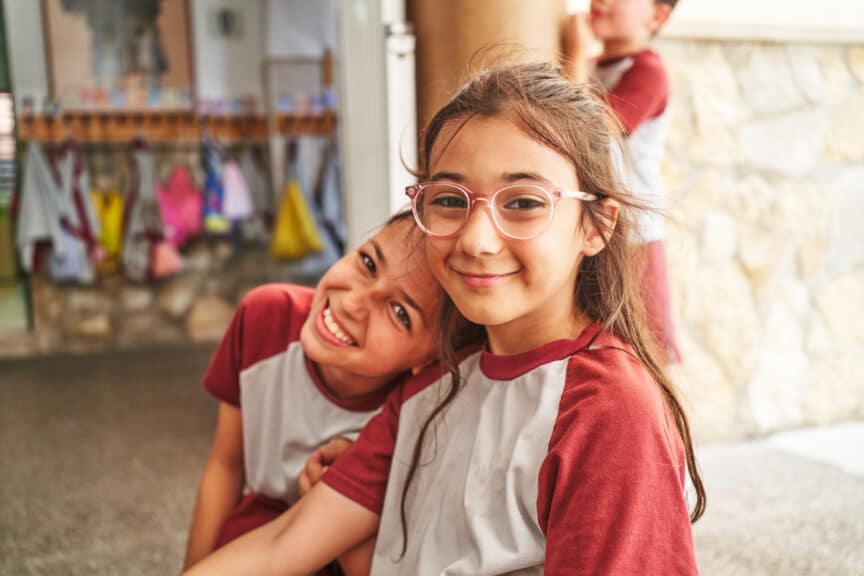 Bible Content
One of our biggest values is Bible content. We want our kids to know the word of God because we believe it brings life and it's essential. It's central to the Christian faith. So we want from the earliest days for our kids to interact and engage with and know the Word of God.
Sacramental Experiences
We serve in an Anglican context. And if you know anything about Anglicanism, it's liturgical and sacramental.
So sacramental experiences are really huge in our church. Baptism, first communion, and confirmation.
And the church calendar plays a big role in our ministry planning. The seasons of Advent and Lent are really central in our context. So we plan unique ministry experiences for those seasons. They're really hallmarks of our ministry.
Spiritual Practices
Our third value is spiritual practices. We want an embodied faith. We don't want just them to have head knowledge, but we want them to taste, feel, hear, see, and experience God. So the spiritual practices of worship, prayer, confession, Bible memory, are core for us. There are lots of spiritual practices that could work really well in your context.
Experiences
And finally, experiences. We want our kids to have experiences inside our church walls and outside our church walls. Some of those are fun experiences. Some of those are service opportunities or mission trips in our own community.
Those are some of the experiences that we really want all our kids to have, so that by 18, they're launched into the world as kind of fully formed disciples, right? We must think about all of the different aspects so they're fully formed before they leave.
It's also important to remember the things that you want repeated over and over week after week, year after year, so that they're deeply cemented in the identity of each child.
The elementary curriculum that we use right now, Wonder Ink, has very simple statements that we repeat weekly. God knows me. Jesus loves me. The Holy Spirit leads me. I am a child of God. We made posters of these truths and put them on the wall.
By the time they leave elementary school, we want our kids to have those repeated values as identity markers on their hearts.
Vision
At our church, we also have a vision statement that's church wide. I really find a lot of value in aligning our vision with the overall church vision. Our church vision is to be a people fully alive in God's kingdom. We also say that we want our kids to come fully alive in Christ.
And we ask them to do that by making three key connections: to God through Jesus Christ and His Word, to adults through community, and to one another.
So aligning your family ministry with your church's vision and values allows you to really have a cohesive statement, a cohesive goal that you're all working toward together.
Children's minister Scottie May asks that if the teenagers in our congregation were to read the statements used in their baptism or dedication, would they say, yes, my church kept those promises, or would they feel betrayed?
When we center our vision and our values, we can more easily keep those promises by reinforcing those truths over and over.
Basics of Children's Ministry 3: Prioritize Relationships
We are built for relationship.
Many studies of faith formation say that 80% of people who follow Christ made the decision to follow Him before age 18. And many of us forget that the gospel came to us through faithful parents and godparents and grandparents and Sunday school teachers who valued us enough to share the gospel with us.
We all know that life change happens in the context of relationships, and we all need guides and mentors—even as adults—to guide us and lead us to deeper levels of knowledge and faithfulness.
We were made to want to be known not only by God, but by others. It's a basic human need. And we can't lead people well unless we know them well, both adults and kids.
As a children's ministry director, those people fall into three categories.
Knowing Your Team Members
The first category is the leaders I call to serve. And I ask myself, do I know this volunteer? Will I get to know them personally? Not just as someone who can fill a slot for me on Sunday morning, but will I know them?
Will I know their day job? Will I know their family makeup, their gifts, their struggles?
And that can take a lot of time and a lot of energy. But the more we know our leaders, the more we can pour into them, the more equipped they are to serve the kids who we ask them to serve.
A lot of times in a large church context like mine, volunteers don't have a lot of one-on-one interaction with a clergy member. So a lot of times I become the main pastor, if you will, that a volunteer knows.
I'm the one who gets called when their life falls apart or when they're having a struggle or they're having a joy. I'm there when they have things going on that they're celebrating.
One of my longtime volunteers just last week, graduated from nursing school at the age of 50. And it was so fun to celebrate that victory in her life!
Knowing Your Kids
The kids who come through our doors need us to know them. They need us to delight in them.
So how can we prioritize knowing the kids who are in our ministries? If you're a large church like mine, a lot of times that takes some social media interaction with the family so I can kind of scroll through and know what sport the kid is involved in, what grade are they in, what their personality is.
Know simple things like birthdays and deeper things like knowing what the kids are going through in their family.
Is there a new baby? Or is there a divorce? Is there something going on that can impact their ability to come on Sunday morning and hear from God?
Knowing those things and praying for our kids is important. Walking in faith together happens best when there is trusted relationship. It's one of the joys of serving with kids.
Knowing Parents
Our parents need us to support them. The truth is, as children's ministry leaders, we only have about 25 hours (give or take) of engagement with kids in our ministry per year. That's not very much, but parents have thousands of hours with their kids each year.
So the question we must ask ourselves is, how are we equipping parents so that they are empowered to build those faith relationships with their kids, to walk this spiritual journey together as a family?
I've learned the hard way through the years about what works and what doesn't work.
Keep resources accessible and really streamline them so that parents can get a win, that's what we want. Listen to what parents really need. This goes back to the story concept of knowing your church context. Ask: What do families really want?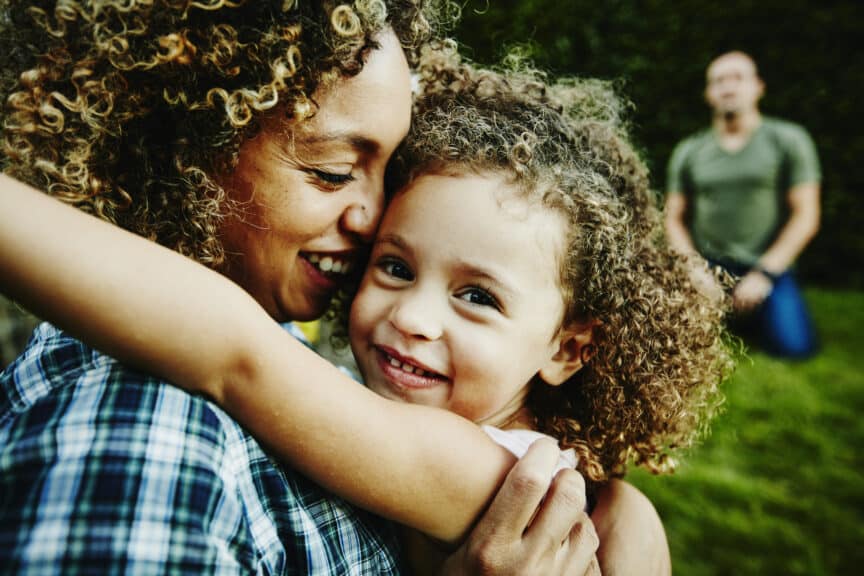 Give Simple Ideas
I know a lot of churches and families who can do a 30-minute family devotional, but a lot of other families can't, and that's okay. Don't expect them to.
One resource I've created is a little table tent. It's a simple piece of card stock. On the front is a family mealtime prayer that they could say together and some practices that they could engage with throughout the week. And on the back was a simple Bible reading that they could do together as a family if they wanted to.
We've used this for several series in our church when the adults and kids were studying the same thing. They could set it on their coffee table or dinner table, and it was a win because they could just say the prayer together.
Look for ways to give the parents a win.
And the second thing is just to encourage any effort. A lot of times parents will come to me and say, well, all we really do is pray at bedtime. And that's the opportunity for you to encourage them with something like: Do you know the impression that will leave on your kids their whole life long? That is amazing.
Look for every opportunity to encourage your parents in what they are doing right now. Build on that.
Families are not one size fits all. So make your resources flexible.
Basics of Children's Ministry 4: Never Cease Praying
Our final basic is really just the foundation of everything that we do in life, and that's to never cease in your prayers. My first impulse is always to take action. But our first impulse really needs to be prayer.
Success in ministry begins and ends with prayer.
We can forget that everything we do comes from the hand of the father. For me, ministry has been one of the most faith-building exercises of my life because, at the end of the day, as high as my capacity is, I cannot make Sunday mornings happen in my own power. I can never get the volunteer matrix perfect, and I can never have the right number of volunteers.
I can't do it. There's no way I can do it alone. And every single week on Sunday, I'm amazed at how God is faithful and brings it all together. He makes it happen. No matter what fretting I was doing on Saturday night, Sunday morning the Lord is faithful.
And ministry happens and kids hear those repeated phrases, and their identity is formed in Christ.
Prayer Is Central
My practical encouragement is to set aside time in your ministry each week to devote yourself to prayer as a staff. We do that in our church together on Thursday mornings. It's a sweet time when we can bring all our ministry needs to the foot of the cross. It is a good reminder that the Holy Spirit does things in His power that we could never do in our own.
Pray at the beginning, in the middle, and at the end. It's foundational to our ministry and one of the most important basics of children's ministry.
With ready-to-go lessons, Wonder Ink is a customizable digital curriculum and toolkit for creatively engaging kids and families in God's Word—connecting the classroom on Sunday to their homes during the week.