Why is it important for children to see and hear other kids worshipping God? Because they need to know that Jesus desires for them to come to Him. They are invited to be part of the kingdom now—as kids. Just because they are young, they don't have to wait to grow up to be part of His kingdom.
Jesus tells us to 'let the children come.' (Matthew 19:14). The kingdom of heaven belongs to them!
Understanding the Why
We have the special opportunity as children's leaders, parents, and disciple-makers to inspire this generation and the next in worship. If we truly believe there is no junior Holy Spirit, then we must recognize that our kids are Christ followers and worshippers today.
As we serve children and engage their trust and give them freedom to worship, we should encourage them to lead as peers. Let's be passionate and spread the message that children are the church of today—not just tomorrow.
And let's work to inspire them in their journey of worship and adoration. We believe in the next generation of worshippers. Our prayer is that they are inspired to be totally abandoned in praise to our King Jesus. Church, together we can empower our volunteers, engage families, and inspire children.
Shout Praises Kids: Get This New Resource for Your Children's Ministry Worship
Shout Praises Kids (SPK) is a children's music brand under the Integrity Music banner. SPK has been creating content to inspire the next generation of worshippers for over 20 years.
Recognizing a tendency to water down the truth of the gospel to make it more approachable to young children, SPK intentionally pushes against this idea by offering sincere and energetic songs of substance designed to engage with a children's audience.
Songs sung by kids, for kids, reflect the conviction of Shout Praises Kids to serve and inspire children as Christ followers and worshippers.
Great Are You Lord Album: Shout Praises Kids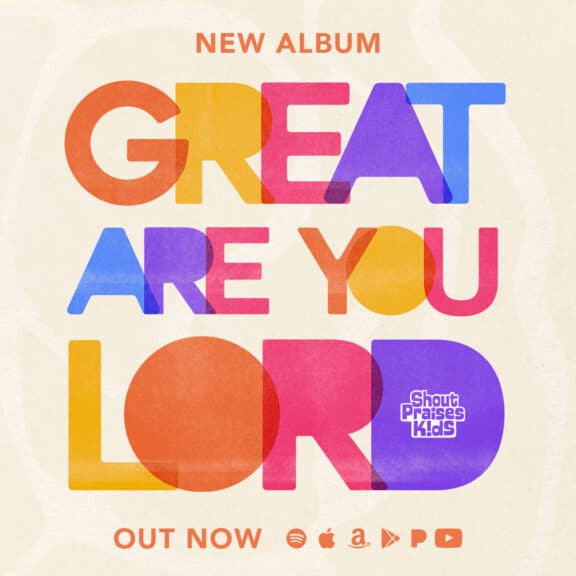 We're launching our newest album, 'Great Are You Lord.' This album compiles pillar songs of worship from the last decade—songs that are rooted in Biblical truth, with a youthful and synthetic twist. These recordings feature the voices of a children's choir with the hope that children will hear themselves as worshippers and join in lifting powerful songs of truth. 
Shout Praises Kids is all about declaring the name of the Lord over all things. The 11 new songs on 'Great Are You Lord' put foundational gospel truths to music for children to grow into. It's important for us to remind the Church that all Christ followers—especially children—have a crucial part in the Kingdom of God.
We want to unpack God's holiness, strength, and worthiness of our worship, in order to make singing theology part of the everyday lives of children.
Listen Now!
We encourage you to listen to the new Shout Praises Kids' album 'Great Are You Lord.' And watch the motion-filled music videos made just for kids. It's on YouTube today!