All eyes are on the clocks and the calendars as those last few weeks, days, and minutes tick down to the annual moment of freedom for kids everywhere: SUMMER! And with that comes your children's ministry summer programming.
As the anticipation and excitement build for kids, the same countdown produces anxiety in many parents as they seek out childcare or look for ways to keep their kids engaged in community. Most of us do not want our kids in front of screens for their approximate 12 weeks of freedom. But it's hard!
When summer officially begins, the constraints of time come off for kids, and the pressure is on for parents and for churches. We find ourselves with fewer children on the weekends and endless hours to reach children during the week.
It's tempting to shut down our children's ministry summer programming and enjoy our own time with warmer weather and kids out of school. It may even be tempting see summer as a ministry constraint as we see lower weekend numbers with families on vacation.
But what if we reframe these constraints and instead see opportunities to explore something new? We can get creative in the ways we reach kids and families who find themselves seeking the new innovative opportunities in the summer.
Stay on Mission in Your Children's Ministry Summer Programming
Before we look into any programming opportunities, we need to remember that our mission should remain the same no matter the season. If your church or children's ministry has a mission statement, begin your summer planning there.
What can you plan that will fit within the mission God has given you?
What are the things that might sound fun but do not necessarily fulfill that mission?
Your mission statement will define your "yes's" and your "no's."
For example, when I first came to my church, I walked into a HUGE summer program. Over 700 kids would come for one week to learn about God, worship, and do amazingly fun activities. Walking into the auditorium, you would think we had somehow found the formula to reaching kids and could put this event on repeat for years to come.
But that was the last year we held that program.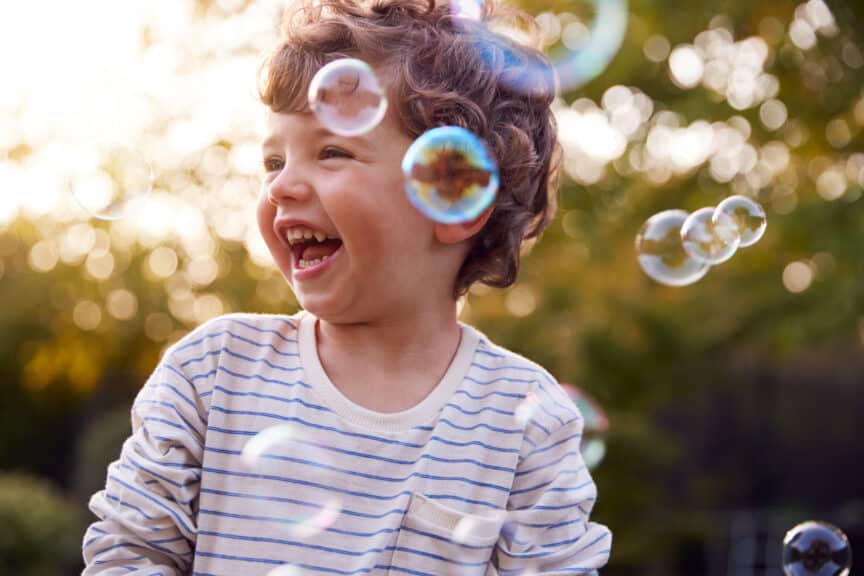 Try Something New
Over the next few years, our staff team would develop a new all-day summer camp program that now has such an incredible reputation in the community. It's so sought after that it completely sold out within hours of opening registration this year.
The previous program had served 700 kids for one week. Our day camp program has space for 300 kids per week for 10 weeks.
The previous program was half days, making it conducive to parents who were not working and had the freedom to transport kids to and from a mid-day program. Our day camp serves working parents in our community.
Our previous program was mostly made up of kids from our church and the churches to the north and south of us. Our day camp program serves an overwhelming majority of families who do not attend a church when they sign up.
Our previous program had lots of volunteers who served for one week, and we celebrate that as a win. But our day camp program employs high school and college students who have gone on to become incredible leaders in their chosen fields. Many of these student leaders choose full time vocational ministry, and some have ended up joining our full-time church staff.
Most importantly, our day camp program fulfills our mission to "make passionate disciples of Jesus Christ who are belonging, growing, serving, and reaching."
One simple reassessment of our mission statement brought us to a decision that has shaped our church and our community.
This is why your first step to assessing your summer opportunities (and your fall, winter, and spring opportunities) needs to be praying about what you are called to do and what you should say no to.
Use your mission statement as a framework for those prayers. It will give you clarity.
Think Big
After submitting the creative process to the Creator, ask "what if" questions. Think big! We serve a big God, and there are millions of children who need to be reached! Let the "what if" process go long enough that you get to the most creative ideas. Once you get to those, ask "why not" and "how could we" questions.
As you think through the things that might constrain your children's ministry summer programming ideas, carefully consider what would get you past that barrier!
What if?
Why not?
How could we?
Space constraints might mean you need to head to a local park or school, budget constraints might mean you call another church in the area to partner with them, and fearing low numbers of kids might mean you need to call a local day care program or community center and offer your programming to their kids.
Take on a VBS alternative! Or if you do plan a VBS, plan it well!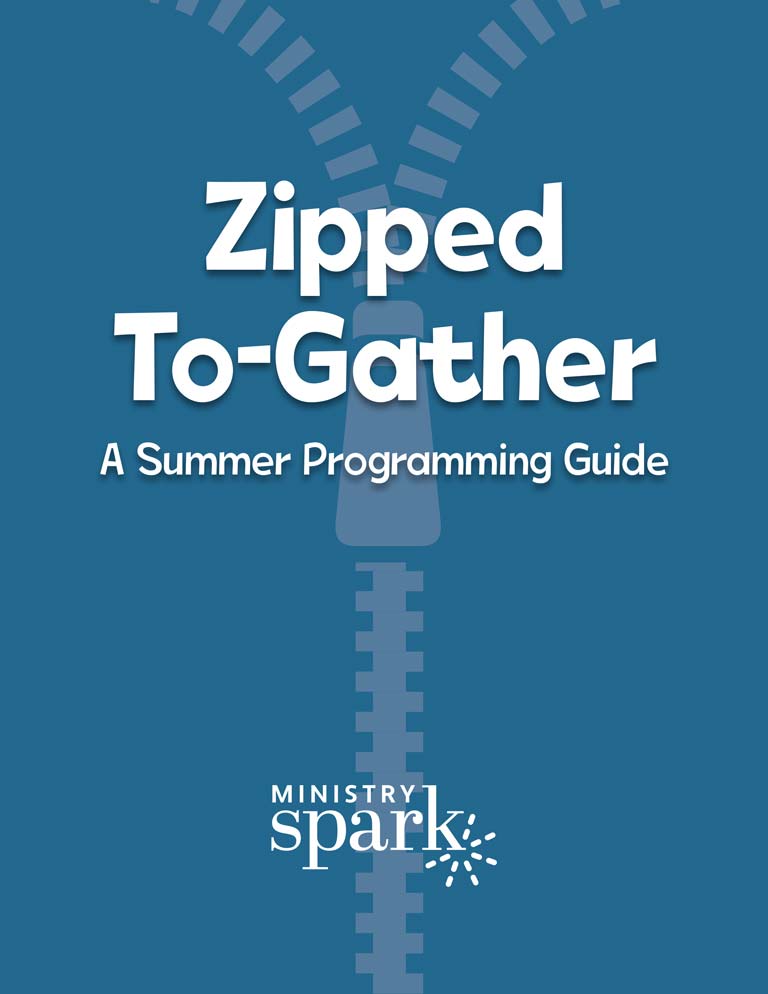 Zipped To-Gather: A Summer Programming Guide
Zipped To-Gather is an outreach program that invites and encourages parents to get involved in ministry to your community. You will simply provide the easy-to-find supplies (listed in this guide), and the parents will take it from there. Check it out!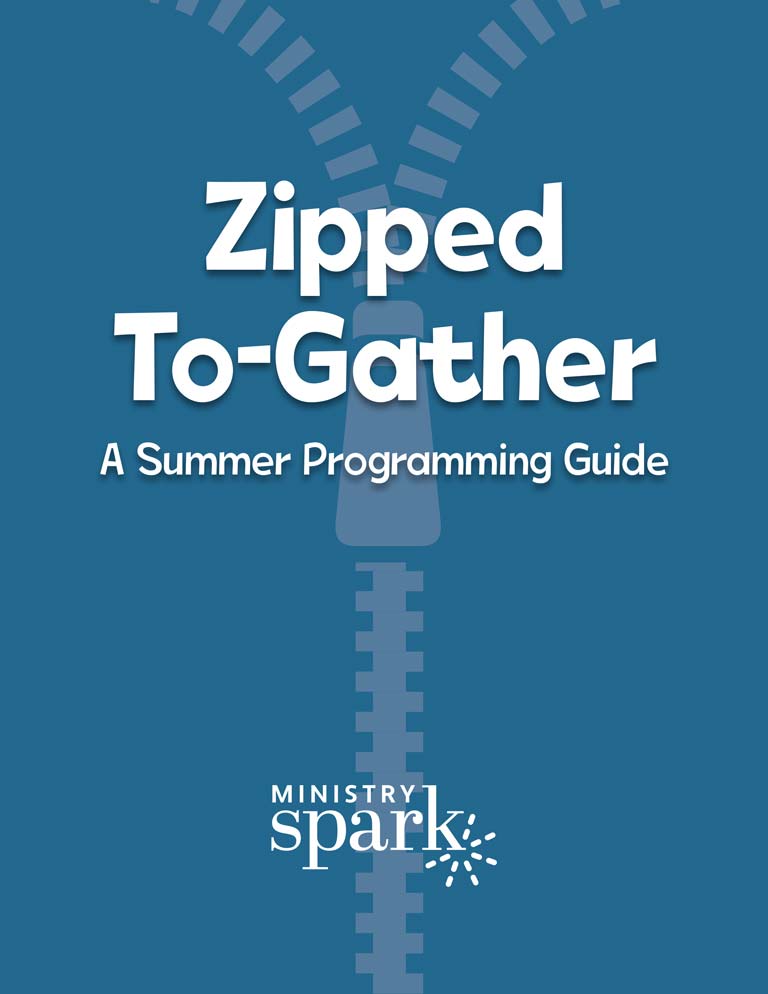 Zipped To-Gather: A Summer Programming Guide
Zipped To-Gather is an outreach program that invites and encourages parents to get involved in ministry to your community. You will simply provide the easy-to-find supplies (listed in this guide), and the parents will take it from there. Check it out!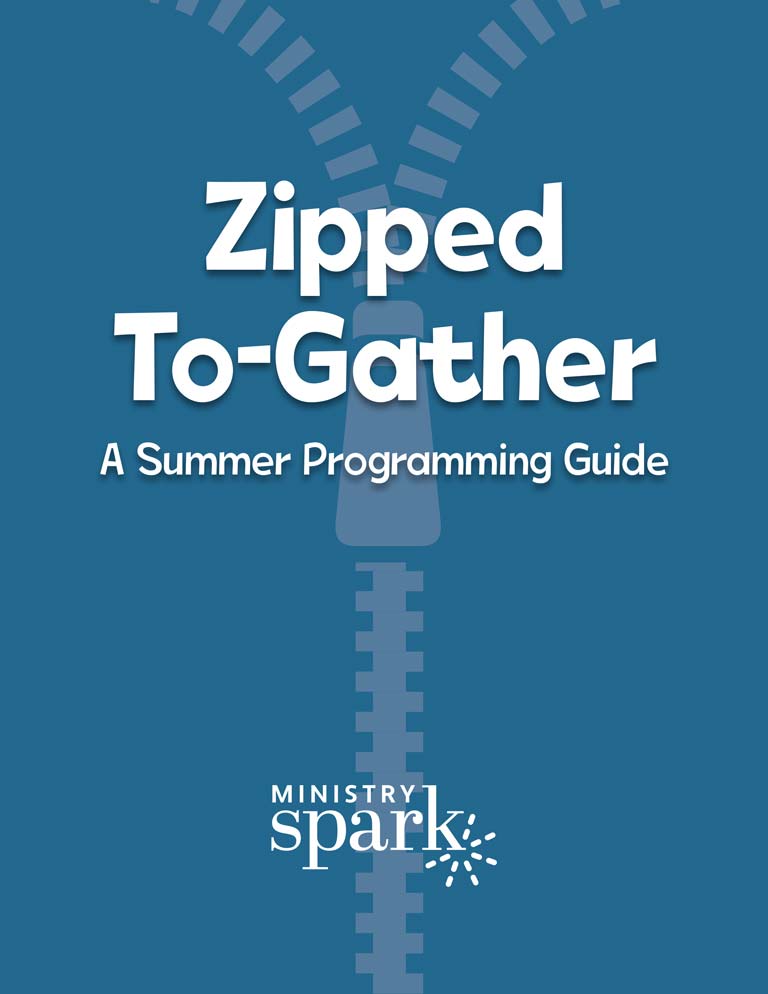 Zipped To-Gather: A Summer Programming Guide
Zipped To-Gather is an outreach program that invites and encourages parents to get involved in ministry to your community. You will simply provide the easy-to-find supplies (listed in this guide), and the parents will take it from there. Check it out!
Overcome 4 Common "Constraints"
Small Church
"We are a small church, and not many kids show up for our programs."
Have you considered local organizations you could partner with to reach kids? Could you serve a population that is typically underserved? For example, serve children at a local women's shelter or children with special needs or disabilities.
If your mission statement includes reaching kids and making disciples, this is a great opportunity to reach outside the walls of your church!
Small Budget
"Our budget is too small to do anything significant."
You have a few options here.
One, call a few other churches and ask them to partner together for an event at a park, or a serving project for the community that you all love! Another option is to get creative with low-cost opportunities.
For example, I once held a "Touch-a-Truck" event in our church parking lot, where local landscaping companies brought their big trucks and parked them in our lot, fire trucks came out, some farmers brought tractors. The event was entirely free!
We recruited outgoing parents to stay for the day and talk to people about the church and specifically about the children's ministry as families took pictures with all of the cool trucks. And we saw people come to church the next week!
Maybe you host a kids' entrepreneurship class, including a session on financial management, and then follow it up with a fair where they can sell things from the businesses they create. Events like these create opportunities to teach kids biblical principles in ways that even non-churched parents are OK with, and it doesn't have to cost you anything but your time!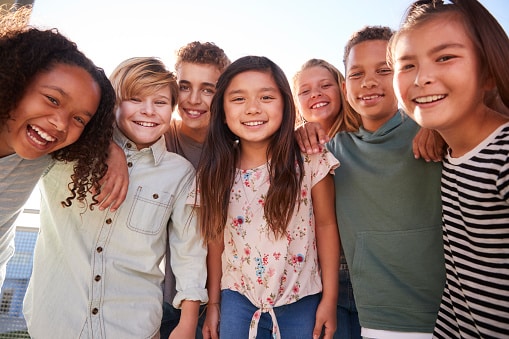 No Space
"Our location isn't great" or "We don't have the space."
Train your families to go out into their neighborhoods to reach other families!
Make up "Block Party Buckets" that include different items for your families to plan and execute an awesome block party, a neighborhood talent show, or some kind of weekday or weeknight program for the kids in their neighborhoods!
You can purchase some larger items that families can borrow to make their own community outreach really special—maybe a bounce house, video projector, or giant inflatable sprinkler.
If you'd like these events to have more of a children's ministry feel, provide the scripts for any teaching, supplies for craft projects, and any communications they might need to invite their neighbors.
No Volunteers
"We can't find volunteers in the summer."
Start a Leadership Project for the middle and high school students in your church! Middle schoolers generally still need summer supervision, and high school students need resume builders, so this is a wonderful time to build into the next generation of leaders!
Start with a week of "Leadership Camp" for the student leaders, utilizing your church staff to teach general biblical leadership as well as specific ways to work with children, lead small groups, and any other specific skills they may need.
You could even have this group plan what your summer programs and outreach for kids will look like. By inviting them into the conversation, they will be more invested.
You've Got This
That countdown to summer can hold the same feelings of anticipation and excitement that it does for the kids in your community as it does for you, as you consider what you can do within your children's ministry summer programming. Run after the standards of your mission statement with the Creator of the Universe on your side!